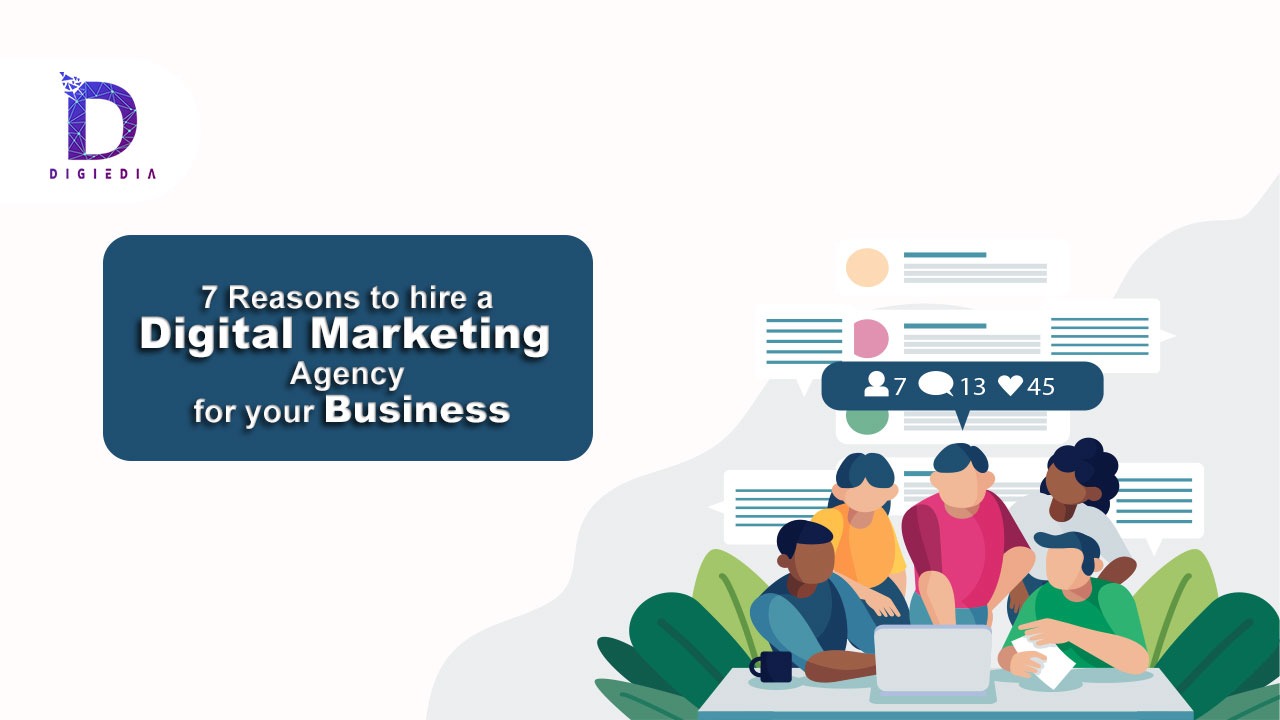 7 Reasons to Hire a Digital Marketing Agency for your business
DIGIEDIA

16 December 2021
With the widespread approachability to the internet today, the boom of digital marketing has no boundaries. Marketing is defined as a source of connection between you and your audience at the right time and place, and most importantly right message. In present times, everyone is available online, which is one of the sole reasons to hire a digital marketing agency for the better marketing of your company.
Before knowing the 7 reasons to hire a digital marketing agency, let us talk about the importance of Digital Marketing and the way it helps a business to reach heights.
What is the importance of Digital Marketing?
Digital Marketing can be defined by the act of executing a chain of digital tactics to join with the target audiences, right from building a brand's website for the branding resources, gathering leads for email marketing to digital marketing. The well-known digital marketers would have a clear idea of how can an online campaign reach its goal.
As we know, everyone is different, so every other digital marketer would have expertise in different areas and have a different way of working. For example, a content marketer helps in creating a series of blog posts to optimize the website and bring leads, a social media manager will play a major role in promoting these blog posts through organic and paid methods on the brand's social media accounts, and an email specialist will help in creating an email campaign to send the leads to the subscribers to keep them aware about the things going on.
7 Reasons to Hire a Digital Marketing Agency for your business
Now that we have gained knowledge about the importance of digital marketing in today's world, let us talk in brief about the reasons to hire a digital marketing agency for their business.  The points are mentioned below:
Time Management
Managing any marketing campaign requires a lot of patience and time. But what if you are the only one who's looking after everything, imagine how handy it can get. Proper digital marketing needs a lot of patience, dedication, and time. If you end up leaving anyone point out of your focus, it won't be good for your business.
Now, if you want to concentrate more on strategizing the growth of the company, improve the efficiency, or want to research the competitor's website, the solution is to hire a digital marketing agency. We will handle all the marketing roles, and you can look after the other sectors of the business. Thus, the better you distribute your work among others, the more time you get to focus on the important parts of the business.
Sharing ideas and opinions with Experts
Digital Marketing is more than just having great suggestions. You need proper knowledge and experience to convert these suggestions to real-life processes to get the expected results. An experienced team of a digital marketing company consists of a team of professionals who have been working with numerous other organizations like yours. Because of their experiences, they know about the market trends, areas that require focus, and the right tools better than us. Hence, they generate and start implementing marketing strategies from a well-versed direction, unlike you, who will try and fall several times before doing it right.
Use the well-known marketing tools
Apart from the knowledge and experience, you should also know about the tools to run your digital marketing campaigns. As the online advertising dynamic is increasing day by day, most of the time, businesses are not even aware of the tools, that they require. Or, one might not have the budget to acquire them, particularly for the small, and medium-sized businesses.
Luckily, you can hire a digital marketing agency, and let them think about the procurement and upkeep of all the required tools. In any scenario, it will be their responsibility to have proper tools for their trade. This means acquiring access to all of the modern online marketing tools that your small to medium-sized organization could not afford on its own.
Reducing Marketing Costs
Maintaining an in-house marketing team is much more expensive than digital marketing. It entails hiring full-time marketing professionals who are eligible for incentives and allowances. Let's not even get started on the costs of research, strategy formulation and implementation, and ROI follow-ups. All of this requires a huge financial budget.
Alternatively, you can avoid all of these headaches by delegating the cost to a digital marketing firm. The agency handles everything from hiring and remuneration of professionals to obtaining and maintaining tools for a fraction of your marketing expenditure.
Be ahead of the Trends
 You're probably aware of how fickle the digital marketing industry can be. Better strategies emerge all the time, and search engines update their ranking algorithms on a regular basis. Unless you're a devoted digital marketing professional, keeping up with all of these developments is nearly difficult.
If you are unable to remain on top of all of these, a digital marketing agency can do so for you. It's their job to stay on top of all market trends and find and recommend the best options for their clients.
Wider Perspective
Digital Marketing industries have experts who are specialized in different areas of marketing. You can't expect the same outcomes if you replace all of these specialists with just a few in-house experts.
Furthermore, the experience of an internal marketing department is restricted to that of your company. A specialist in an agency serves multiple customers, allowing them to see things from a different perspective. As a result, they may launch more targeted marketing initiatives with higher success rates.
Working as per your needs
When you hire a skilled digital marketing firm, the first thing they do is figure out what your marketing objectives are. They then create programs that are tailored to these goals. Finally, they'll establish exact performance indicators to assist you in calculating the return on investment of each marketing campaign. You won't be launching marketing efforts blindly without understanding what to expect in return this manner. KPIs, once again, assist you in identifying your best-performing techniques as well as areas where you may need to improve.
THE BOTTOM LINE
The above-mentioned points are the most important 7 reasons to hire a digital marketing agency for your business. Numerous minds work better together in comparison to that one person who looks after everything happening around. Hiring a digital marketing agency is important as they know what will help you gain profit, and what will not. They have a team of experts having a better knowledge of which strategy would suit your business. With all the new ideas, strategies, campaigns, posters, and a well-thought plan, they will get your job done with no sweat. So, hire us today, and let us take care of your business.