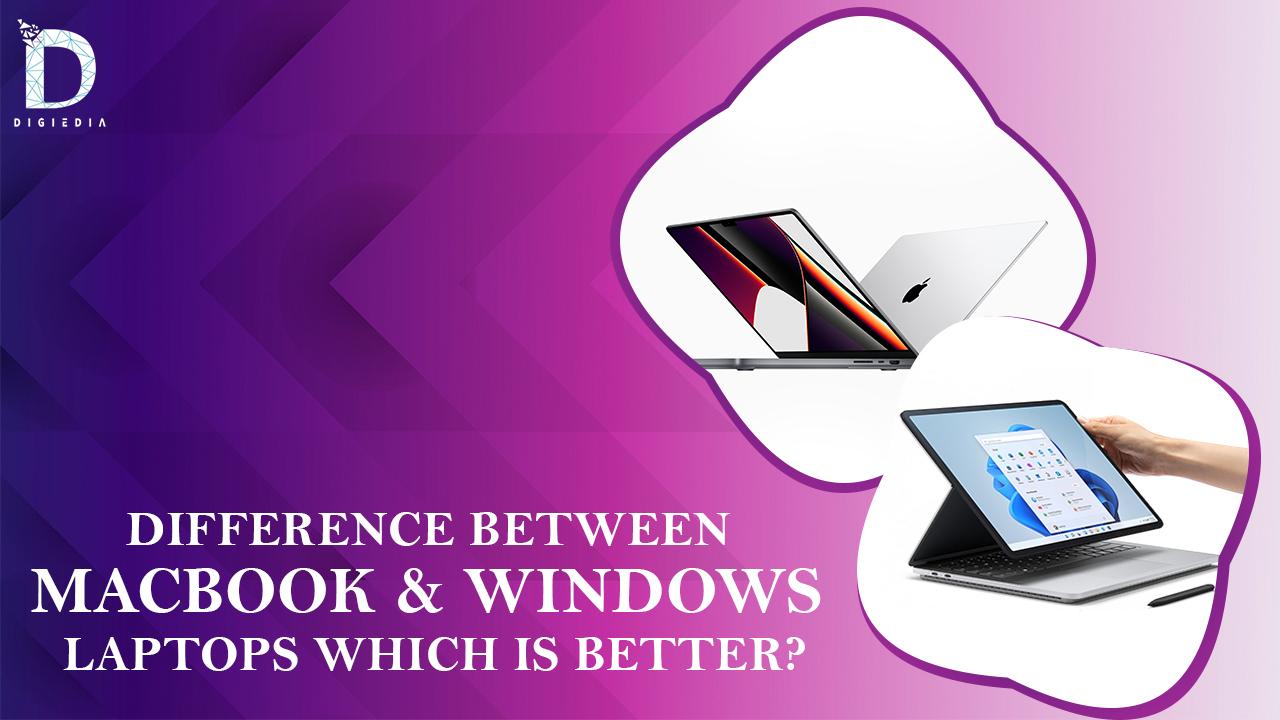 Difference between MacBook & windows laptops which is better?
DIGIEDIA

05 November 2021
Looking to buy a new laptop? Confused about which brand to buy?
The First and the foremost thing you would need to make a decision for should not be the brand but the technology behind it. Talking about the technology behind these brands, the first real pick of yours should be between the two big Operating Systems, Apple or Windows.
While it may seem that MacBooks with the Apple Operating system are the more popular and fancy one, the reality is that Windows still dominates when it comes to the Laptop Market. MacBooks have helped the Apple Operating System to close the gap which makes it quite difficult for a customer to choose between the two most popular Operating Systems.
Although these two Operating systems have various benefits of their own, let us compare both of them to give a better perspective to people planning to buy a new laptop.
MacBook vs Windows Laptop – An Overview
MacBooks are Apple's top-notch personal computers that come with a wide variety of fancy and exclusive features. They come with high-end specifications and a beautiful display giving the users a very premium experience. These laptops are light in weight and can be held easily in bare hands.
While MacBooks are exclusive to Apple, windows laptops are designed and manufactured by a plethora of companies. These include many popular companies like Dell, Asus, Lenovo, etc. Windows laptops come in such a wide variety that it becomes quite difficult to summarise them and give a true review about each one of them. These laptops come in various sizes and weights. Windows laptops can be categorized into 2 broad variants which are, Gaming and Working.
MacBook vs Windows Laptop – The Design
MacBook –
Apple invests a lot of money when it comes the designing the MacBooks. They pour money into everything which they consider will make the design of the MacBook look beautiful, robust and high quality. The designs of MacBooks have been so loved and successful over the past few years that Apple has not changed the design. They just make the Macbook slimmer and redefine their processor.
Windows-
With so many companies playing with the designs of a Windows laptop, one can find the best-suited design as per their needs by choosing from a variety of different laptops. The design of Windows Laptops has evolved tremendously over the past few years. The design of Windows laptops ranges from slim ZenBooks to broadly designed Gaming laptops.
Undoubtedly when it comes to design, one has a lot more variety in Windows laptops to choose from in comparison to Apples' MacBook.
MacBook vs Windows Laptop – The Pricing
MacBook-
The price range of MacBooks is quite high. The cheapest MacBook would also give some pain to the user's pocket. Apple is known for standing out of the league when it comes to the pricing of their products, be it phones or MacBooks, every Apple product cost a wholesome amount of money.
Windows –
When it comes to windows it is impossible to summarize the price of a Windows laptop. The cheapest Windows laptop might sell for a very low price, these laptops would have all the basic functions available.
The mid-tier laptops which would have higher specs, better RAM, and memory would sell for a price every middle-class individual could afford. These laptops would handle middle-end gaming and some editing as well.
Windows laptops also come with a high-spec version. These laptops are loaded with the latest specs and with all the latest updates in terms of Graphics Card, Memory, etc. Even with all these features, windows laptops would price cheaper than what the MacBooks cost.
Therefore, if you are looking for buying a cheap laptop with high-quality specifications, Windows should be your preference!
MacBook vs Windows Laptop – Gaming
MacBook-
Talking about games, Macbooks are not all into games. It depends upon what the user means by Macbook for gaming because if someone thinks of playing High Resolution 3D games, then probably Macbooks are not meant for you. MacBooks are known to be extremely behind when it comes to gaming specifications.
Windows-
Every gamer has been preferring Windows' laptop over Apples' Macbook since Day 1 of their Gaming career. Windows Laptops come with the versatile variety when it comes to updates RAMs, CPUs, or Graphic Cards. Also, the price of these high spec laptops are quite affordable.
MacBook vs Windows Laptop – Professional Use
MacBook-
The best thing about Macbook that they are the best laptops available in the market for professional use. MacBooks are loaded with the best softwares for video editing, photo editing, and other creative suites pre-installed in it (You won't have to download any software).
The only drawback of MacBook is that the spreadsheet and the text editing tools are quite disappointing as compared to the office suites.
Windows-
Comparing Windows' Laptops with Apples' Macbook for professional purposes might push Windows back a bit. Although the Windows' Laptops support many designing and editing tools like Photoshop, and Illustrator quite efficiently but the smoothest and cleanest display of MacBook makes the graphics look more lively.
MacBook vs Windows Laptop – Customisation
MacBook-
Since Apple is the only company which updates MacBooks specifications, they tend to stay with the same specs for years and years. There are many chances for Macbook users that for the technology they are paying a wholesome amount of money, came way back in the past years. In MacBooks there is a very little room for customization and upgradation.
Windows-
On the other hand, if we talk about windows, they are easily upgradable and can be customized to almost every extent. With a wide variety of laptops to choose from, they can also be customized to a large extent.
Thus, to conclude, if someone is willing to buy the best laptop for editing, designing graphics or such stuff, Macbook can be their first option if they are willing to invest a good amount of money in laptops. But, if someone is willing to buy a laptop which can be used for almost all purposes, they should definitely consider Winows as their first choice.