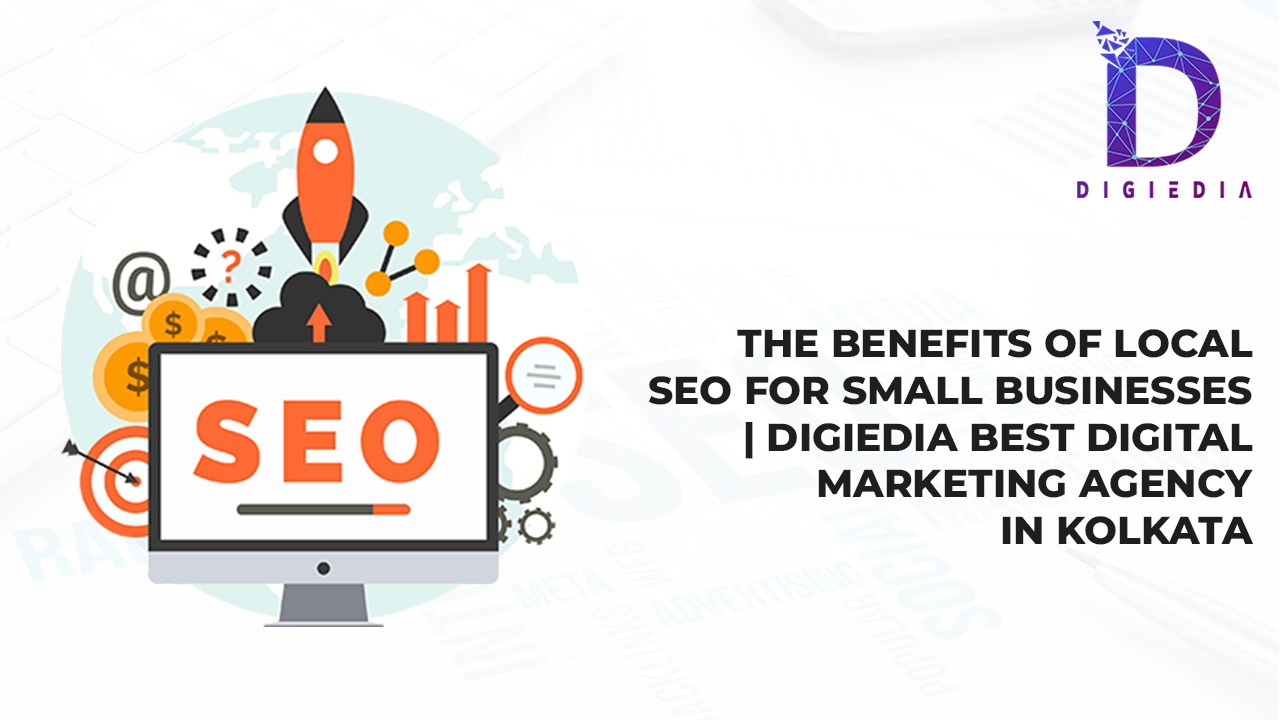 The Benefits of Local SEO for Small Businesses | Digiedia Digital Marketing Agency In Kolkata
SEO stands for search engine optimization. currently, it is becoming an integral part of every online business. Local or small business SEO, widely termed to as Map SEO, is a comparatively modern SEO technique that has gained popularity in recent years. It optimizes your Google My Business (GMB) profile using links and keywords. The numerous techniques used to improve small business SEO include NAP updates, Your company's name, address, and phone number, and photograph geotagging. the creation of links and other interactions through your GMB profile.
If you plan to manage a small or online business in 2023, you must learn about local search engine optimization techniques that may help you achieve your objectives by improving the rankings of your website on Google. The Benefits of Local SEO for Small Businesses is many. As a consequence, your website will draw in more local clients, increasing your online foot traffic and sales volume. Using search engine optimization to drive traffic to your online store is successful. Paying close attention to a variety of measures, such as social sharing, traffic, and backlinks, is necessary for top-ranking seo performance.
For local or small business SEO, it can be an extremely valuable tool. It enables them to not only compete in their field but also outperform their rivals. You may utilize local SEO to stay on top of everyone, from other small or medium-sized enterprises to huge multinationals with locations in your region.
How SEO Helps a Company?
Ideally, SEO is quite effective. SEO promises to significantly improve the number of people accessing your page, which may result in many more purchases, clicks, and subscribers for a very cheap setup cost. In contrast to advertising, you simply pay for labor expenses; if you cease, the advantages will still be there, bringing in traffic for months or years to come. The excellent stuff is that. This is one of the major reasons why so many businesses spend so much money on SEO.
Which type of companies gets more benefit from using SEO?
Whether it's small or big, every company with a local market can gain popularity with small business SEO, for example – real estate companies, salon businesses, digital marketing companies, law firms, per services, etc.
The businesses which acquire more new clients in a local market are the ones that take local SEO seriously and execute it well.
But before implying SEO for your business, you need to follow these rules
Prove that you are a genuine company
Target local keywords
Upgrade your google business account
Focus on user-behavior
Engage with other brands
Stay up to date
Importance of small business SEO 
As more and more people conduct online searches for terms and subjects associated with your company, SEO enables you to create a significant level of exposure online. You may entice them to your website and make them a customer by bringing this awareness to them. In exchange for a relatively little financial investment.
Here are some of the important reasons for using seo for small businesses
Attract local customers
The fact that more people locate and click on your website is one of the primary advantages of local SEO. More potential clients who are currently on your web pages and could make a purchase from you are drawn to your small business website when it ranks higher in the SERPs. Also, probably, those who visit your website are already interested in the items or services you offer.
Increase traffic
The main goal of SEO is to increase the volume of visitors to your website or online presence. The more the merrier, even though all the traffic won't result in sales. Your chances of selling your product rise as more people visit your website. Also, more traffic results in organic word-of-mouth advertising for your company.
Less costly
Comparing SEO's cost to other brand awareness like advertising reveals one of its main benefits. If you can handle it yourself, much of it is free. Your best option, though, is to enlist the aid of a small business SEO company if you are not confident in your website's coding abilities and algorithms. In order to strengthen your brand, this is a wise investment.
Consistent business expansion
Coordinated local SEO efforts are constantly focused on boosting traffic and search engine rankings. Better sales and marketing leads are the outcome of this. More interested clients are attracted by improved sales, which starts a self-sustaining cycle of business expansion. Hence, if you want to expand your small business, investing time and money in local SEO strategies is an important success factor.
More Recognizable
Brand identification is enhanced by local SEO. Developing brand image and brand awareness will boost your small business's reputation and make it more identifiable to potential clients, which will make it simpler to close sales. If you play your cards well, you could even be able to outperform rival small-business rivals who work for big businesses. They won't advance beyond what you can achieve by throwing size or money around. SEO can help small enterprises.
Beat competitors
Nothing is more rewarding than taking a client away from your rival business. That is what a local SEO-optimized website can achieve. The more customers you can wrest away from your rivals, the more profit your company will gain. For more information on this subject, see these linked tutorials on the numerous advantages of SEO and why it is crucial for your company.
Summary In order to "optimize" a website for Google and other search engines, a method called SEO is used. Hence, if all goes according to plan, the website should appear toward the top of the page when someone searches for similar phrases. For small businesses, local SEO can be an extremely valuable tool. It enables them to not only compete in their field but also outperform their rivals. You may utilize small business SEO, to stay on top of everyone, from other small or medium-sized enterprises to huge multinationals with locations in your region.