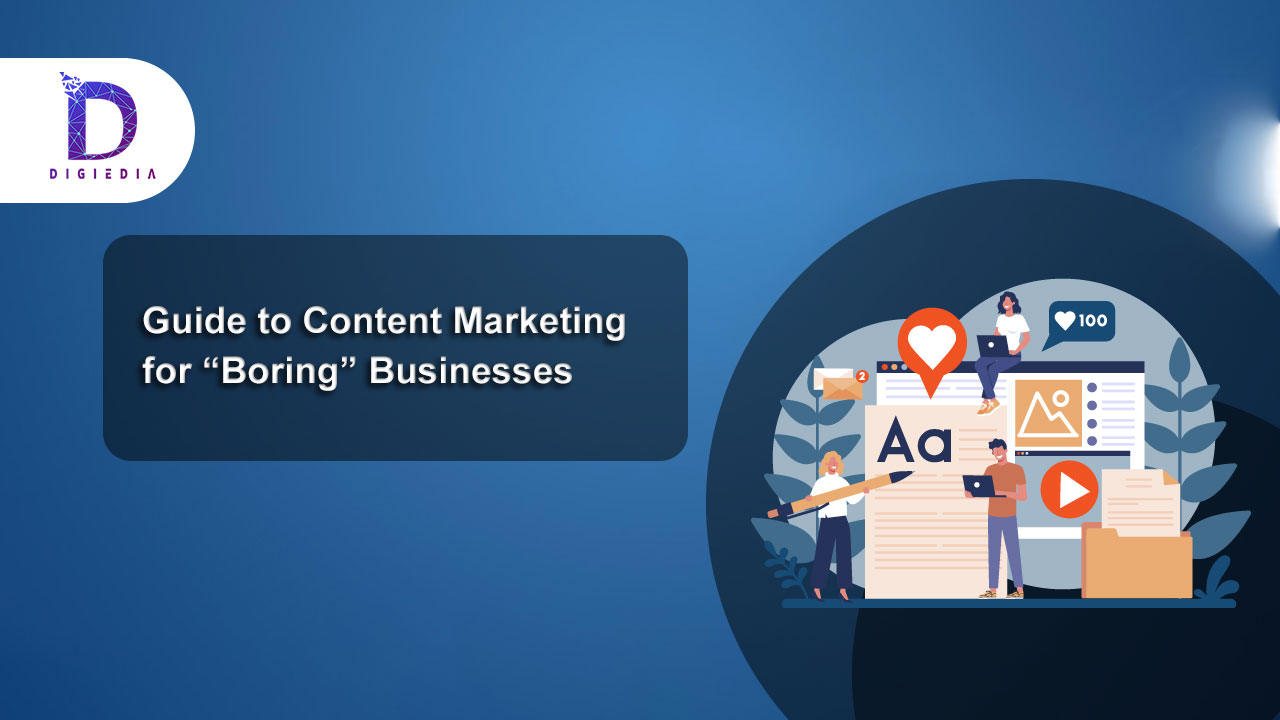 Guide to Content Marketing for Boring Businesses
When working with a "boring" business, content marketing might be difficult. The truth is that boring industries do not exist; only uninteresting content does. There's still potential for you if you're in the insurance industry, accounting, law, or even something as "boring" as ball bearings. There are numerous examples of seemingly dull industries which have worked really hard to get their juices going and emerged with a winning concept. Let's look at ideas for content marketing for your business.
Recognize your one-of-a-kind position.
There may be times when you wish you were working in a more glamorous and interesting industry, such as fashion, travel, or fine dining, as a content marketer. However, what makes your industry "boring" is actually what offers you a little competitive advantage. What do you mean by that? Because there are so few people in your business who are using unique material to draw attention to themselves, it'll be much easier for you to stand out.
Make use of industry-specific data.
Companies in the B2B industry can always take use of their unique access to specialist knowledge that many of their potential clients could find useful and intriguing. Mailchimp, an email marketing platform, is one example of this. They leverage their access to data on email marketing open rates by industry to develop benchmark reports on a monthly basis.
Another method to leverage internal data to attract more potential consumers is to share a how-to that doesn't divulge your full "secret sauce," but just enough to pique their interest.
Make an infographic.
Infographics which draw people in with two or three "hooks" are another wonderful method to make content more accessible to the masses. Statistics can also be used effectively with infographics. While facts and figures on paper may be uninspiring, they may be taken from yearly reports and repurposed to generate visually appealing information that can be widely distributed. Your content will gain credibility as a result of these solid figures.
In addition, infographics are far more aesthetically appealing and shareable than plain text. This increases SEO in the long run by increasing social shares, engagement, and backlinks.
Respond to the questions.
Relevant industry content's capacity to solve pressing questions that many people may be battling with is one of its distinguishing features. Your firm not only becomes fully relevant, but it also begins to operate as an industry thought leader who will be sought out in the future, by delivering solutions and unique insights.
Make use of user-generated material.
Giving your readers, customers, and potential buyers the ability to generate their own content is another method to engage them. Customers can upload photographs and video testimonials of their puppies to Purebred Breeders, a website that helps individuals discover the appropriate dog for their family. Not only does the company get free high-quality footage, but it also gets free advertising because family members and friends are bound to share the content with their networks.
Connect seemingly unrelated items.
While it's crucial to maintain your topics relevant to your target audience, you should also mix things up every now and again by taking a fresh approach and integrating seemingly unconnected concepts. Movoto is a real estate firm that gets it right every time. It mixes things up with Buzzfeed-style postings that are widely shareable, rather than providing content on boring real estate market news.
Tell your brand's story.
We've said it before, and we'll say it again: storytelling is effective. The brain processes information in the form of narratives, according to psychologists, academics, and marketers. As seen by the enormous success of Hollywood films and literature with traditional plots, stories will never go out of style. So, rather than boring your audience with a pile of data and irrelevant information, create a storey.
Kletterwerks, for example, has transformed its history of manufacturing hiking and climbing packs into a visually appealing storey in the form of a timeline.
Know who your clients are.
While you want to generate engaging and shareable content, too many organizations fall into the trap of trying to please everyone. The secret to a content strategy that prioritizes link-building overviews and likes is to thoroughly understand your target demographic. Aside from demographic data about your target audience, you might also ask yourself, "What are the interests of your potential customers?" What are some of their favourite subjects? What platforms do they use for social media? What kind of blogs do they follow? What problems do they have to deal with? What kind of content would they be willing to share and connect to?
Determine the needs and pain points of your target audience.
Not only must your message be consistent with your brand, but it must also appeal to the type of customer you want to reach. Buyer personas are research-based profiles of the types of customers with whom you wish to conduct business. It's lot easier to produce content and messaging for your personal profile once you've hashed out that profile.
"The aims are the same whether you're driving content marketing for a product with broad appeal or developing material to promote a product that caters to a specific niche." You must develop a campaign that is appealing to your target market.
Bring value to the table.
With content marketing, the hard-sell technique will not work. Companies will gain footing and reach with the intended audience if they are useful by listening to their customers, engaging with them, and giving value to them.
Putting yourself in your consumers' shoes, identifying their challenges, and delivering answers are all part of understanding what they want. Working to educate your audience before selling them goes a long way toward positioning the sale.