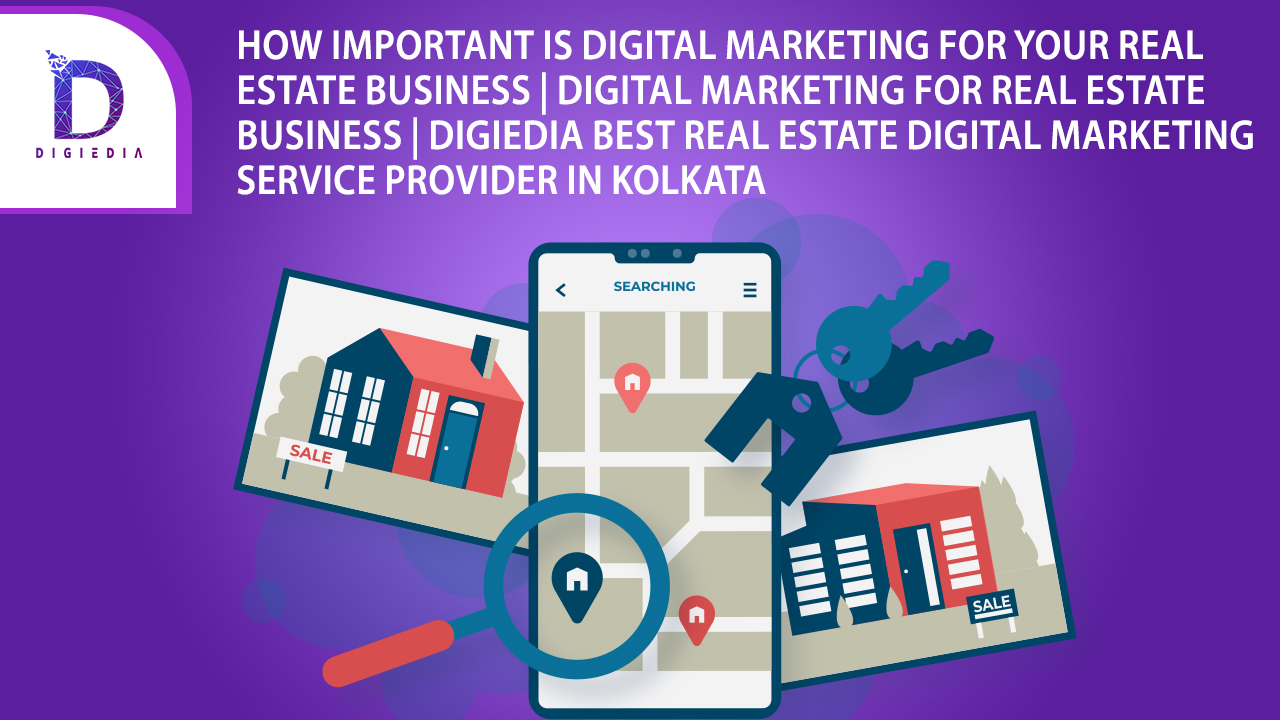 How important is Digital Marketing for your Real estate business
DIGIEDIA

06 December 2022
After Covid 19, digital marketing has shown to be the most efficient technique for raising brand awareness and selling your products and services. Digital marketing for real estate has also become popular as the market and its tendencies evolved. There were times when yard signs and newspaper advertising were enough to sell a home. However, with the rapid advancement of technology, buyers are considerably more vigilant and actively searching for properties online these days. Online sources are a fantastic way for anybody looking to buy a property, and it has a significant influence on every stage of a buyer's decision-making process. Buyers are unlikely to deposit only based on Facebook posts or tweets. Below are the factors of How important is Digital Marketing for your Real estate business.
Targeting audience
Everyone is always on the internet now. Most buyers nowadays, especially Gen Y, do not look for homes through newspaper classifieds. They conduct a huge portion of their research online, from consumer reviews to ground reports. And, with effective digital marketing, real estate companies in India may develop a better brand presence and increase their reputation among locals. To understand how important is Digital Marketing for your Real estate business, you have to understand the importance of targeting your audience. People may not pay heed to your poster or banner displayed throughout town. Also, the advertising of your business through posters becomes limited as they can be done in specific areas only, another reason is the huge amount of expenditure it takes for billboard advertising. Your brand awareness cannot happen outside of your area. With digital marketing in your Real Estate business, you may target and reach an audience outside of your immediate area. Paid advertisements in digital marketing allow you to target customers who are seeking landed properties rather than the entire market. To sum it up, digital marketing allows your advertising to constantly reach the proper audience who has the potential to be your customer.
Cost effective
As discussed before, billboard advertising takes a lot of monetary commitment which might be an issue if you are new to the business. When compared to traditional marketing, digital marketing is less expensive. You may save money on printing and other expenses. It may also be utilized for other marketing tactics such as sponsored commercials. By spending lesser money, you can promote your property beyond the confines of geography. While choosing your digital media marketing agency, be extremely aware of the services they provide. One of the best Digital Marketing companies is Digiedia, the best digital marketing company in Kolkata.
Creativity
How important is Digital Media Marketing in your Real Estate business can be gauged by the huge scope of creativity it offers. You can make your business stand out from others with your content.  Real estate developers may showcase their items online in a variety of ways, whether it's an independent house, an apartment, or a villa. Online marketing allows you to express yourself creatively. You are free to think outside the box, navigate various demographics, test new ads, and much more. Customizing your content according to the target audience is an effective way to attract viewers. You can make use of the various new features the social media platforms have come up with to make enhance your content and make it to the trending list.
Environmental friendly
Digital Media marketing gives you a chance to go paperless. It allows you to save money on printing. You are also helping the earth become a little better place to be in. Furthermore, the money that would have been spent on paper printing may now be utilized for other techniques such as social media marketing which will have a wider impact on your audience. The paperwork for real estate transactions can be time-consuming, tedious, and inconvenient. Going digital makes the entire process paperless, quick, and easy, saving both the realtor and the buyer time.
Better buyer experience
Prospective buyers can, now, virtually browse around the real estate market and have a more immersive buying experience with digital marketers coming into the landscape. Marketers may utilize data-driven tools to provide customized suggestions and narrow down property research to a few options based on buyer queries, seen photos, clicks, and scrolls. This allows buyers to browse hundreds of neighborhoods and thousands of homes without breaking a sweat. Additionally, virtual house tours, a popular real estate digital marketing trend, make it easier for sellers to let buyers experience the appearance and feel of the property without moving an inch. This is how important is Digital Media Marketing for your Real Estate business.
Provision to track your online performance
In physical advertisements you cannot possibly track the number of individuals who view them each day or calculate your success rate, giving you zero opportunity to change your strategy or make your marketing better. You can measure your performance and observe how effectively your advertising strategy is performing with digital marketing tactics such as pay-per-click (PPC). That way, you'll know where your traffic is coming from, what plan to apply, and what works and what doesn't for your campaign. It gives you an idea to make your business better.
Transparency and credibility
Establishing credibility is crucial to any business. Online reviews are one of the simplest methods to build client trust and reputation. Customers can leave a review of your services on your social media company page, in the comment section, or can even rate you online. Positive reviews on your page will help prospective clients trust you when they decide to purchase your service for the first time. This trust is important in the real estate market, where you're attempting to attract clients to invest a large proportion of their money to buy assets. It also makes the whole procedure more transparent as digital marketing for real estate developers has eliminated the middlemen. Buyers no longer need to contact a broker or agent to obtain project information. Everything, from the features to the legal papers to the cost, may be seen straight on the realtor's website. This saves the customer time that would otherwise be spent physically visiting the location and enhances the experience.
When it comes to buying and selling real estate, more people are turning to digital platforms, from searches to transactions. A realtor must create an efficient digital marketing campaign to engage with their target audience. To boost corporate growth, all brands are employing digital marketing. It is wise to invest in a professional Digital Marketing agency. Realtor competition, like that of all other businesses, is growing increasingly tough. You are not in the competition if are not utilizing the benefits of Digital Media Marketing. Your customers will consider you obsolete, and yes, that is how important Digital Media Marketing for Real Estate is.