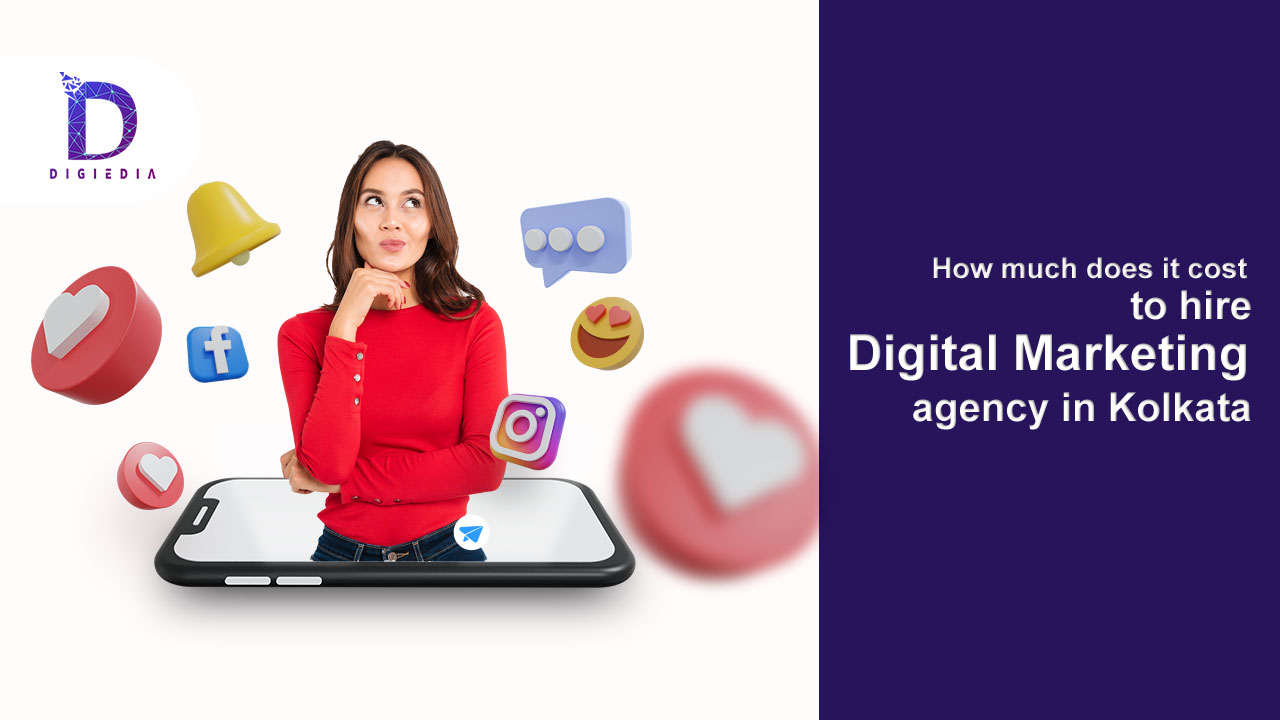 How much does it cost to hire a digital marketing agency in Kolkata?
DIGIEDIA

13 December 2021
What is Digital Marketing?
Digital marketing, often known as web marketing, internet marketing, or online marketing, refers to all marketing tactics that a company uses to contact real or potential customers via the internet and other digital platforms. The digital marketing activities of your organization might range from paid online channels such as SEM (search engine marketing) to non-paid online channels such as SEO.
Digital marketing is essential regardless of how big or how rapidly you wish to grow your company. Digital marketing methods, which range from PPC to social media, let you to engage with customers online and stay competitive in an increasingly digital environment. Digital marketing can increase traffic and target conversions, ultimately allowing you to achieve your business goals, thanks to its adaptable, versatile, and scalable nature.
Why should one hire a digital marketing agency?
There are a variety of reasons to begin using Digital Marketing Services. Let's have a look at some of them: More than 80% of buyers conduct research before making an online purchase.
Customers' shopping habits have shifted dramatically. When are you going to change your selling methods? Over 78 percent of local searches result in face-to-face interactions.
If you own a local business, don't lose out on potential clients in your area.
In the majority of cases, firms use digital marketing agencies to handle the associated tasks. These firms have developed their own digital marketing price structure for the services they provide and there can be multiple variations when it comes to cost to hire a digital marketing agency in Kolkata. You can discover low-cost to high-cost digital marketing packages, and it is entirely up to you how you proceed. A digital marketing firm in Kolkata work diligently to raise your brand's visibility and generate leads so you can receive better services at lower costs.
While many elements influence digital marketing pricing and budget, the average cost of a digital marketing agency in Kolkata ranges from 20,000 to 100,000 per year, depending on the size of your company and the scope of your project.
Price-Value Trade-off
When it comes to digital firms, you don't always get what you paid for. There are very genuine price-value trade-offs, which means you might pay a lot of money for something with a lot of worth. Rather, the following is the case:
It doesn't matter what you get if it can't be quantified.
Metrics, KPIs, performance against goals and OKRs, and overall results of a marketing campaign, website redesign, or whatever else an agency produces for you should always be measured.
What you obtain is less important if it isn't backed up by a strategy.
You'll need a solid strategy or plan for how each deliverable will help you get closer to your measurable objectives. If the strategy is inadequate, or if there is none at all, the outcome may be equally inadequate.
What you get is determined by the individual team members' experience, expertise, and intellect.
Sometimes a more junior team member is assigned to you…and you get junior outcomes.
What you get is almost always more complicated than what you asked for.
A deliverable of "SEO" in two distinct agencies' offers, for example, can mean completely different things. SEO is never as simple as a bullet point, and just because an agency includes it in their proposal doesn't indicate their SEO effort is producing measurable, valuable outcomes for you.
It's not always in your best interests to acquire what you want.
While some offerings may be beneficial to some organizations, they may not be beneficial to yours. Many agencies will try to sell you what is best for them rather than what is best for you.
Digital + Creative Agency Hourly Rates
The agency or freelancer simply keeps track of how long it takes to finish a work. This provides you and the agency the most flexibility and creativity, while also taking into account the amount of time you put into a work or a project. However, if not adequately managed, it can result in budget overruns.
If money is an issue, it's ideal to make estimates at the task level and track and change them as needed. If you notice a trend of task-level overages, you can pinpoint a problem with the estimation process, particularly that estimates aren't padded enough to account for the reality of the scenario.
Project/Fixed Bid
Of course, you can undertake project work on the basis of an estimate and work hourly as needed, updating and sharing progress. The goal of an agile project management system is to ship a product in less than the projected number of hours while reducing scope and features.
A flat rate for a project is referred to as a fixed bid. Typically, you pay for a large amount of the project upfront and then collect milestone payments along the way.
Retainer
In the digital marketing industry, monthly retainers are prevalent. It's a way of forming a connection with an agency so that they can prepare for the capacity and resources needed to staff and manage your account on a long-term basis. This allows them to give you priority service while also running a thriving business. Retainers are frequently flexible, allowing the client and the agency to work together to accomplish great things, allowing the scope and deliverables to expand or decrease as needed.
Outcome-Based
You may find the price for outcome-based solutions in specific components, such as "3 blog entries per month, 5 social media posts per month." While this can occasionally yield the desired results, it can also be compared to vanity metrics like "get us more Facebook likes." What does this imply or imply for your company? What good are those blog posts if they aren't part of a larger SEO plan?
Cost to hire a digital marketing agency in Kolkata can be done in a variety of ways. You should think about price-value trade-offs with each one. Before you start any marketing campaign, make sure your marketing budget can support a high-quality, high-value end product that meets or exceeds your objectives.