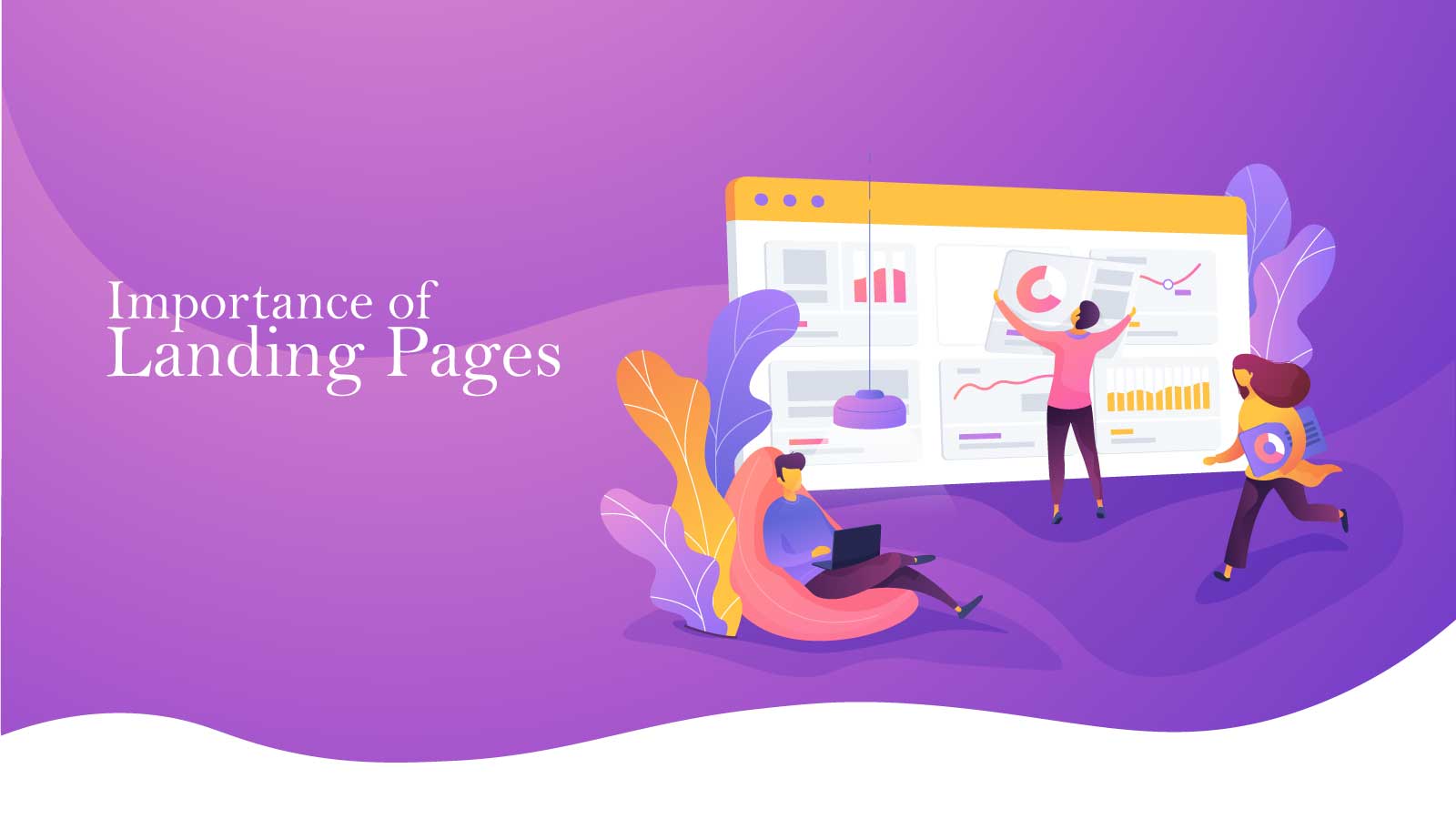 Why Landing Pages are Important for Your Business?
Websites are a great way of introducing your business to your potential customers and audiences online. It helps your audiences to go through the value your business has to sell and offer and gives them an overview. In order to grow your business and successfully make sales and conversions, it is important for your website to be able to engage and retain the audiences. It should be equipped to turn the visiting audiences into high quality leads and help you add to your revenue and your business objectives. Your business website should also be able to direct your audiences and encourage them to take an action. A landing page can equip your website to engage and communicate with the surfing visitors. It can act as a highly profitable marketing tool and help your business get sales and conversions. Here is a detailed explanation that would help you understand the importance of landing pages.
A landing page can be termed as a web page that communicates with the audiences and visitors, when they 'click'. 'land', enter or go through a website and its content. It is a standalone web page with a single and major function which separates it from the rest of your content and other web pages. The landing pages are simple and are equipped with a form. The forms are placed to encourage the audiences to sign up or subscribe to the businesses for services, relevant information or more value. These pages nurture the interests of the audiences and engage with them. They give those interests a certain profitable direction which can add to the revenue of the businesses.
Landing pages can also be termed as a highly important digital marketing tool, which can be used to garner audiences and push them further down the sales funnel. It could help you direct and move the traffic all around your digital space, however you want to. Landing pages help you retain the visitors and convince them why your business is worth their time, investments and resources. It can also help you advertise and promote the value and the services your business has to offer.
Here are the reasons why landing pages are important and the ways they can benefit your business:
Importance Of Landing Pages
Valuable Data and Insights
Landing pages are equipped with forms that compel and encourage the audiences and the surfing visitors to give out their data and information in exchange for value. These data and insights are highly valuable and can be used further by the businesses to analyse and understand the interests of the audiences. Such insights allow you to learn what your audiences are looking for. Personal data and information can also help you communicate further with the audiences and help you establish beneficial relationships. You would be able to target your audiences accurately and churn out high quality leads with the help of landing pages.  Data from landing pages can also help you improve your marketing strategies or help you plan out your next advertising campaign. This can in turn help you cater to the needs and provide value to your audiences and leads in the most effective way. 
Lead Generation
Landing pages are the first tool that establishes a relationship between the audiences and the businesses, when they surf through and visit a website. Landing pages are filled with relevant information and a compelling Call To Action (CTA) button that helps the businesses to reach out to the audiences and grab their attention and interests. A good landing page can help your business retain the visitors and convert them into high quality leads that are interested in what your business has to offer and sell. An attractive landing page with a Call To Action Button can encourage a new visitor to subscribe to your platforms for the offers and deals or make them sign up for your newly launched webinar! The landing pages are simple and straight to the point. They push the visitors to take action and help your business with quality lead generation.
Lifts Your Business with Increased Conversions
Your business would not be able to grow or generate revenue if it fails to convert the audiences and visitors into high quality leads that make a purchase or subscribe to your business to learn more and add to the sales and revenue generation. In order to convert your visitors into paying customers, it is essential for your business to convince your visitors to take action. A landing page equipped with a tempting Call To Action (CTA) button can give the interests of your audiences a push and compel them to take a profitable action. The landing pages benefit and lift your business by presenting more conversions. They help you push a lead further down to the sales funnel, ultimately increasing your sales and revenue generation. 
Better Quality Score: Helps You Ace Marketing Strategies
If your business is opting for search engine marketing or pay per click marketing strategies, landing pages are extremely important for your business to invest on. A structured, high quality and relevant landing page increases your quality score. Quality score decides the position of your paid ads and the number of clicks you manage to obtain from the search engines. A good landing page can help you make proper use of pay per click marketing strategies and add to the flow of traffic, conversions and revenue generation. A landing page of poor quality on the other hand can severely impact your quality score, thereby adversely affecting your marketing strategies and the sustainability of your business. 
Improved Brand Awareness
Landing pages introduce your business to the audiences and help you render more value to them. It helps the audiences and visitors to engage with business and know it closely. A direct, well designed and structured landing page relevant to your business can leave an impact and impression on the audiences. It represents and communicates what your brand aims to offer and stands for and reminds the audiences of the value your business offers them. This improves brand awareness and also facilitates credibility of your business. A high quality landing page can surely add to the image of your business and present you with increased and profitable brand awareness. An irrelevant landing page with no call to action buttons or disengaging content on the other hand, can drive your audiences away from your website and platforms. Businesses with excellent brand awareness are more likely to get conversions and a reliable base of loyal customers to sustain them and landing pages can surely help you reach such goals.
These are the 5 reasons stating the importance of landing pages and why it is necessary for your business to invest on them. From driving traffic, establishing relationships and contact to great conversions, landing pages play a highly important role in the growth of your business. It can be a truly profitable marketing tool that can help you reach out to the audiences, express the goals of your business, leave an impact and add to the revenue of your business.