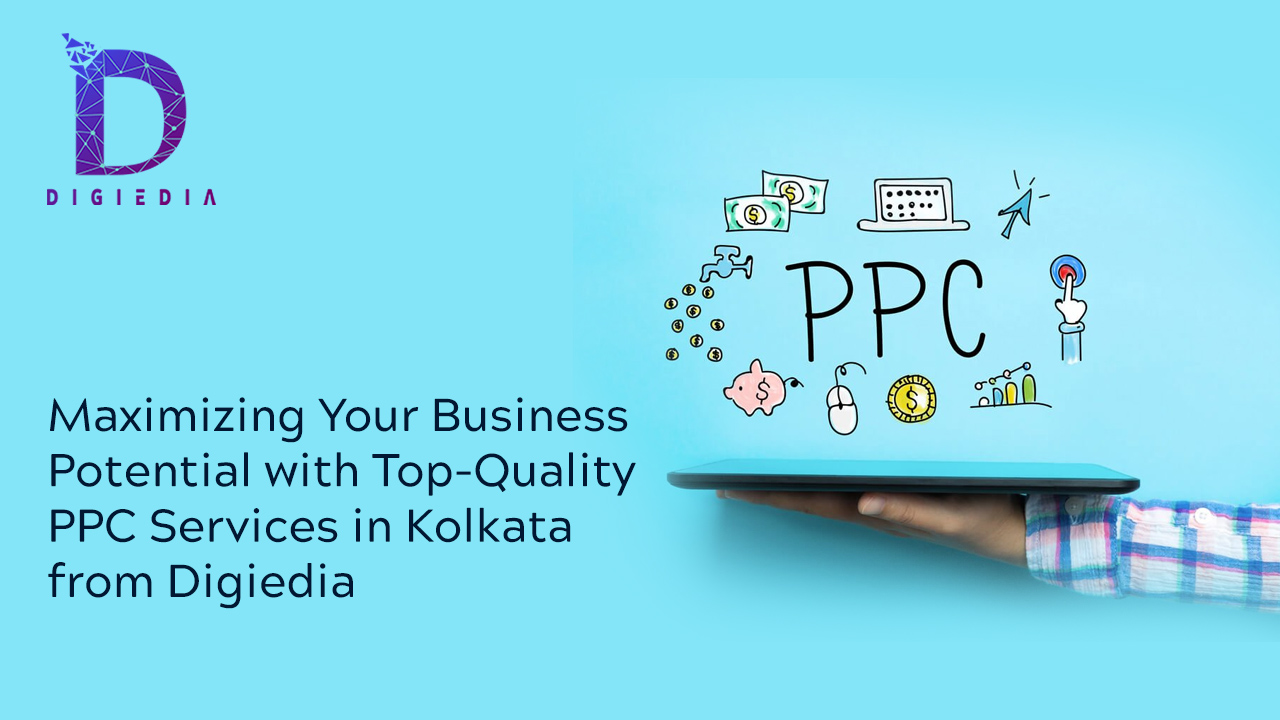 Maximizing Your Business Potential with Top-Quality PPC Services in Kolkata from Digiedia
In today's highly competitive digital landscape, having a strong online presence is crucial for the success of any business. One of the most effective ways to boost your online visibility and drive targeted traffic to your website is through Pay-Per-Click (PPC) advertising. PPC allows you to place targeted ads on search engines and other online platforms, paying only when a user clicks on your ad. If you're looking to maximize your business potential in Kolkata, look no further than Digiedia, a leading digital marketing firm specializing in top-quality PPC services.
1. Understanding the Power of PPC Services in Kolkata
PPC services in Kolkata offer a range of benefits for businesses of all sizes. Whether you're a startup looking to gain traction in the market or an established company aiming to expand your customer base, PPC can be a game-changer. With PPC, you can:
– Drive targeted traffic: PPC enables you to reach your ideal audience by targeting specific keywords, demographics, locations, and even device preferences. This ensures that your ads are shown to the right people at the right time, increasing the chances of conversion.
– Increase brand exposure: PPC allows your brand to appear at the top of search engine results pages (SERPs), giving you instant visibility and exposure. Even if users don't click on your ad, the mere presence of your brand name can create brand awareness and recognition.
– Achieve faster results: Unlike organic search engine optimization (SEO), which can take time to yield results, PPC delivers immediate outcomes. As soon as your campaign is live, you can start driving traffic to your website and generating leads.
2. The Digiedia Advantage: Unleashing the Power of PPC
Digiedia is a leading digital marketing firm in Kolkata that specializes in providing top-quality PPC services. When you choose Digiedia for your PPC needs, you can expect the following advantages:
– Expertise and experience: Digiedia has a team of experienced PPC specialists who stay up-to-date with the latest industry trends and best practices. They have a deep understanding of the Kolkata market and know how to create effective PPC campaigns that drive results.
– Customized strategies: At Digiedia, we understand that every business is unique, and a one-size-fits-all approach doesn't work. We take the time to understand your business goals, target audience, and competition to create tailored PPC strategies that align with your objectives.
– Comprehensive keyword research: Keyword research is the foundation of any successful PPC campaign. Our team conducts thorough keyword research to identify the most relevant and high-performing keywords for your business. By targeting the right keywords, we ensure that your ads are shown to users actively searching for your products or services.
– Compelling ad copy and creatives: Creating engaging ad copy and compelling creatives is crucial for capturing the attention of your target audience. Digiedia's team of skilled copywriters and designers craft persuasive ad content that resonates with your audience and drives clicks.
– Continuous monitoring and optimization: PPC campaigns require constant monitoring and optimization to ensure maximum effectiveness. Digiedia closely monitors your campaigns, analyzing data and making necessary adjustments to improve performance and maximize your return on investment (ROI).
3. The Digiedia Process: From Setup to Success
When you choose Digiedia for your PPC services in Kolkata, you can expect a streamlined and transparent process that takes you from setup to success:
– Consultation and goal-setting: Our team starts by understanding your business goals, target audience, and budget. We collaborate with you to define clear objectives for your PPC campaign, whether it's driving website traffic, generating leads, or increasing conversions.
– Keyword research and campaign setup: We conduct comprehensive keyword research to identify the most
Relevant and high-performing keywords for your campaign. Based on the research, we set up your PPC campaigns on platforms like Google Ads, Bing Ads, or social media platforms, ensuring proper targeting and ad placement.
– Ad creation and optimization: Our skilled copywriters and designers create compelling ad copy and creatives that align with your brand and resonate with your target audience. We continuously monitor and optimize your campaigns, making data-driven adjustments to improve click-through rates (CTRs) and conversion rates.
– Tracking and reporting: Digiedia provides detailed tracking and reporting, allowing you to monitor the performance of your PPC campaigns. We provide regular updates and insights, helping you understand the impact of your PPC investment and make informed decisions.
4. Testimonials from Satisfied Clients
Don't just take our word for it. Here are a few testimonials from our satisfied clients who have benefited from our top-quality PPC services in Kolkata:
– "Digiedia's PPC services have been instrumental in driving targeted traffic to our website. Their team understands our industry and has helped us achieve impressive conversion rates. Highly recommended!" – (name)
– "We were struggling to generate leads for our real estate business until we partnered with Digiedia. Their PPC campaigns have been a game-changer for us, delivering high-quality leads and boosting our sales." – (name).
Maximize Your Business Potential with Digiedia's PPC Services in Kolkata
If you're ready to take your business to new heights and unlock its full potential, Digiedia's top-quality PPC services in Kolkata are the key. With our expertise, customized strategies, and comprehensive approach, we can help you drive targeted traffic, increase brand exposure, and achieve measurable results. Contact Digiedia today and let us empower your business with the power of PPC.