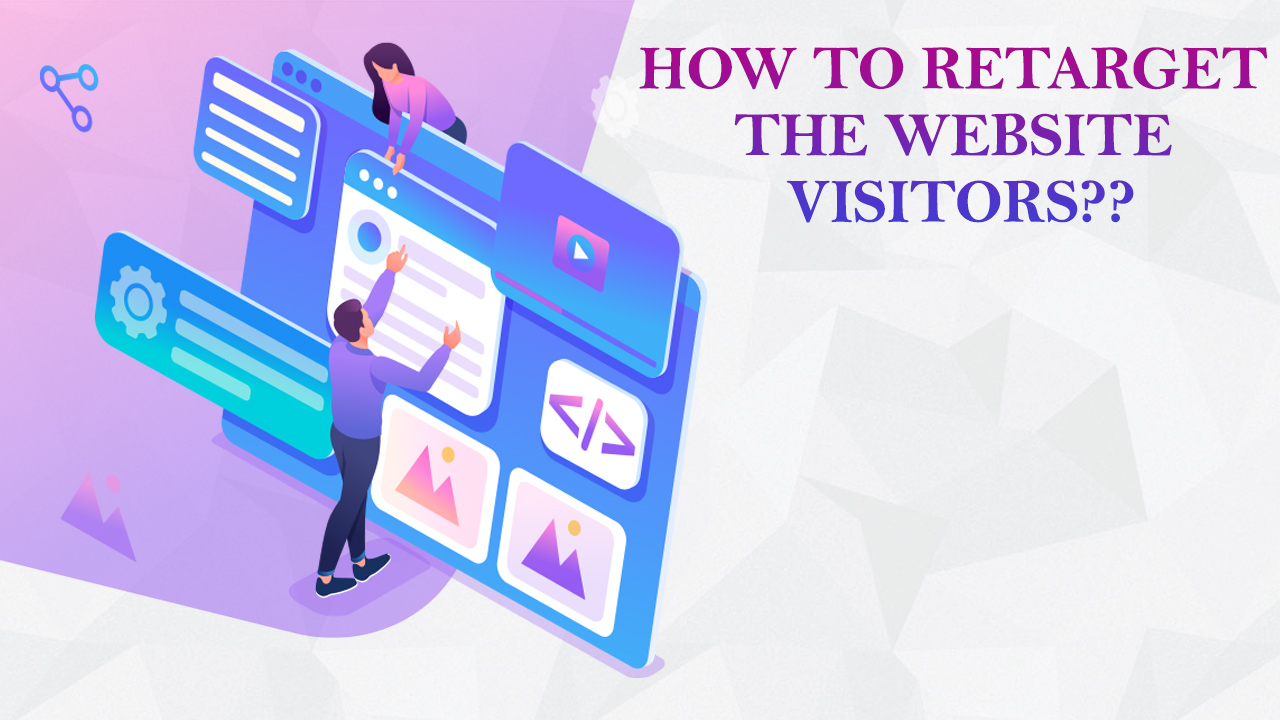 How To Retarget the Website Visitors?
Websites give you a platform to introduce your business and provide value to your audiences. High Traffic plays a vital role in establishing the digital presence and the dominance of your business in this competitive market. However, conversion of the traffic is a highly important factor that decides the revenue and the longevity of your firm. Not all visitors who go through your website convert into leads or paying customers. Pushing the visitors down the sales funnel and impressing them on their first visit to your website can be an extremely difficult task. This is why it is essential for your business to reach out and retarget the website visitors. 
What is retargeting? How can retargeting help your business? How do you retarget your visitors and convert them into high quality leads? Read on to know how retargeting can lift your conversion rates and help you grow your sales and business:
Retargeting:  Pull The Visitors Back To Your Business
The traffic your business receives can be put into two broad categories. The first category of the visitors go through your business and take an interest in what it has to offer and appreciates and trusts the value it aims to provide. These visitors sign up for your mail lists to hear back and know more about your business, subscribe to your weekly newsletters and updates or make a purchase and review their experiences with your brand. These visitors convert into leads and customers and add to your revenue stream.
The latter group goes through your website and quickly scrolls away to the next page or leaves. These visitors do not press the Call To Action buttons and take necessary action that could benefit your business right away. They do not sign up for your newsletters or the exciting offers your business aims to provide. Retargeting these visitors can make them interested and pull them back to your business.
The retargeting ad campaigns allow you to retarget the website visitors, who have gone through your business, looked around but did not convert into leads. These ads pursue and convince these visitors to go back and reconsider the value your business aims to provide. These ads can make the visitors give your business another chance and encourage them to change their minds. Retargeting ads can help your business increase the conversion rates and establish beneficial relationships. The process heavily highlights your business and its services, which can surely increase the brand awareness and turn the lost visitors into interested potential customers who can add to the revenue and sales of your brand. Retargeting your existing customers and the leads can be highly beneficial for your business. The chances of conversion are usually higher. Retargeting is much cheaper compared to traditional advertising. It presents a good return on investment (ROI). Here are the ways you can retarget your website visitors and convert them into potential customers:
Ways To Retarget The Website Visitors
Use a Retargeting Pixel: Study The Behaviour Of  Your Website Visitors
Retargeting pixels are a small series of codes that are added on the websites. These codes minutely study the behaviour and the activities of the visitors on your website. They keep a track of the visitors and keep an eye on their preferences, the pages they are interacting with, the content the visitors choose to view and read and the ads they viewed and clicked. These pixels gather information of the visitors and keep a record so that it can be used while advertising and marketing your business, according to their preferences.
When you attach the pixels to your website or the landing pages, they allow you to advertise your brand to your visitors when they navigate out of your website. The ads track and follow them around and show up on their relevant digital platforms or other sites. These ads are completely based on the pages they interacted with on your website and are focused on what caught their attention. These ads continue to highlight your brands and the value it aims to offer and try to convince them to go back to your business and take action.
A retargeting pixel starts working the moment a visitor leaves your website. They begin to see ads related to your business on their platforms and channels. This can easily convince them to change their mind and go back to your business and sign up for your recipe book or make a purchase and complete the transaction.
Break Your Audiences Into Segments
In order to convince the visitors to come back and give your brand a try, it is highly essential for your business to pay attention to the retargeting ads. One ad cannot fit all the visitors who are looking for different results, services and values. Therefore, it is important for you to break the visitors who have been through your business, into different segments. You are required to customize the ads according to the preferences of your visitors. Customizing the ads can help you retarget them effectively, which can increase the chances of conversion and add to your sales and revenue.
Retargeting Lists To Get Back To Your Existing Customers
You can also retarget your existing customers, audiences and leads to get more conversions. You can retarget the customers who might have transacted with your brand in the past or gave your services a try. These are the audiences who are already part of your contact list and would like to receive more value from your brand. Retargeting your contact lists is highly profitable and can easily get you more conversions and get the traffic back to your website reminding them of the value your business has to share with them.
With the help of retargeting platforms, the ads related to your business can instantly come up, as the visitors and customers in your contact lists surf and browse through the platforms and other websites. This can encourage and push your existing audiences and customers to pay a visit on your website and see what's new!
Retarget Your  Website Visitors with The Help Of Social Media
Social media platforms like facebook, allow you to retarget your website visitors and invite them back into your business. Just like retargeting pixels, facebook allows you to use 'facebook pixels' to study the behaviour and preferences of your visitors and show relevant ads of your business on the publishing platform.
These are the 4 ways you can employ to retarget your website visitors and remind them of what they missed out on, when they scrolled away from your website. These methods can help you convert your visitors into potential customers and add to the growth and revenue generation of your business.