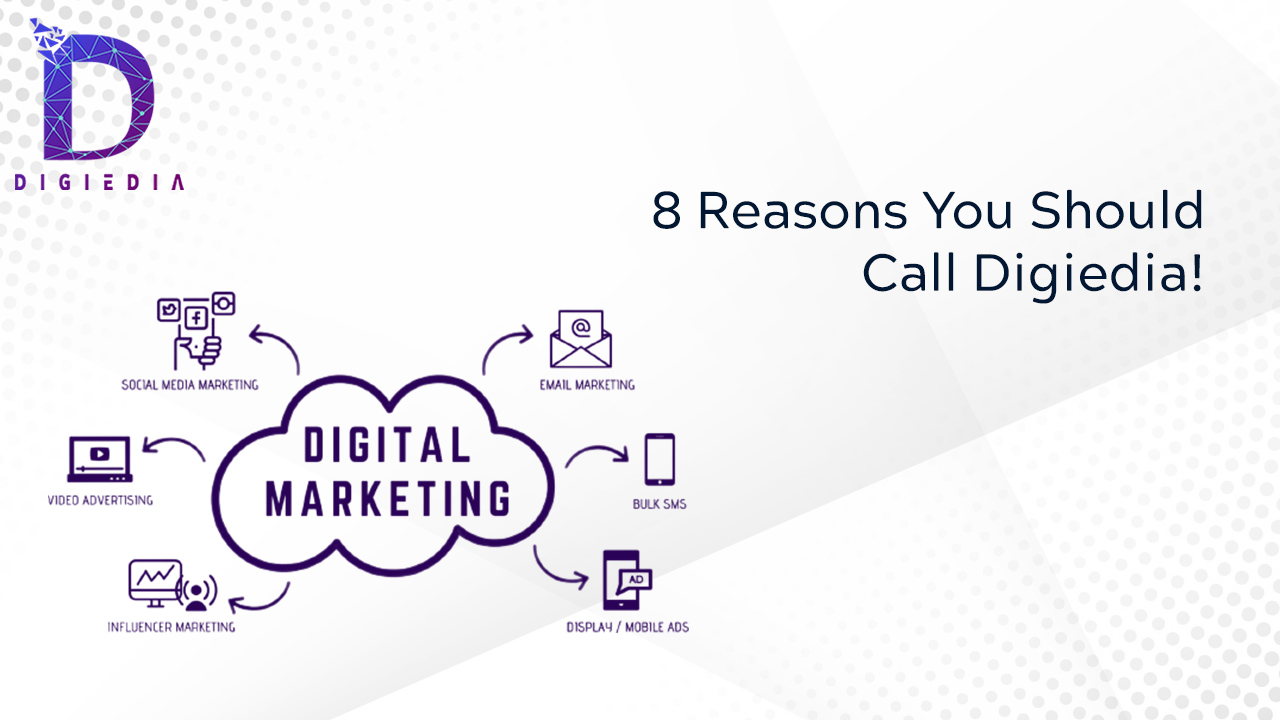 8 Reasons You Should Call Digiedia – The Best Social Media Marketing Company in Kolkata
Introduction:
In today's digital age, having a strong online presence is crucial for the success of any business. With millions of people using social media platforms daily, it has become a powerful tool for marketing and reaching a wider audience. If you are a business owner in Kolkata looking to harness the potential of social media, Digiedia is the name you should trust. As the best social media marketing company in Kolkata, Digiedia offers a range of services that can help your business thrive in the online world. In this article, we will explore eight compelling reasons why you should consider calling Digiedia for your social media marketing needs.
1. Expertise and Experience:
With years of experience in the digital marketing industry, Digiedia has built a team of experts who are well-versed in the intricacies of social media marketing. Their professionals have a deep understanding of various social media platforms, algorithms, trends, and consumer behavior. By leveraging their expertise, they can create tailored strategies to maximize your brand's visibility, engagement, and conversions.
2. Customized Social Media Marketing Strategies:
At Digiedia, one size does not fit all. They understand that each business is unique and requires a personalized approach to social media marketing. By analyzing your target audience, industry, and business goals, Digiedia creates customized strategies that align with your brand's identity and resonate with your audience. Whether it's content creation, community management, or paid advertising, their strategies are designed to deliver measurable results.
3. Comprehensive Social Media Management:
Managing multiple social media platforms can be overwhelming and time-consuming. Digiedia offers comprehensive social media management services to alleviate this burden. From content creation and scheduling to monitoring and analytics, they handle every aspect of your social media presence. This allows you to focus on core business activities while they ensure that your social media accounts are active, engaging, and optimized for success.
4. Engaging Content Creation:
Captivating and relevant content is the key to grabbing your audience's attention and driving engagement. Digiedia's team of content creators knows exactly how to create compelling posts, videos, infographics, and more, tailored to your brand's voice and style. By consistently delivering high-quality content, they help build brand loyalty, increase followers, and encourage social sharing.
5. Data-Driven Approach:
Digiedia firmly believes in the power of data-driven decision making. They utilize advanced analytics tools to track and measure the performance of your social media campaigns. By analyzing data such as reach, engagement, conversion rates, and audience demographics, they gain valuable insights to optimize your strategies and ensure maximum ROI. This data-driven approach sets them apart as the best social media marketing company in Kolkata.
6. ROI-Focused Advertising:
Paid advertising on social media platforms can be an effective way to reach your target audience and drive conversions. Digiedia excels in creating and managing ROI-focused advertising campaigns. Their team leverages precise targeting options and optimization techniques to deliver your ads to the right audience at the right time. By constantly monitoring and optimizing your campaigns, they maximize your ad spend and deliver tangible results.
7. Community Building and Brand Reputation Management:
Building a strong community around your brand is vital for long-term success. Digiedia understands the importance of engaging with your audience, responding to their queries, and managing your brand's online reputation. They diligently monitor social media platforms, actively engage with your followers, and address any negative feedback or reviews. By nurturing a positive brand image and fostering brand loyalty, they help you build a thriving online community.
8. Continuous Growth and Adaptability:
In the fast-paced world of social media, trends and algorithms are constantly evolving. Digiedia stays ahead of the curve by continuously monitoring industry trends and algorithm updates. They adapt their strategies accordingly, ensuring that your brand remains relevant and visible in an ever-changing digital landscape. Their commitment to continuous growth and adaptability makes them the go-to social media marketing company in Kolkata.
Conclusion: In a digital world where social media platforms reign supreme, partnering with a trusted social media marketing company like Digiedia is essential for your business's success. Their expertise, customized strategies, comprehensive management, engaging content creation, data-driven approach, ROI-focused advertising, community building, and adaptability make them the best social media marketing company in Kolkata. By calling Digiedia, you can unlock the full potential of social media marketing and take your business to new heights in the online realm.