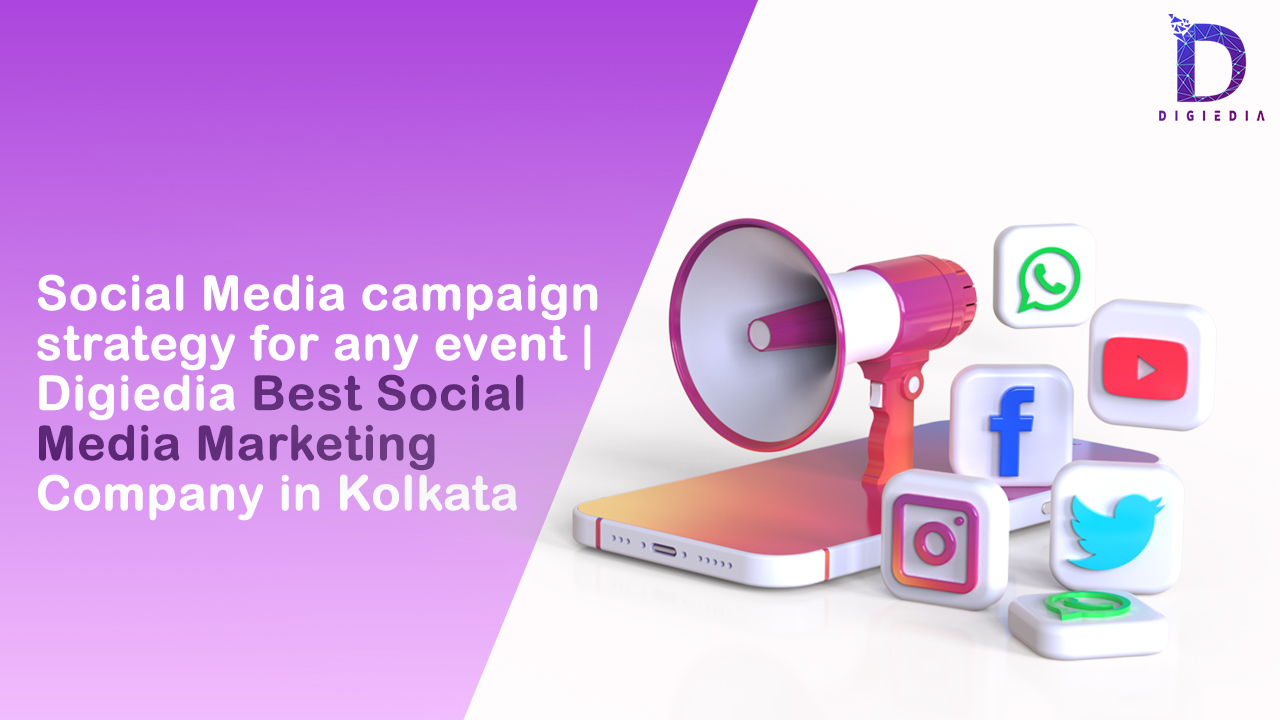 Social Media campaign strategy for any event | Digiedia Best Social Media Marketing Company in Kolkata
Social media can help you market your event and keep in touch with your attendees, but you'll need an event social media strategy first. You may believe that you "get social media" and that you don't need a strategy before you begin posting, but a strategy will help you focus your efforts so that you don't waste time or money. It also allows you to delegate the task to a member of your team. In this piece, we'll go over some key aspects of a Social Media campaign strategy for any event.
Platforms
The very first social media strategy for any event that you'll have to make is which platforms you'll utilize to publicize your event and communicate with your fans.
Choose platforms that are appropriate for your target audience, not platforms that you prefer. You may not appreciate or have much experience with Snapchat, but your visitors will use it if they are young, trendy, technology adopters.
When you create accounts on your preferred platforms, make sure to optimize your social profiles. Include high-resolution profile and header photos. Fill in the biofields (the "about us" sections) so that your supporters have everything they need to know about your event.
Hashtags
Each event should have a hashtag that you, your guests, and your fans may use on social media. This makes it easy for people to find event information and communicate with one another.
What distinguishes a great hashtag from a mediocre one? It should be succinct, one-of-a-kind, easy to understand, and appropriate for the event and audience.
When discussing the event on social media, including the hashtag. Include it in your profile bios as well. Encourage your visitors and supporters to mention the event using it.
Goals
Before you start posting, it's a good idea to make some goals. This will have an impact on the remainder of your social media work and this is one of the most important social media strategies for any event which is to set determined goals for your upcoming event.
Consider your social media goals. Create clear, measurable, attainable, relevant, and time-bound SMART goals.
Each aspect of your event, like any other, will require goals.
It should be included in your printed materials, email messages, event signs, and website. Even if they are unable to click it, they will be able to associate it with your event as a result of this.
Goals during the run-up to the event: Increase awareness and registrations. You'll want to get the word out about your event as widely as possible and persuade people to come. Send your followers to a sign-up page for an upcoming event.
Goals for the event: Keep attendees and fans active and engaged. Post updates on the event, including entertaining images of attendees, glamorous shots of parties, food, and crowds. To show non-guests what they're missing, make brief movies of keynote speakers (just a tease!).
Goals for after the event: Reiterate the event's importance. Continue to drip out information that reminds your guests of how much fun they had and makes non-guests wish they had attended. This is also an excellent opportunity to solicit input.
Content
Your event social media strategy's meat is content. This is where you'll decide what you'll post to achieve your objectives.
Because followings don't grow overnight, you'll want to start posting far ahead of time. Allow at least two months, but ideally three. Post multiple times every day, every day.
People will become bored with your page and unfollow if you constantly ask them to register for your event (or otherwise make a transaction). As a result, your posts should contain 80% educational/entertainment/lifestyle content and 20% promotional stuff.
Make posts about topics that are important to your target audience. You can provide business news, encouraging quotations, and family humor if you're having a baby retail event.
Even when distributing promotional content, it's vital to try to add value. Instead of constantly encouraging your followers to register, demonstrate the value of the event by sharing sneak peeks, interviewing prior guests, or chronicling your preparation and setup process. This portrays how important this social media strategy is for any event.
Influencers
Social media users with huge, active followings are known as influencers. You can use their following to advertise your event if you don't already have one.
Solicit social media promotion from your event's speakers, presenters, demonstrations, brands, suppliers, and anyone else involved. If they have a large following, you may have to provide them with photographs, videos, and copies to post.
Those that have a vested stake in the success of your event are the finest influencers. To promote your event, consider rewarding them with tickets or swag.
Advertisements that are paid for
Each post you publish on social media will only be seen by a small fraction of your followers.
Because platforms like Facebook and Instagram utilize algorithms to show material based on a plethora of unknown criteria, your content may not appear high in the feed. Users on other platforms are less likely to keep up with their feeds.
Another social media strategy for any event is this. you should set aside a tiny amount of your budget for sponsored ads if you want to get your content in front of more people. However, don't buy advertisements for every post you make. Rather, spend your money on advertisements for the most powerful postings, such as those that encourage people to sign up for your event.
Event Day
You and your team should be social media overloaded on the day of the event. Hundreds of photographs and videos can be taken with your phone. Gather as much data as you can. Some of it should be displayed at the event, but the remainder should be kept and utilized to promote the next one.
Depending on the extent and cost of your event, you might want to hire a professional individual to collect social media content. This will assist you in collecting as much information as possible.
Measurement
You'll need to measure your social media plan if you want to know if it's effective.
You'll learn what kind of material works best and when your followers are most engaged with your articles as time goes on. To assist you to enhance your plan, keep a notebook accessible. If you find that humorous material generates the most engagement, post more of it.
You should also do a quantitative analysis of your social media posts. The following metrics should be kept in mind:
The number of likes, comments, and shares you receive on your postings is referred to as your engagement rate.
The number of people who click on the links in your postings is referred to as the "click rate."
Sales: How many sales did your social media profile generate?
We hope this has given you some ideas for social media strategy for practically every event. You'll have a successful approach that will generate a lot of discussion on social media if you include plans to address each of the components we discussed above.