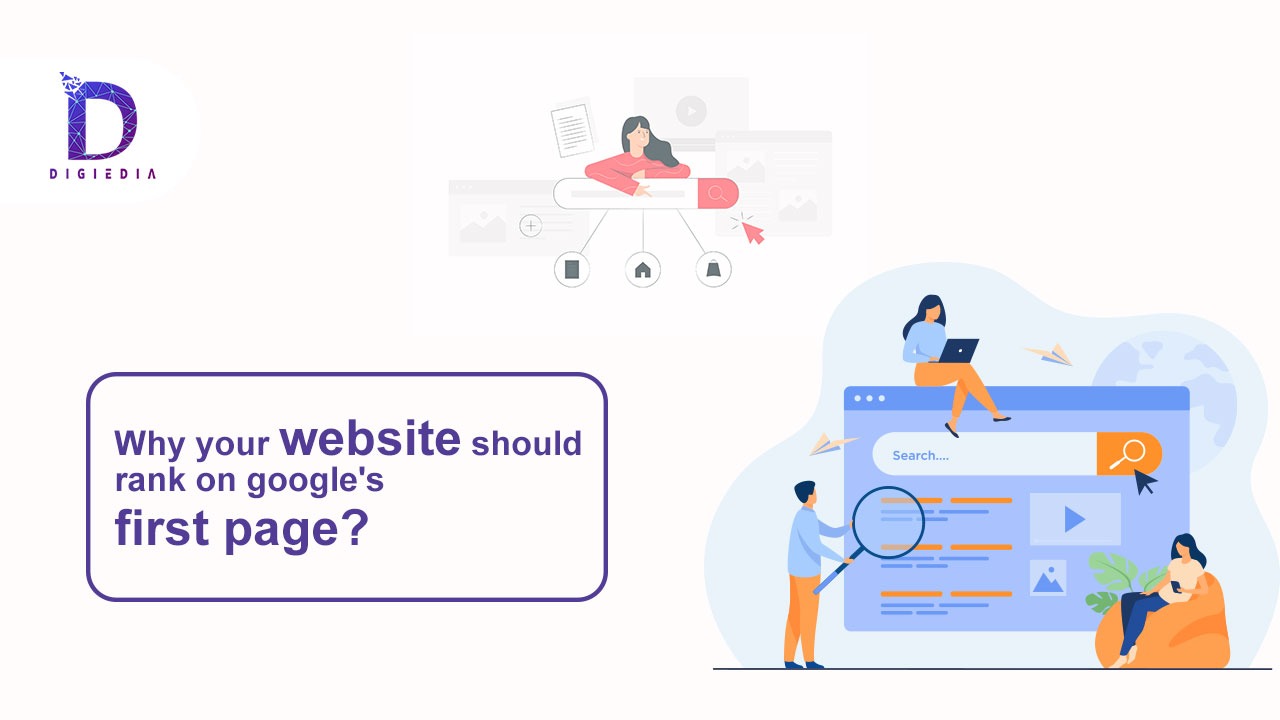 Why your website should rank on Google's first page?
DIGIEDIA

20 December 2021
Google is the all-powerful for those in the industry of driving organic traffic. It crawls the internet to find the most valuable and relevant pages for its consumers on nearly any topic. We don't only trust, but we rely on Google's results. Getting your small business on the top page of Google may seem impossible with such great power and impact. But before everything one needs to understand why your website should rank on Google's first page.
Google has become many people's major source of information, with over 3.5 billion searches every day, now that most of us have internet-connected gadgets in our pockets at all times. However, as a result of this, Google's search results have grown extremely congested. It's challenging to get your company's website on Google's top page, especially with so many firms fighting for visibility on this search engine. To get there, you'll need a combination of art, knowledge, and technology and only then will you understand why your website should rank on Google's first page.
What Is the Importance of Google's First Page?
When certain Google searches provide dozens of pages of results, appearing on the second or third page may appear to be sufficient. However, there are three compelling reasons to concentrate on the first page in particular and why your website should rank on it. The benefits of first-page Google results include:
Excellent click-through rates: The percentage of people who click on the link to your website when they see it is known as the click-through rate, or CTR. The CTR for the first five organic results ranges from 7.5 percent to 34 percent. However, from the second page onwards, the CTR may drop to 0.5 percent or lower. The higher your ranking, the higher your CTR will be.
Very good exposure: Snippets are known to be the text chunks from top-ranking websites that appear right at the top of the search results page. It will be impossible for searchers to ignore your website if it is featured in this prominent location. Your site will also earn quick reputation as a result of the positioning, which signifies that it has authoritative and trustworthy content.
Increased traffic: The number of visitors to a website is referred to as website traffic. Because the top page of Google's results receives 71% of all search traffic, achieving a high ranking will also result in more page visits.
What Are the Advantages of a First-Page Ranking for Your Business?
Are you unsure how the above influence translates into tangible benefits for your company? The following are the reasons why your website should rank on Google's first page:
Makes you more visible: The number of people who view a website on the first page is exponentially higher than the number of people who see a website that isn't on the first page.
More high-quality leads are generated: Users who are looking for something specific have a high likelihood of making a purchase. You can attract sales-ready leads to your site and convert them quickly if you can rank effectively for the search terms they use.
Increases participation: On top-ranked company websites, Google provides a variety of information, including store hours, a map of your region, and further information under the 'People Also Ask' section. This allows users to interact with your brand in a variety of ways right on the search results page.
Increases the number of visitors to a website: For your firm, increased traffic is a highly desirable development. The more people who visit your site, the more likely they are to become paying clients.
Increases your authority in your field: Google reserves the top spots in its search results for sites that it believes to be authoritative sources of trustworthy information. If you can get your website to rank well, it will be seen as a valuable source of industry-related news, data, and commentary.
Consumer trust is increased: On behalf of users, Google's algorithms are designed to screen out low-quality spam sites. Having your website appear on the first page of search results helps demonstrate to customers that your company is authentic and trustworthy.
It expands your audience: Getting on the first page of Google search results necessitates a substantial amount of high-quality evergreen content. You should anticipate to see consistent high traffic growth accompanying the growth of your archives because this type of content is timeless and always relevant to visitors.
Increases the speed of your sales cycle: Users that come to your site in search of useful information have already passed through the top of your sales funnel. You can now target them with personalized content to take them further down the funnel and finally persuade them to make a purchase now that they've had this initial interaction with your company.
Now that you already know why your website should rank on Google's first page, let's see some basic ways that will help you throughout the process. The words or phrases that make up the search queries you wish to rank for are known as keywords. Your website should be optimised for a variety of keywords related to your industry, products, or brand. To avoid many sites competing with each other, each page should have its own set of target keywords. Identifying high-volume, low-competition keywords can be as simple as using a keyword research tool or consulting with an SEO firm. These are the ones that will increase your chances of achieving a high rank.
Google employs mobile-first indexing to calculate its search rankings because most searches are now conducted on smartphones and tablets. For a high-ranking website, mobile-friendly design is an essential. You can effortlessly browse on any device, regardless of screen size, thanks to responsive design. If you like, you can create a distinct mobile-optimized version of your site. In addition to mobile optimization, you should strive to provide a fantastic user experience in other areas. The design of your website should be unique and entertaining, as well as simple to navigate and include clear calls to action to help users locate what they're searching for on your page. These tactics will keep users on your site longer, signalling to Google that it is useful and worthy of a high ranking.