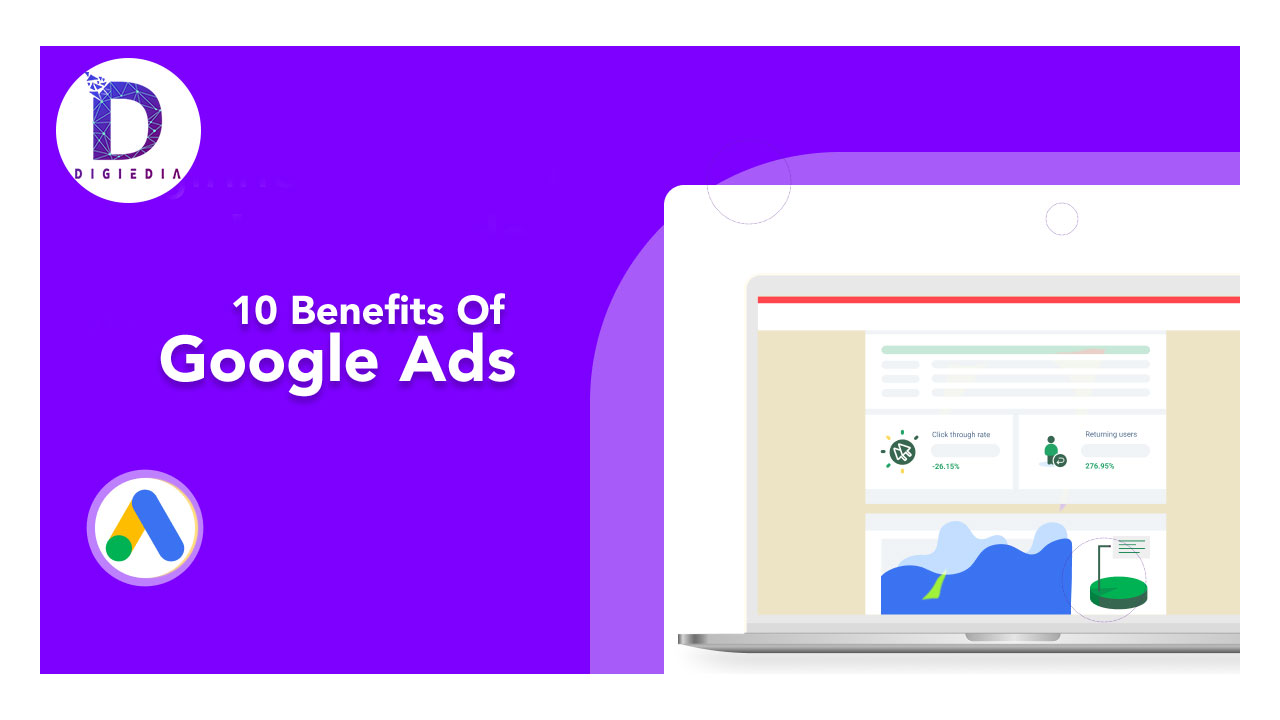 10 Benefits of Google Ads
Digitization is the new cool!! Every business nowadays wants its presence on the digital front and Google Ads plays an important role in it. It has become a necessity for businesses to work and promote their business in between a specific target audience to increase sales rates and thus, their market capital.
There are many helpful tools to support this process but, one of the most useful solutions is Google Ads that help deliver fast and effective results. Before starting with the benefits of Google Ads, let us take a look at what Google Ads are and how they benefit a business to become a popular one.
Google Ads is an Online Advertising Programme by Google. It offers paid promotions to businesses who wish to appear in Search Engines results when a user searches something related to their offerings. The Google Ads run on PPC i.e, Pay-Per-Click Advertising, therefore, you pay only when a visitor clicks on your ad.
Have you ever seen the AD Label whenever you search for something? The label generally appears in the top 2 search results above the organic results. It is what Google Ads does; it shows your website/service over the organic results that help in increasing visits and sales.
Talking about the benefits of Google Ads; The Top 10 Benefits of Google Ads are:-
1:- Helps in Leveraging the traffic and visits of your Website/Application
The top-notch benefit that Google Ads help you with is increasing the Reach and visits to your Website/Application. As mentioned, with Google Ads, your website appears in the top 2 search results when a user searches anything of its relevance, and with the mindset of users today, they generally click on the top results shown by Google ensuring your better clicks and visits.
Also, with Google ads, you can narrow your niche in terms of demography as well.
For example, if you run a grocery store and you want to sell your groceries locally. All you have to do is customize your specifications, and Google will show your website to anyone who searched for a Grocery Store near you.
2:- Google Ads is Faster than SEO.
While SEO can make you a part of the top Organic Results section, Google ads display your website over the Organic results. With SEO, it can take a very long time to get to see your website pages in the first position for a broad keyword. But when you get started with Google Ads, your chance of leapfrogging all the organic results grows exponentially and easily too.
3:- Google Ads Is A Flexible Marketing Platform.
Google Ads is the most flexible and customizable way to leverage the value of your website or business. With Google Ads, one can narrow their niche to any case they want, be it locality wise, product wise, or budget-wise. One can customize and filter out anything they feel would add up to the value of their business.
For example:- If you are a newly incubated start-up and it is related to local foods. Being new in the marketplace, you would not want to spend much on publicity for the initial stage.
Don't worry; all you have to do is customize your area where you are interested in selling and your budget on Google Ads, the rest will be assured by Google Ads.
4:- Returns are always high.
With Google Ads, one can be assured of getting a high and better return for the investment they made. Unlike other marketing strategies, at Google ads; you only pay when a visitor clicks on your ad. Once, you customize your Google Ads Campaign, you can start getting a high return on investment which is not possible by using other marketing strategies.
5:- Helps you to know your audience better.
Unlike other Marketing programmes that give out not-so-important information, Google Ads gives out various details about customer habits, needs, and purchase behaviour. Not only this, but with Google Ads, you can also know the keywords they use to search your website, their location, the devices they use, the time and days they search, and other relevant information that could be helpful.
6:- Helps you to know you Niche Market
When you are a freshly incubated business startup, it is mandatory to know what the market is offering at that present time in terms of your articles. A big chunk of leads and traffic depends upon the offers that a website or brand provides to its customers. Google Ads help you to keep up with the pace of the market.
7:- Helps you stand out of the Queue.
Google Ads takes your competition more seriously than you do. The Target Outrank tool in Google Ads helps you with some strategies that customize to surpass the concrete competitor in your niche.
8:- Helps with remarketing with your Audience.
If you are an online seller, remarketing is a necessity for you. Remarketing is an easy way to connect with people who have previously interacted with your website. It helps you efficiently deliver your ads in front of these audiences when they again browse some relative keyword. It helps in increasing your brand awareness or remind those audiences to make a final purchase.
9:- Helps you with Ads Competitor Targeting.
With Google Ads, you can show ads to the audience who is interested in your competitor's brand/service. Targeting competitor's keywords on
Google Ads is the easiest way to steal their leads and traffic. After targeting a competitor's keyword, you can strategically position ads that show how your brand is a better option to choose from.
10:- Competitive Approach
When someone searches for something related to your product or services online and you are not running ads, but your competitors are, then this ends up in you losing leads, traffic and thus, sales too. Therefore, keeping the competitive approach in mind, it is mandatory to run effective ads if you want to compete in the Digital Market.