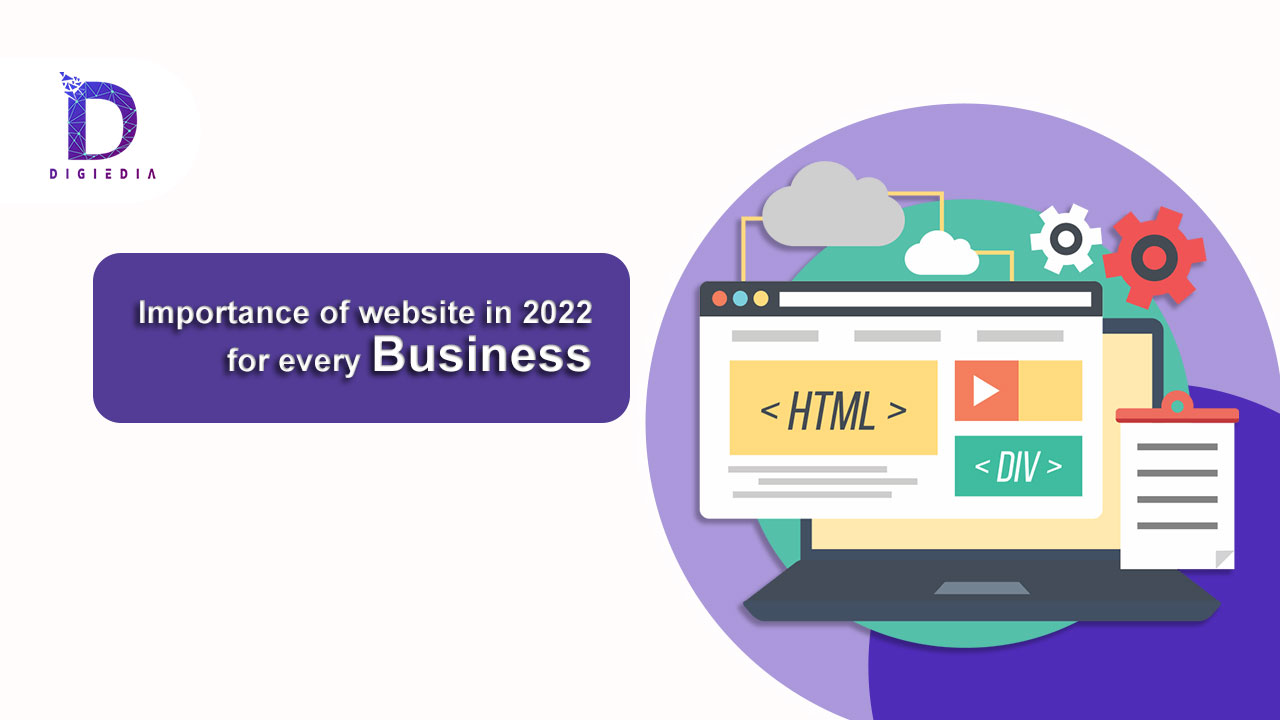 3Importance of a Website in 2022 for every Business
Introduction –
The 21st century is witnessing many developments in every field concerned. Especially in the technology sector, there has been immense growth in leaps and bounds. The emergence of the Internet resulted in Technological evolution that has digitized the world leading to vast changes in ordinary human life. Now you might realize that the dependence on the internet has increased insanely with time. For every other thing, we seek the help of the internet, be it for academics, politics, or commercial purposes. The Internet has worked wonders for the development of commerce. Considering the amount of time people spend on the website, most businesses have also shifted online. This transition from commerce to E-Commerce has increased the importance of a website for every business.
This has led to cutthroat competition among businesses over the internet. Therefore, to sustain in the strong competitive world, a strong online presence is necessary. Online customers are targeted these days, and effort is being made as to how to make your business known to these people. This is where the importance of a website lies when competition in 2022 will become more intense.
Importance of a website in 2022 in brief –
In 2022, with a new year, technology will also upgrade itself. With that, businesses will face a bit more hardcore competition than in the preceding years. Hence to make your business reach more people you need to promote it smartly. Now to advertise your business, needless to say, the internet is the smartest option to opt for. As you know the website has a far more extensive reach than any other mode of advertising. Now here comes the importance of a 'Website'. Website will play the most important role in your promotion of business. In this digital world, a website is crucial for any business.
The importance and necessity of a website in 2022 for every business will be uptick by some more percentage than 2021 for sure. The importance of a website lies in the fact that, without it, you are losing out on your potential online customers and opportunities. Your website will be the center of your business' online presence.
To bring success in business in the modern marketplace, a website is a necessity. Keeping in mind the current behavior of the consumers, a website is all you need to flourish your business. The online marketing trend has reached its peak very recently, all due to the pandemic of 2019. To keep pace with this trend, every business must emphasize creating a website. Otherwise, you will cease to exist in the competition.
Why do you need a website for your Business?
Well, to get a proper answer to the question, you need to know the importance of websites in 2022.
2019, 2020 and 2021 have been "online years" entirely for the first time in human existence. Everything has been conducted online for the past three years through several platforms. This gave impetus to do business, offline as well as online, in a more prominent manner. If this continues, 2022 will also become an "online year". By now people have already gotten accustomed to the comfort of online business. So, when the online business game is already strong by the end of 2021, certainly it's going to get stronger in 2022. For this, you need a website to strengthen your offline business online as well and know the importance of it.
Importance of a website in 2022 for every business-
Knowing the importance of a website serves as the key to thriving your business. Here are some points listed below that will help you understand the immense importance of a website in every business in 2022.
Unremitting presence and service:
The Internet never sleeps, so does your website. The website works 24/7 making itself available to every customer at any point in time. People can go through your website, browse through your web pages even non-business hours. Hence it increases your viewers online.
Inexpensive yet profitable:
When you are promoting your business through a website, it becomes less expensive than any other mode of advertisement. It is even permanent. It's the most cost-effective way of promotion. With the minimum investment, you can enhance your business. When your business thrives so will your profit.
When you create a website for your business, the amount of exposure you will receive is infinite. Once you are on the internet, more conspicuous you will be to the customers. With a website, the accessibility of your business expands potentially. Having a website makes it pretty easy to propagate a word about your business when people are searching for it. You may be even breaking geographical boundaries. People across the world will get to know your business through your website. Sales will skyrocket. If your website becomes global your revenue can reach sky high. Your online presence will become stronger. Your visibility for online customers will increase. This kind of exposure stands beneficial for every business.
Most of the customers nowadays tend to research on their own before doing business with you. They are biased towards those businesses that have their website. They seem to label them as professionals. On a website of your business, all the details must be mentioned – accolades achieved (if any), mail address, contact numbers, helpline customer service numbers, maps for direction. If you have them displayed on your website, it will show your expertness and professionalism. All these leave a better impression on the customers and they will be willing to do business with you.
Efficient customer care service:
Once you create a website for your business, you can create a customer forum in it. There, people can put up their queries and questions. You can also display the reviews of people who have done business with you. It's way better than hiring personnel to provide customer service. The business official in charge can answer the questions accordingly without causing any confusion. Without any customer harassment, problems can get solved efficiently and swiftly through the forum on the website. This is where the importance of a website becomes crystal clear. When you can satisfy your customer and solve their issues thoroughly, positive words will spread about your behavior towards your customers. This will boost your business.
Conclusion-
After knowing what importance a website will hold in 2022 you must immediately create one for your business if you don't have one. A website will ace up your business strategies. Your business website, which acts as a communicator between you and your customer, will bring immense changes to your business. With a website for your business, it will automatically level up your business status. It will serve as a backbone for the proliferation of your business online. People will come across your website and when they visit it, they will be interested in doing business with you. And most importantly, when you create a website the credibility level rises which will attract more customers. In the long run, a website will make you more successful in your business.