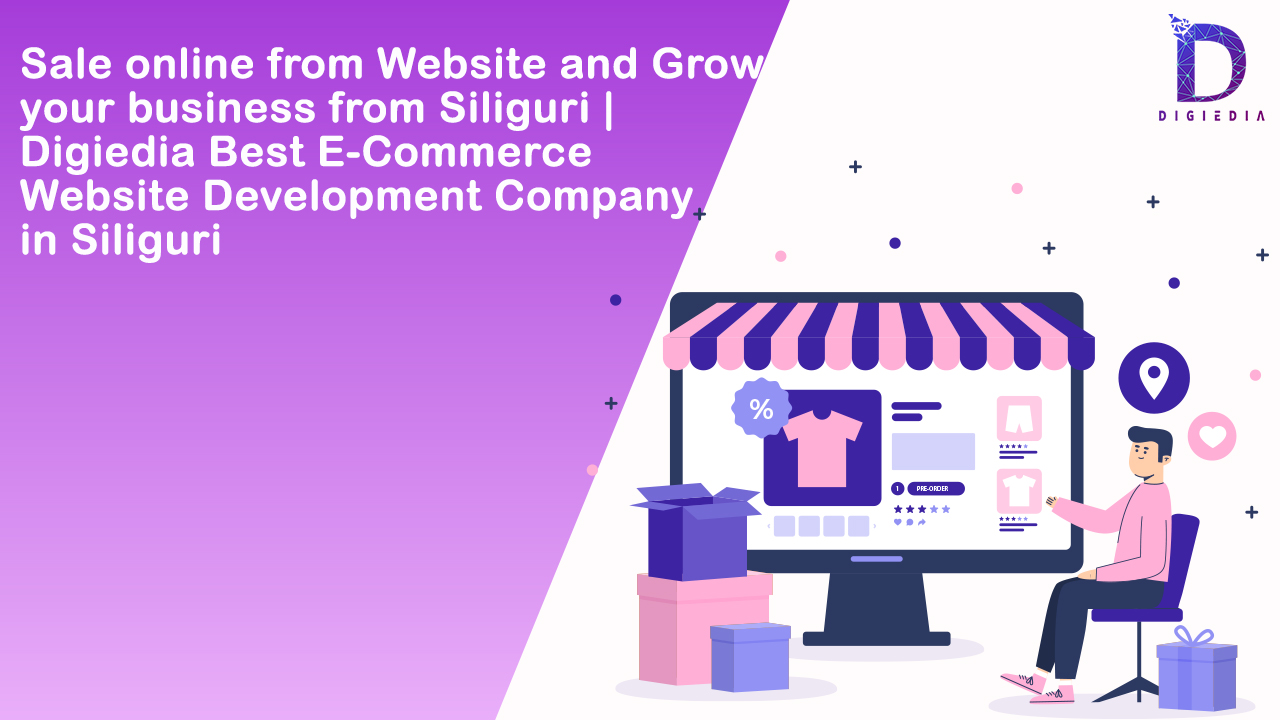 A sale online from the website and grow your business from Siliguri | Digiedia Best E-commerce website development company in Siliguri
DIGIEDIA

10 February 2023
To increase your sales, you don't need to completely redesign your website. Running quick testing on various website components, such as call-to-action, pictures, and navigation might sometimes be adequate to increase your revenue. Run one or two tests at the very least once every few months to ensure that your small business is maximizing the potential of your online store. To increase your sales online, you should rely on some of the best digital marketing companies. In Siliguri, you can choose DIGIEDIA – as they are considered one of the Best E-commerce website development company in Siliguri
Consider your life today without the internet – No emails, last-minute purchases, no videos, nothing. yes! we can not imagine our life without the internet.
That is precisely why this is a golden period for the e-commerce market. Everyone is linked and snugly tucked up in their own little internet bubbles, with no plans to return to the outdated methods. It's starting to seem like the best idea to launch an internet business by capitalizing on this trend.
Here are 8 ways how you can increase your sales online
Emphasize effective brand message
Your branding should be more consistent—through language, design, offers, or perspective — the more consistent your messaging is, the more strong your brand will build. Since the typical reader will only stay on your website for 10 to 15 seconds, it is important to provide value for your target audience. The unique value proposition that is communicated to customers through brand messaging motivates them to purchase your goods. Your brand should increase consumer awareness, trust, and loyalty.
You can increase your brand awareness by creating video ads, focusing on sales copy, or explaining your messages clearly.
Use social media marketing to grow your business
Social media makes a great impact in today's generation. Social media platforms like Facebook and Instagram let you reach potential buyers with your items. You might, for instance, set up a store to promote your products to Facebook customers. Those who are interested may then directly check out on the platform by adding your products to their bag. However, Facebook still provides a number of options for online sales if you'd like to build a standalone eCommerce website. You may utilize your Facebook Business Page, run advertisements, and sell goods in Facebook groups.
By using social media, you can collaborate with influencers. Influencers can receive samples of your products in exchange for shoutouts. By looking for important hashtags, you may find some influencers in your field with whom you can collaborate to share your products' narratives, videos, blogs, and more.
User experience (UI & UX)
DIGIEDIA the Best E-commerce website development company in Siliguri gives attention to the user experience of a website. Understanding the difficulties that visitors have is essential to creating a fantastic website experience. Websites are now an effective instrument for boosting online sales, thus it is essential to concentrate on developing the website while taking into account the essential elements. A well-structured website design looks great and works well in delivering the best user experience. Here are the main elements that might aid in boosting your internet sales.
CTA (CALL TO ACTION)
By using the CTA button properly, you can increase your visibility online. The call to action (CTA) must be placed correctly; it is pointless to have a stunning CTA if it is hidden beneath the landing page's navigation menu. Make sure the CTA is the first thing a consumer sees since it motivates them to perform the desired action.
Website navigation
Enhance website navigation; Giving consumers and website visitors easy access to internal pages that encourage them to obtain the precise information they want enhances the likelihood of online sales conversion.
Attractive heading
An attractive heading plays a huge role in growing business online. Try to Use compelling headlines to navigate users across your website and make it simple for them to browse and locate the material that speaks to their needs.
Run Paid Ads 
DIGIEDIA the Best E-commerce website development company in Siliguri prefers social media ads to increase sales, online. To increase online sales, you can run Google Ads, Facebook Ads, or pay-per-click advertisements on your social media profiles on Twitter, Facebook, and Instagram. For any business seeking a greater return on investment, social media is a fantastic digital advertising tool. Paid ads help to increase your business online. Using sponsored advertisements is a brilliant approach to connecting with your target audience. You need to identify the platforms that your target audience frequents and interact with them there. Paid advertisements are a successful approach to introduce people to your business and help drive more traffic to your website.
Focus on customer satisfaction
You must demonstrate a proven record of satisfied customers for your company in order to drive additional purchases for your internet store. A list of past or present clients, case studies, testimonials, and industry awards are all acceptable forms of proof. the higher your conversion rates, the more reviews a product gets. More than fifty reviews of a product can boost conversion rates by 4.6%. This kind is crucial for start-up companies that wish to swiftly build a solid reputation for themselves. According to online research and polls, 84% of customers said they are just as likely to believe an online review as a personal suggestion.
Conclusion
Setting up an online store is almost free, there is no risk since there is no additional outlay, and you have complete control over the variables that determine the success of your company. Remember that sooner is preferable to later if you have the time and resources to do it alone. To increase your sales online, you should rely on some of the best digital marketing companies. In Siliguri, you can choose DIGIEDIA as they are the Best E-commerce website development company in Siliguri.