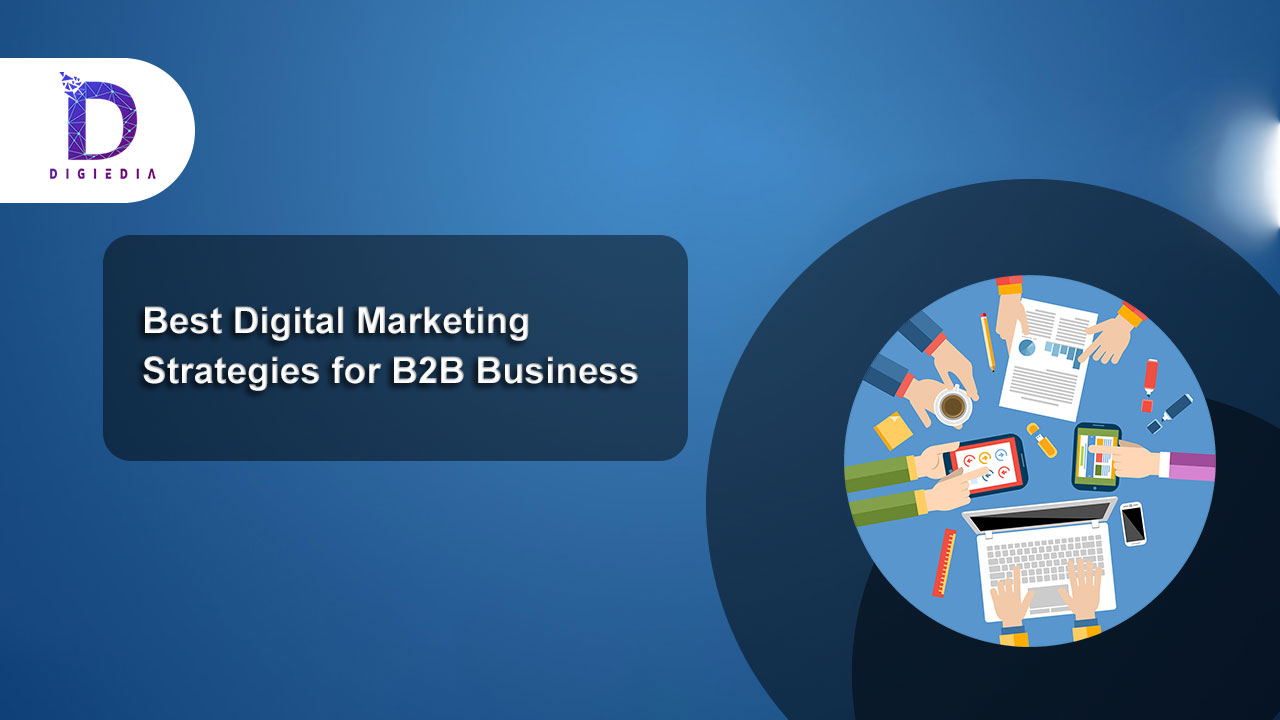 BEST DIGITAL MARKETING STRATEGIES FOR B2B BUSINESS
In today's times, we have all been a witness of an unprecedented boom in B2B and SAAS business. B2B is business to business domain requires different approaches, tactics, and strategies than other aspects. Apart from these, it requires a different set of marketing strategies as well. Riding the wave of digitalization, going techno-savvy and digital marketing is a must. There are ample of digital marketing strategies for B2B business and its usage differs from one business to another according to its growth. Some of them are: –
Create a company website – The first and most basic step among digital marketing strategies for B2B business is to create your own website for your company. Website visibility drives authenticity and trust. It is not exactly a marketing tactic but it marks your presence in the digital world. It requires content, expertise, and a good amount of monitoring. It provides information regarding your company to the users and it is easily accessible. It states exactly what your company provides in terms of products or services. It is the first and the most basic step of contact with people. It helps give the first impression and knowledge to the people and build an image and connect with their minds. A B2B website must be clear, concise, user friendly. It should include other features like target-oriented, mobile responsive, up to date testimonials with clear company logo. It should drive clear calls to action for ex- request a quote or demo or download pages etc. It should be attractive and provide engaging content. It should also mention links to your social media accounts. It should generate relevant traffic and be monitored and updated regularly. This will prove as a good start in implementing digital marketing strategies for B2B business.
Prefer content marketing and use search engine optimization (SEO) – SEO is the most used word you must have heard of in digital marketing. SEO basically helps search engines like Google to find your company's website and rank it higher on the first page of search. SEO helps to bring new visitors to your website so that your business can grow eventually. Without it, there will be either no or less visibility which will reduce website traffic drastically. Along with SEO, content marketing is one of the handy and needed digital marketing strategies for B2B business. Creating engaging content or blog is very much important. The content should be precise, relevant to your business, and should grab audience. Quality content and it's marketing is very much important and after that SEO should be implemented that will drive good searches, visitors and ultimately business. Also, strong content will help retain the eyeballs of the customers and bring them back on the site. Outside engagement and guest blogging opportunities are the tactics that can also be used. Types of content that can be used include infographics, white papers, case studies, e-books etc.
Combine and sync your offline and online marketing – To get the most out of your marketing hacks, integrating and optimizing online and offline marketing efforts is essential. Both should be in sync, deliver a clear and consistent message, and go hand in hand seamlessly. Both should serve their purpose successfully by targeting the right audience and deriving sales from that. In this era of digital boom, one can go online by switching their offline methods to online. Generate leads online, gather information about prospective clients, gather their emails, and start networking online. Encourage people to go to your social media channels and boost your presence there. Use bespoke coupons that can be used on a landing page. Try custom URL's on offline marketing activities to track activity. Moreover, you can also offer incentives or subscriptions on the first order from your company to lure customers. This combined effort of marketing is one of the prominent ways in digital marketing strategies for B2B business.
Tap and leverage into social media marketing – The thing through which people connect most in today's times is social media. So, marketing on social media platforms is very much necessary nowadays. Almost all businesses now use social media especially Whatsapp, Facebook and Instagram for marketing. They market their product or service through these platforms, connect with users or give information or updates regarding their business. It is second most popular marketing tactic after SEO among all the best digital marketing strategies for B2B business. The one thing to consider is that whatever content you post should be platform specific and should engage that particular type of audience. Also, world has become more inclusive after social media as personal connect is possible from anywhere in the world with any one you want.
Keep in mind about pay per click (PPP campaigns) – If your marketing budget permits, you can consider pay per click campaigns. In this campaign, you only pay if the action has been taken. It drives engagement to another level. This is next excellent option after SEO and content marketing among all other digital marketing strategies for B2B business. Though it is relatively inexpensive as SEO or content marketing but still whatever you have to pay it suits your budget. It also raises brand awareness. To make sure how this is working, you can keep a paid media tracker that spend and performance according to it. Through this you can also reach exact target audience. So, this can be proven excellent way to digitally market your business.
Redline your target and do marketing accordingly – Nowadays, you can drive tremendous sales and drive growth with excellent budgeted campaigns. Through this option, you can market your product or service and show ads to consumers through any point in their buying journey. This is done by understanding the metrics of exactly which stage they are in buying and which point triggers them. You can do this through micro level using social media. Platforms such as Facebook and Linkedin help with sophisticated ad targeting as well. Combining targets with analytics and marketing accordingly will give you the best results. This is also one of the proven digital marketing strategies for B2B business.