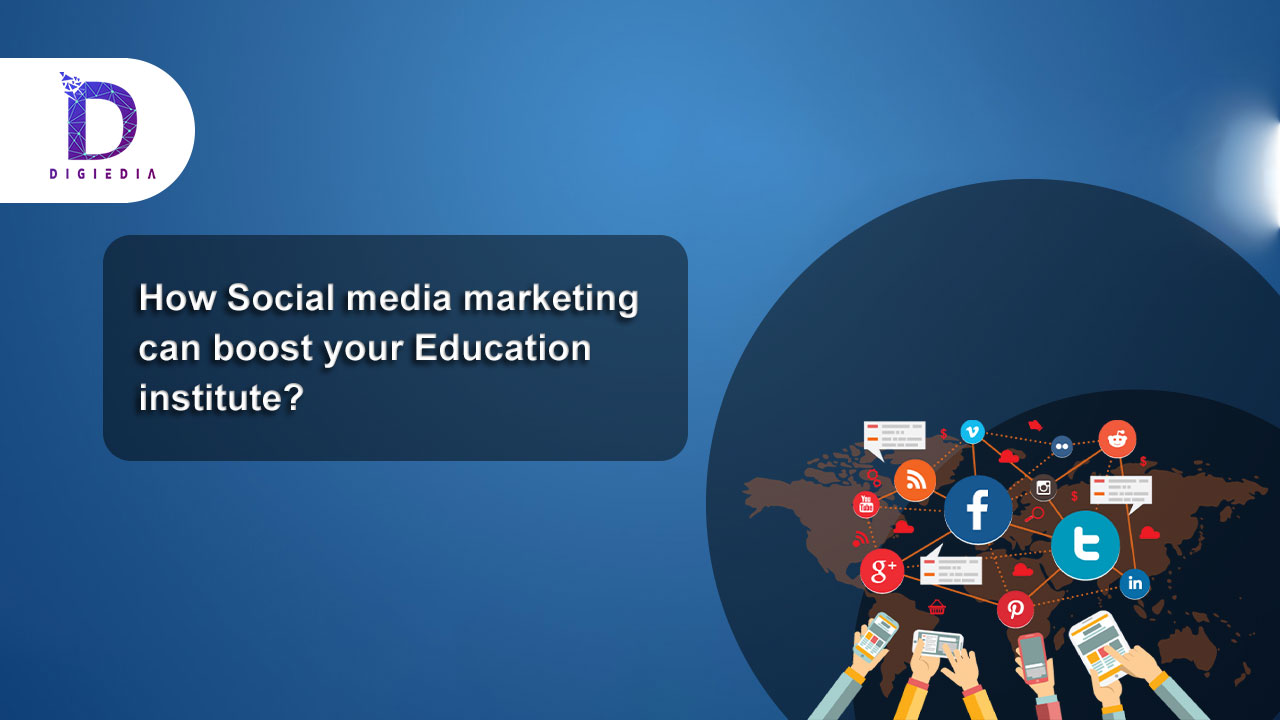 How Social media marketing can boost your education institute?
We spend a large amount of time on social media daily. This is especially true for younger generations, and it gives an excellent opportunity for higher education institutions seeking new pupils. Many overseas educators are already implementing best practices to encourage enrollments with a strong social media approach. It should go without saying that Social Media Marketing for education institutes has a lot of potential; all educators need to know is where to start.
Video marketing is extremely powerful since it enables showcasing your school's personality much easier, allowing viewers to connect with you more effectively and engage with you on a more personal and true level. With textual data, this is tough to achieve. In today's world, people not only enjoy videos, but they also find it quite handy to consume video information.
You've undoubtedly put your advertisements in places where prospective students might notice it, but getting them to stop and look takes some planning. These aren't difficult to put in place or organize, but they do take time and effort. If you utilize these tactics, you'll be able to tell which marketing initiatives are successful and which aren't, and your hard work will pay off as your brand grows.
WHAT ARE THE BENEFITS OF USING SOCIAL MEDIA MARKETING FOR EDUCATION INSTITUTE
Some educational institutions have found out how to effectively use Social Media Marketing for education institute, interacting with students through relatable voices on the platforms they use every day. However, how can social media help your college, institution, or training organization reap the benefits of a solid social media strategy?
Increase Student Involvement
Every year, Columbia University holds the Giving Day Campaign, an annual fundraiser that brings Columbians from across the world together to support the students, instructors, and researchers who will change the world.
They mobilized their fundraising efforts with the help of various social media ambassadors and enthusiastic alumni and used multiple social media platforms to stream live video broadcasts to a wide audience. The 24-hour campaign in 2017 raised an incredible $15.6 million from 15,088 gift donors from around the United States and more than 50 other countries and praised them on social media.
You may target very specific subsets of your audience with paid advertising based on location, age, or interests, and social media has a big potential for developing an audience. If your institution's advertising budget is restricted, consider developing specific interest groups.
Increasing Brand Awareness
Higher education institutions may be able to communicate with students before they get on campus because more than 70% of students use social media to study college possibilities.
The University of British Columbia uses social media to promote scientific innovation, publicize faculty and student accomplishments on Twitter, and position itself as a thought leader on specific topics. Following the best practices of social media marketing for only one or two platforms makes it simple to build a vibrant brand that people recognize long before they start seriously considering your college as a potential enrollment option.
The Numbers of Students Enrolled Are Increasing
Higher education institutions are under increasing pressure to up the ante when it comes to student recruitment as the digital landscape makes online learning more appealing to many college-age students.
The University of New South Wales in Australia used social media to promote its curriculum, school personnel, and campus culture during its annual recruitment week, thanks to a well-defined social media plan. This is a great way to reach a broader audience and can have a big impact on students who are trying to decide between several college options.
IN HIGHER EDUCATION, WHICH PLATFORMS HAVE PROVEN TO BE SUCCESSFUL?
It is indisputable that social media has a big impact on people's lives nowadays, and this influence extends to their college and school studies. According to studies, undergraduates are 44 percent more likely to be influenced by social media when deciding where to study abroad. Every platform comes with its own set of benefits. LinkedIn and Facebook make it simple to build professional networks with current students and alumni.
Social Media Marketing for education Institute can use visual platforms like Pinterest and Flipboard to improve their brand image. Short video clips work well on Snapchat and Instagram, but YouTube allows brands to establish a fan base around a specific video channel.
Educators can create engaging material that potential students find relatable and easy to access by focusing on social media tales, which contain short films, good images, quirky remarks, and trendy filters. For generating brand awareness, driving student engagement, and being an authority that students look to when they need help, reassurance, or answers, social media is becoming an essential aspect of any educator's digital marketing strategy.
The goal is to create content that appeals to your target audience and to select images that best represent your company. Also, don't overlook the power of blogs, both those created by academics and those created by students and alumni, which may be leveraged to build your brand through content marketing on simple platforms like WordPress and Medium.
This boosts organic search rankings, which can have a big impact when students are weighing their college alternatives.
CONCLUSION
In digital marketing, change is constant, but higher education institutions can engage prospects, alumni, and current students on the devices and mediums they use every day with a smart social media approach. With some smart Social Media Marketing for education institute and careful consideration of your demographic and budget, you can increase brand awareness and enrollment numbers.