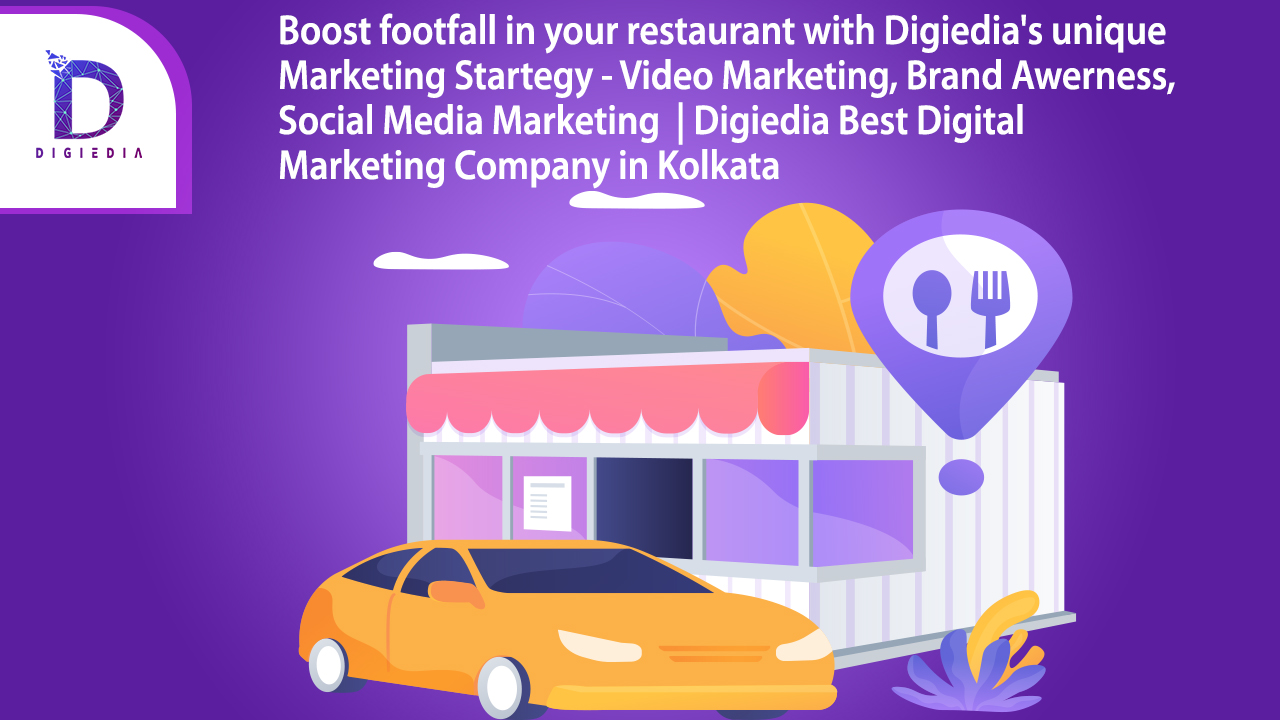 Boost footfall in your restaurant with Digiedia's unique Marketing Strategy – Video Marketing, Brand Awareness, Social Media Marketing | Digiedia Best Digital Marketing Company in Kolkata
DIGIEDIA

02 September 2022
digital marketing for restaurants has become essential as the Internet has fully taken over our life. The ability to target online users whose reviews could have a direct impact on your restaurant's reputation makes digital marketing for restaurants essential.
The restaurant business is reputed to be one of the most difficult to enter, let alone prosper in. With more than half of them failing within the first five years, small business owners already face a difficult path ahead of them. If the restaurant industry is already merciless, how can you change the odds in your favor?
A successful firm depends on knowing how to sell to its target market. One crucial issue that needs to be answered is "How will my community know I'm here?" "How can I improve my restaurant's appeal?" and "What can I do to get more customers?"
The solution to your problems lies in restaurant digital marketing. Even though the world has mostly moved toward digital technology, conventional advertising techniques like handing out flyers, direct mail campaigns, and radio commercials still have some significance. If you don't have a presence on the internet, you might as well shut your doors.
Don't be scared; we are here to assist you. The top eight restaurant digital marketing strategies are discussed further in the article.
Create a perfect website.
Your restaurant's storefront is no longer your business's face, even if you own a non-digital neighborhood eatery. The website is the first thing that 88% of people look at when they use the internet to research goods or services. Customers may leave and visit a competitor's restaurant if yours doesn't have a good website.
You want your website to be user-friendly, efficient, and professional. Prospective customers must have no trouble finding your menus, operating hours, and address. Because the majority of consumers conduct this type of research on their smartphones, whether at home, in the car, at work, or elsewhere, your website must be mobile-friendly.
Get professional photos of your restaurant's interior, menu, and staff by investing some time and money. Both your food and your staff will come across as more enticing and polished. It gives prospective customers a feeling of connection with your restaurant even before they come.
Emphasize local SEO
One of the most important stages of digital marketing for restaurants is optimizing your search engine optimization. SEO is essential for bringing natural traffic to your website and, ultimately, for filling your seats. How quickly someone searches for "Italian (or whatever) restaurants near me" will depend on your SEO score.
You need to make sure that your website's SEO establishes you as a popular destination for both locals and tourists. To enhance your SEO, take these steps:
Ensure that local keywords and other SEO coding are used on every page of your website (metadata embedded in pictures, videos, headings, etc.)
Include both internal and external links on your website (to other pages) (to affiliate websites, sources of data, etc.)
Open a Google My Business account.
Ensure that your contact information is prominently displayed and simple to find.
As you can see, studying SEO is difficult if you're a beginner.
Consider expanding your SEO knowledge or contacting a professional if you need help.
Users of social media
Having an extensive amount of SEO coding on your website is wonderful (and necessary). The number of site visits can be increased using some more direct methods, though. In the United States, Facebook is used by 70% of adults. That suggests that you can locate 70% of your potential clients in a single location.
Digital restaurant advertising is a waste of time without a social media strategy. Social media enables you to effectively network as well as to develop a fan following of clients that are interested in your company and will probably come back. Your options for paid and free advertising are numerous, which is the best feature.
Reach influential people
If you want to reach a larger audience or haven't yet amassed a substantial following, think about using influencer marketing. Individuals who have developed a following of thousands, if not millions, of people in particular industries or demographics are known as social media influencers.
Reaching out to local food influencers and inviting them to dine for free at your establishment might not be a bad idea. If they enjoy your dinner, you can negotiate an influencer marketing arrangement with them. In exchange for them writing an article about your company, you can either pay them a fee or provide them with a predetermined amount of free meals. This is one of the most common yet efficient digital marketing strategies for restaurants.
Employ email marketing
Email marketing is yet another effective online restaurant promotion strategy. Make a subscriber email list first. Social media, your website, affiliate websites, and landing page advertisements can all be used to increase your subscriber base.
You must automatically send a series of emails once or twice each week after a customer subscribes. These emails ought to be welcoming, show your subscribers how much you appreciate them, and invite them back to your establishment. If they don't include useful information, people won't open them (discounts, promotions).
Email marketing has emerged as a formidable competitor because it concentrates on promoting to people who have visited or indicated an interest in your business.
Utilize online reviews
The majority of people need some certainty when they buy products or services, even dining out, so keep that in mind as well. When researching restaurants online, one of the things people look for is what other customers have to say about them. Take advantage of online reviews and the confidence that users have in them.
Start by asking every paying client to post a review on Google, your website, or a social media platform. Once the evaluation is finished, give them a fair discount on their subsequent meal. While the prospect of winning "x" amount of money may be alluring, most customers won't evaluate your restaurant only for that reason. Instead, give them something useful.
Want more help with restaurant digital marketing?
Nowadays, operating a profitable restaurant is difficult. If your food and service were good, you could once open a store on a corner and operate there for years. However, you now need to give your marketing strategy for your restaurants and community outreach a little more thought.
We can help with the challenging learning curve associated with restaurant digital marketing. Browse our digital marketing directory to find nearby companies that can help you with your particular needs. And if you have any questions about our network of digital agencies, please get in touch with us right away.