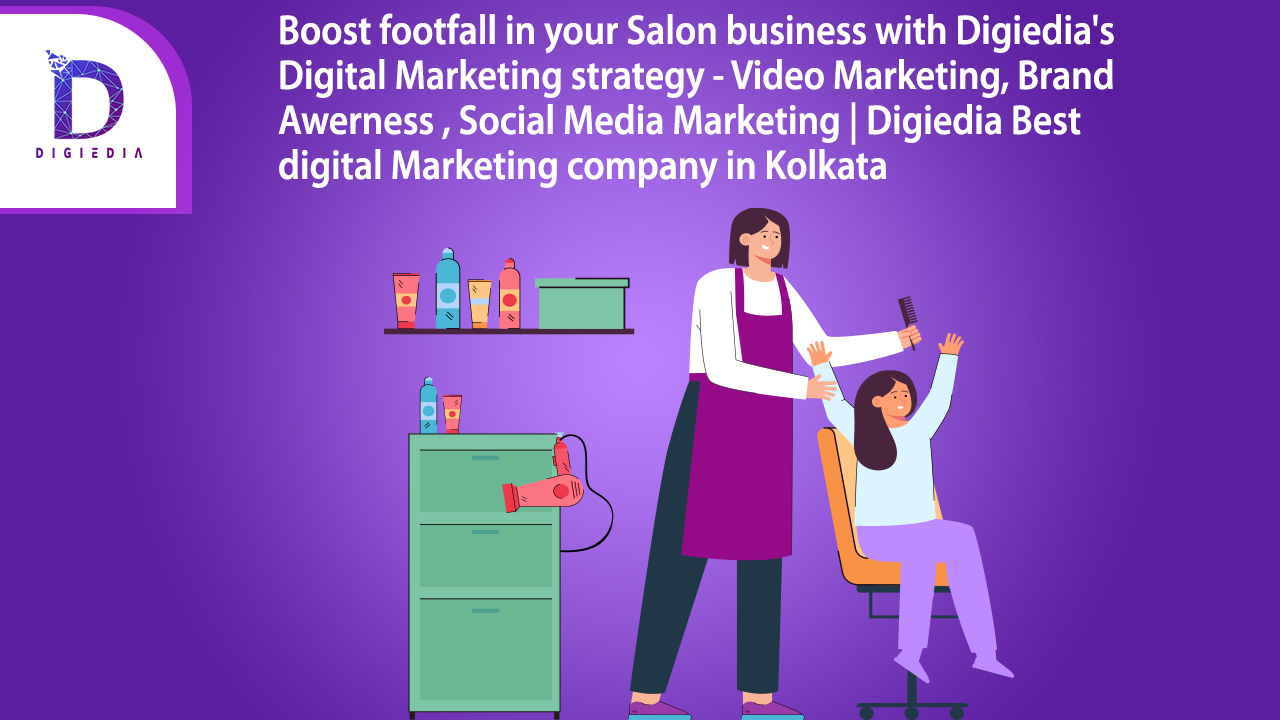 Boost footfall in your salon business with Digiedia's Digital Marketing strategy – Video Marketing, Brand Awareness , Social Media Marketing | Digiedia Best Digital Marketing Company in Kolkata
DIGIEDIA

01 September 2022
Do you practice using social media for your salon? Do you require a plan to increase sales while enabling you to utilize your salon POS system to its full potential? Knowing how to use social media to your advantage will help you raise greater awareness of your services. You may engage targeted people and turn them into potential clients by utilizing the appropriate digital marketing methods for beauty salons. Customers' primary method of contacting companies directly is through social media sites like Facebook, Instagram, and Twitter. We've compiled a list of some tactics that can change the way your salon approaches digital marketing strategy to help you up your game and stay one step ahead of the competition.
Share Content That Will Draw in Potential Clients
Social media posts should have engaging material that is appealing to the audience. It plays a great role in Digital marketing with engaging language, clever remarks, and stunning, colorful images, you can draw customers in. Customers will start to yearn for greater connection and conversation on your salon's social media platforms as a result of all this. To post information that will be intriguing and engaging to your audience, you should be aware of who your target audience is. Just keep the main idea of your brand in mind.
As long as your audience finds your postings interesting enough to interact with, they don't matter whether they are educational, clever, hilarious, or classy. You can share content that might appeal to your target audience's interests, such as facts, hairstyles, hair care advice, or behind-the-scenes images.
You should choose posts with a modern feel and touch, for instance, if your target audience is youthful and energetic. You can add pictures and apply filters to give your photos a retro feel if the theme of your salon is vintage. Check out My Digi Salon, a comprehensive salon marketing tool with ready-made social media posts and high-quality photographs.
Utilize Facebook and Instagram as Your Primary Communication Channels
These days, social media is the place to find anybody and everyone. Salon Utilizing Facebook marketing as a tool to engage clients is simple and advantageous. You may utilize all of this to create contests and giveaways, from sharing your hairstyles and nail art to designing them. It will increase brand recognition and adherence. All you have to do is discover the media that works best for your salon. These platforms, in addition to your salon booking apps, can be used to accept bookings for your salon. This digital marketing strategy works best for any business.
Share real-time videos and stories.
Another digital marketing strategy for a salon is a terrific approach to engaging with your consumers through live sessions. Make sure you broadcast live at least twice every week or every two weeks. You can do it while working. Users will get a look behind the scenes. If you can gather some professionals or influencers to work with you, ask them to run your social media for a day. Your engagement will significantly increase.
Treat your social media page like a scaled-down version of your website.
Customers should find all the information they need as soon as they visit your salon's social media profile. Ensure the content of your introduction and profile are current. There should be easy access to information on services, retail locations, contact information, etc. On Instagram and in similar Facebook albums, you can add highlights such as testimonials, your greatest work, etc. Aside from that, be sure to post articles and infographics on all of your sites. Add calls to action (CTAs) and links to your posts, as well as buttons that say things like "Call Now" or "Know More." By doing this, you'll make sure that if they want to, your users can contact you quickly.
Promote Special Deals on Social Media Platforms
Offering special discounts to your social media family will help you with your digital marketing strategy for beauty salons. If a user thinks they might receive something in return, they are more likely to like and follow a page. Your Instagram and Facebook pages can display tales with discount codes. With specific codes, you can run advertisements that only show to a specified number of followers. Your users will have a more tailored experience thanks to it, and you'll build a solid online customer base. Customers start recommending businesses to others to receive special offers after news spreads that they are giving rewards or discounts for like a page. Your following will swiftly grow thanks to it.
Maintain brand integrity.
Over time, but with great intention, a wonderful brand can be created.
Consistency is important across the board, including your company name, logo, tagline, and products and services. Always strategically display your company, from the moment customers first see you online through the time they enter your store.
Additional brief hints for your salon's online marketing are provided below:
Allow customers to make appointments online. This makes it simple for a customer to select your company above the competitors when they are studying your organization. (Who calls folks nowadays on the phone?)
On your website, include a price list and a list of services. If you include a list of these in your website's content, you'll be able to provide potential customers who are just browsing a good idea of what they can expect to pay, and that material may even boost your local search ranking!
Purchase local search marketing. Due to the fierce competition in the salon and spa sectors, you must ensure that your internet reputation is impeccable.
Consider using social media marketing. An excellent strategy to get your salon in front of nearby customers who haven't heard of you or are still on the fence about trying you out is through Facebook and Instagram advertising that is demographically and location-targeted. Your chances of attracting more clients will increase if you combine that advertising with a landing page or offer.
Get more testimonials.
The opinions of your present customers on their experiences at your company are what potential customers are interested in hearing and seeing.
It's critical to maintain a positive online image because customers looking for a new salon may base their decision on it. It can be frightening to find a new stylist, but great reviews may be what prompts you to choose a particular salon.
Customers are also more likely to click on companies with high review star ratings. Despite not being the top result, according to a recent survey, 56% of customers will click on a local company listing if it has great ratings. Get more evaluations.
Your prospective customers want to know and see what your current customers think of their interactions with your company. Your online reputation is crucial, and it might be the deciding factor for clients seeking a new salon. Finding a new stylist can be frightening, but excellent reviews may influence your choice of a new shop. Additionally, customers are more inclined to click on companies with high review star ratings.
According to a recent survey, 56% of people will click on a local company listing if it has great ratings, even if it isn't the top result.
To increase your star rating, make sure a constant supply of favorable reviews is consistently flowing in. Encourage your satisfied customers to include the precise services they acquired during their visit in their feedback. This will demonstrate to customers that you are skilled at what you do by highlighting the abilities of your team in evaluations. Additionally, customers who speak highly of a particular provider add keywords to their review, giving it some local search marketing value