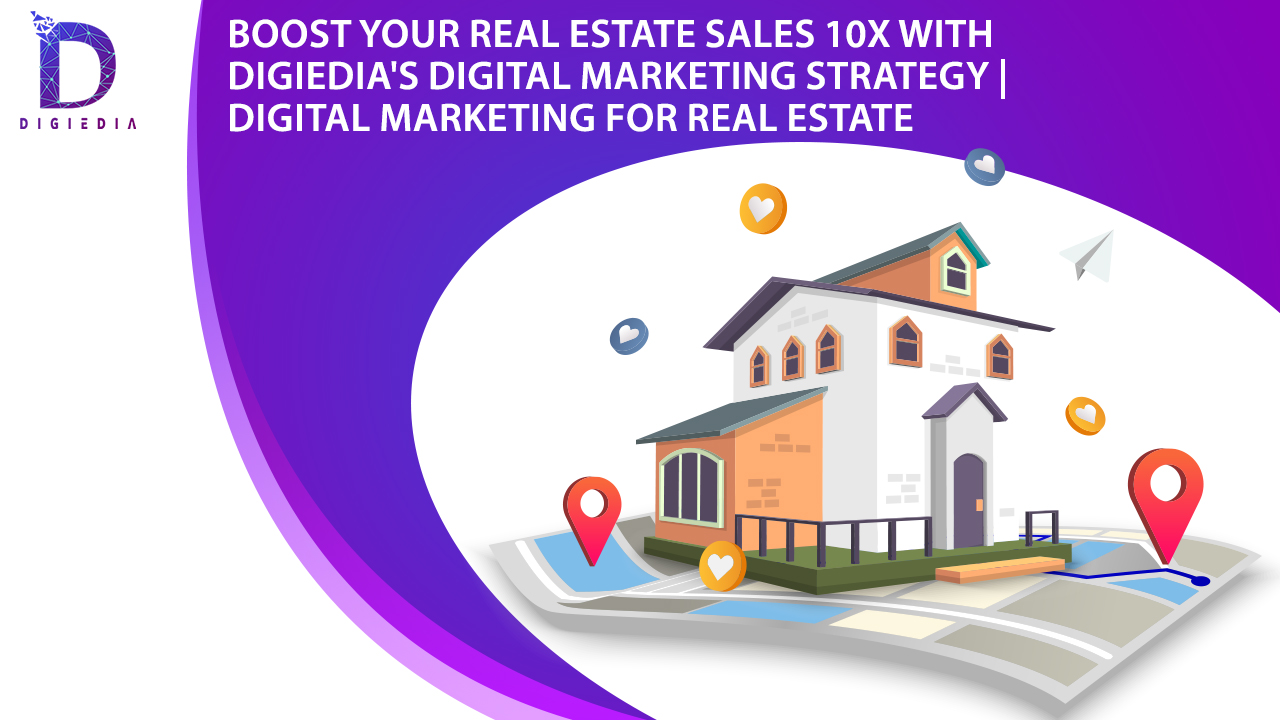 Boost your real estate sales 10X with Digiedia's Digital Marketing Strategy | Digital Marketing for real estate business
In recent days, digital marketing is the best way to boost your real estate or any kind of business online. It generates leads. The new generation prefers the internet first to seek out all the information and options about real estate listings. Digital marketing for real estate businesses is a budget-friendly way to expand your business online. That is why digital media marketing proves to be the best of all marketing channels. Since everything is online nowadays, people search for houses online also. That's why digital marketing can be a great way to reach your potential customers. It collects huge revenue.
There are many ways you can boost your real estate business, for example
SEO
Social media marketing
Google ads
Email marketing
Content marketing
Search engine marketing, and many more. 
There are certain ways to manage the digital marketing strategy for the real estate business –
For the first time, creating a digital marketing strategy for the real estate business can be hard. But with a planning group and experts, you can create a strategy easily. A pre-planned strategy works best. Ut, there are certain points you should consider. For example- the potential buyers, the types of property you are going to sell, and the budget. To avoid these difficulties, create a targeted audience. Once you get to know your potential customers, you can customize your real estate business marketing strategy to apply to them.
The next crucial step is to inform people what kind of property you are selling. For that, you can use social media marketing (using Facebook, Twitter, and Instagram). If you sell residential properties, the strategy should include the targeted audience who are typically looking to buy a home, and target them on websites.Digital marketing for real estate businesses is a budget-friendly way to expand your business online.
While making ads online, you need to think about your budget too. You need to make a plan for how much money you want to spend. Once you have decided on the budget, you can start brainstorming ideas for how to best use them. While selling commercial real estate, your potential and targeted customers will be different. You will need to concentrate your efforts on an online platform for reputation-making to businesses and organizations that might be interested in renting or buying the property.
Transform your real estate business with a digital marketing method-
Establishing your brand online needs some brainstorming plans and a dedicated focus. Digital marketing or Social media is not about uploading your instructions. You need to have developed a process-driven approach to drive inquiries and sell your inventory. Which means that you will need to create a real estate specialized digital marketing agency that provides digital marketing for real estate agents, professionals, companies, and brokerages.
Some Ways you can boost your real estate sales with digital marketing strategies-
SEO-
Search engine optimization is one of the popular and effective methods of marketing for real estate businesses. In this digital generation, high-end real estate businesses can not neglect the power of SEO. The companies can increase their visibility online and attract more potential customers to their websites using local SEO. The SEO is essential to any digital marketing strategy. SEO helps to build trust and credibility with potential customers to increase visibility. Real estate businesses can make sure they appear in front of potential customer's activity who are looking for properties by optimizing their websites for relevant keywords. That's why Digital marketing for real estate businesses is an effective way to expand your business online.
Apart from that, SEO benefits the real estate industry, you can do a few things to rank a website higher in serps. In the first step, make sure that the website is optimized for google. Also, use correct keywords and phrases in your titles, use proper meta descriptions and throughout your content. For keyword optimization, you have to focus on creating high-quality content which is relevant to your target audience. Blog posts, infographics, and video content are great ways to produce quality, engaging content. The proper keyword helps to rank your website on google. So you have to choose your keyword correctly.
PPC-
The full form of PPC is pay-per-click. This is another essential digital marketing strategy that you can use to generate leads for the real estate agent, real estate business, and real estate developer. PPC works by placing ads on search engines and other websites. That's why Digital marketing for real estate businesses is an effective way to expand your business online. For example, When someone clicks on one of these ads, the company pays a fee to the advertiser. It allows businesses to target potential customers who are already interested in their products or services.
Apart from that, real estate companies can use PPC to target potential buyers who are searching for homes in a particular area. By targeting these users the company can generate high leads with a relatively low ad budget. Besides, it is necessary to note that PPC can only be a very effective digital marketing strategy if it is correctly managed. Otherwise, businesses may end up wasting money on unqualified leads. This is the bad side effect of digital marketing. For this reason, working with an experienced digital marketing agency or real estate marketers specializing in real estate PPC is important.
Social media marketing –
Who does not use social media these days? While some people may think that social media platform is only for sharing photos and keeping in touch with friends, nowadays, social media marketing strategy is used for business purposes to get in touch with their potential customers too. Your business profile should be strong and visible so that people get attracted. Social media marketing helps you to reach your targeted audience and helps to build a relationship with people who may become your customers in the future. Social media marketing tools help to make the interaction between you and your buyers. Social media marketing helps the business's growth and creates brand awareness.
Apart from that, you can use email marketing, content marketing, and google ads to escalate your real estate business online.