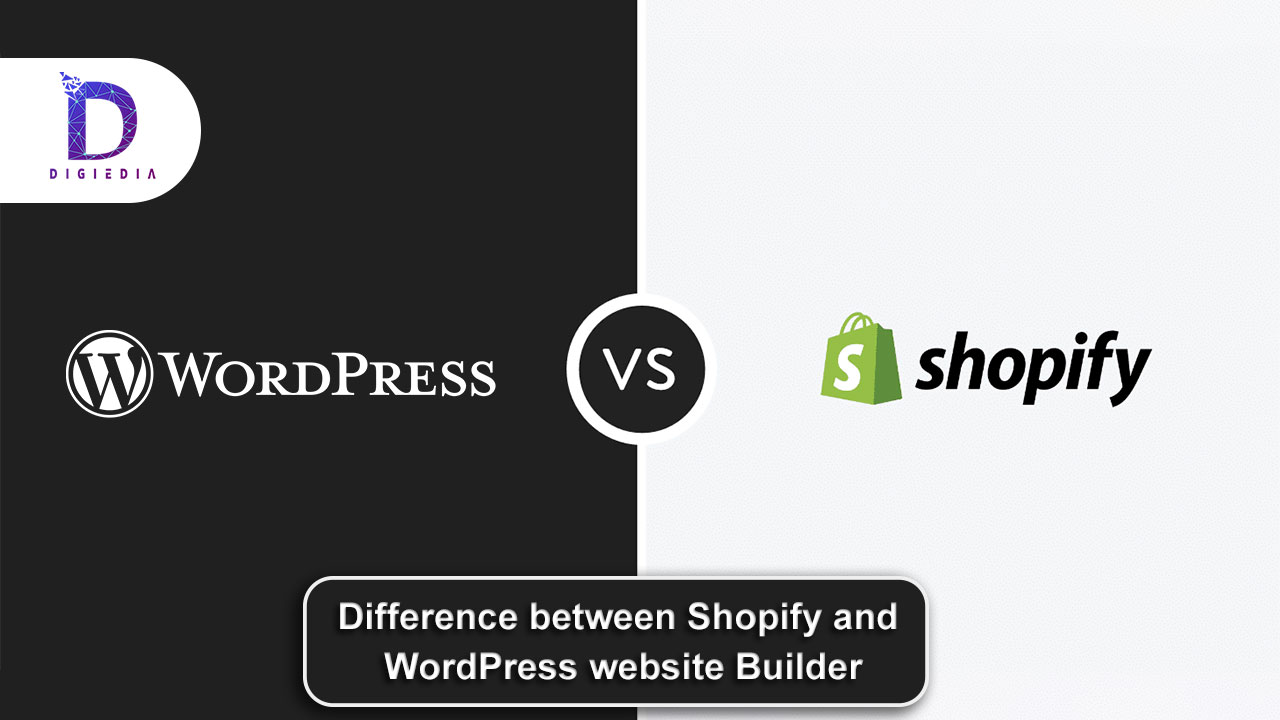 Difference between Shopify and WordPress website Builder
With E-Commerce skyrocketing in recent times, many companies have shifted to the online mode of publishing their products. Almost every company wants to have a good hold regarding their online presence for which they invest a huge chunk of their revenue in building the perfect website to showcase their product and services. Generally, website developers charge a huge amount of money to publish a 3-4 page website because of which many companies or brands shift towards website builders like WordPress and Shopify. Website builders like Shopify and WordPress give a very easy and user-friendly experience to all the brands who wish to make very attractive and interactive websites. Thanks to platforms like WordPress and Shopify, it is now easier than ever to publish your online store and start your own online business.
Before diving into the difference between Shopify and WordPress website builders, let us talk about what website builders are and what features do these two website builders provide.
A website builder is an online tool that helps companies, brands, and individuals with limited or no technical knowledge to build and publish their very own websites. They then pay a small fee each month to the website builder platform to keep their site live.
Shopify is a dedicated e-commerce platform that helps you build your online store by publishing your website with its very user-friendly website builder. It hosts your website for you and gives you all the tools you need to publish it and maintain it.
On the other hand, WordPress is an open-source platform. You need to host your site and install plugins like WooCommerce for e-commerce tools which will be used to publish and maintain the website for future use.
Both are the absolute giants in the web building space, but they do cater to very different needs. Yes, They both concentrate on website building but, both these websites builders help in very different ways. Let us talk about what is the difference between Shopify and WordPress website builder.
The basic and the most common difference between Shopify and WordPress is that Shopify is solely and majorly used for setting up online stores and can be used by almost everyone even if they do not have any coding experience. WordPress on the other hand is used to build a dynamic website and also online stores with the help of basic coding skills. Now, if you know how to code in a very basic way then, WordPress is the best website builder for you but, if you do not know any basics of coding and you want to build just an online store, then you can rely on Shopify.
While talking about the difference between Shopify and WordPress website builder, the biggest difference is the coding part of it. When you use Shopify, all you need to do is go to the Shopify portal, tell them that if you are selling already or are new in this field, they will then use this data to give you some specified tools you can use to make your online store. But, when we are talking about the pros of Shopify as a tool, we also need to focus on the cons as well. With Shopify, you need to pay You to have to pay extra transaction fees i.e. 0.5% – 2% per transaction unless you use Shopify's payment gateway, Shopify Payments. The other disadvantage of using Shopify is that whenever you want to change the theme of your page or its style, you will have to reformat the whole page again which will take a lot of time and effort.
Moving forward in the difference between Shopify and WordPress Website builder, let us talk about the advantages and disadvantages of WordPress as a website builder or an online store builder tool. WordPress is a tool that provides the most customization possible in a website because it uses coding as well which also tells us that you might technically be very active to use WordPress. Another disadvantage of WordPress is that to host any website on WordPress, you will need a domain and a host to keep a check on that domain as well.
Another big difference between Shopify and WordPress Website builder is its Tools and Features. Tools and Features can be termed as the whole-sole of the website which helps you to sell your products over the web.
On one hand where Shopify has its E-Commerce tools and features which make the user limited to very specific features that they can add to their website. Shopify also doe not support any third party plugin so that any user can add some features to their websites. On the other hand, if we talk about WordPress, one can easily install third-party plugins and add as many features and tools as they want on their website. WordPress does not have any of its tools and features which is why it gives the user a very wide variety of plugins that they can install and activate on their website to maximise the benefit and user experience of the website.
Now, the last but not the least and the most important feature where Shopify steals the games is the SEO tools that it provides. When talking about the difference between Shopify and WordPress website builder, the SEO tools provided by Shopify are much better than what WordPress offers. Shopify allows you to do this in several ways, including adding specific titles and descriptions that appear in search results for each web page (metadata), and customizing your URLs and site structure so it's easier for search engines to understand.
These were some of the differences between Shopify and WordPress website builders. It is completely based on the choice of an individual that which website builder they will prefer and choose to host their website with. Both of these website builders have their benefits and have their limitations as well. Thus, you should be very clear about the motive of your website before choosing any website builder.