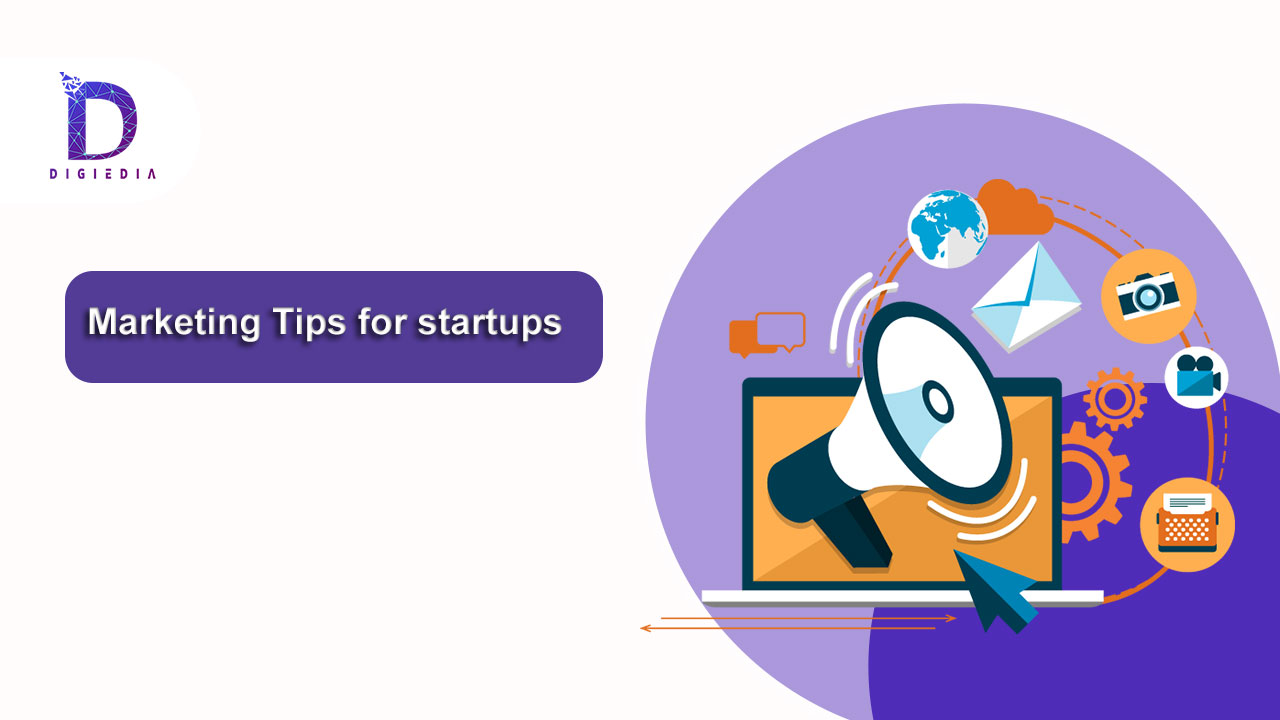 Marketing Tips for Startups
DIGIEDIA

01 February 2022
Introduction
We all know that marketing is critical for any business, but it is especially critical for startups. People are unlikely to buy a product or service unless they are aware of your startup as well as what it offers. You might be able to start a business on your own. However, even after you've opened your doors to the public, the hard work doesn't stop. Here are five Marketing Tips for start-ups, ranging from branding to creating a digital presence to attracting customers. As your company grows and expands, word of mouth may help you attract new customers. However, until that time comes, you should focus on the following Marketing Tips for start-ups to get the word out about your business.
Emails
Email marketing is an important tactic for attracting people to your startup at a low cost. You can send emails to a prospect or customer once you have their email address to advertise your startup. To reap the benefits of this marketing plan, you must first gather the email addresses of potential customers. If your startup has a website, consider adding a weekly email signup form to it. You can also directly ask customers for their email addresses. The important thing to remember is to include non-commercial content in your emails, such as guides, how-to articles, videos, and infographics. Subscribers will most likely unsubscribe from your newsletter if you only send infomercial emails.
Create a Blog
Blogging is a powerful strategy for getting your startup the attention it requires. According to one study, businesses that have blogs generate 126 percent more leads than those who don't. With a blog, you can establish your company as a go-to resource while also trying to attract organic search traffic. Publishing material that your viewer wants to read is the key to creating an efficient business blog. Search engines will payoff your efforts by placing your website at the top of the search engines if it is valuable and worth reading. And if your blog is well-ranked, it will attract many customers, resulting in more people learning about your startup.
Make a social media post
According to statistics, and over 2.4 billion people are using social media, so it's critical to include it in your startup's marketing strategy. As your company's social media presence expands, more people will know and recognise it. Additionally, most social media platforms, such as Facebook, Twitter, and Pinterest, allow corporations to pay for traffic and publicity. You can, for example, create ads that appear in users' news sites or in the right-hand column of the Facebook website using Facebook Ads. To be successful with social media marketing, you need more than just a profile. You need to post interesting, relevant content that encourages people to follow your account.
Make use of paid search marketing.
For startups, pay per click has now become a popular ad channel. It enables companies to purchase laser-targeted visitors from the search engines like Google and Bing. Two of the most popular paid search networks are Google AdWords and Bing Ads, both of which offer keyword targeting and a cost-per-click (CPC) payment model. You can make custom advertisements for your startup which show up in search engine results whenever anyone seeks an occurrence to your business using either one of these networks. You can use keywords like "cybersecurity for enterprise," "enterprise cybersecurity software," and "enterprise anti-malware" if your venture sells enterprise-grade cybersecurity software. Paid search's most appealing feature is its CPC pricing model, which charges you only when someone presses the button. Even if 10,000 people see your ad, you won't be charged if no one clicks. Of course, if you start creating interactive and personalized ads, you'll get a lot of clicks, but you'll only be charged per click, reducing the complexity of optimizing your pay–per–click campaigns for a good return on investment (ROI).
Sponsor a Special Event
Finally, going to sponsor a small event can help your startup get noticed by potential customers. You'll pay a small fee to the event's organizers to become a sponsor, and you'll promote your business at the event with signs, office supplies, banners, booths, and other marketing materials. When done correctly, it's a mutually beneficial relationship that's strongly important in driving sales. Sponsoring events that are pertinent to their operational processes or services is a good idea for business owners. For example, if your startup is a mobile health and wellbeing app, you could sponsor triathlons and 5K and 10K runs. If your company sells anti-malware apps, on the other hand, you might be able to sponsor information security and other IT events.
Define your main objectives and metrics.
The less cash you have, the more important it is to be entirely detailed and clear about your objectives. Consider the following question: What would success mean to oneself? Of course, you would like to earn cash, but not every marketing plan will yield results. You must consider all possible results in terms of what you consider success,' if that means a certain number of lead generation, more subscriptions to your mailing list, or increased website traffic. All of these factors combined mean more exposure for your startup, which can lead to increased revenue. It's critical to figure out what you're doing logistically to determine the extent of your success.
Conclusion
Unless you're fortunate enough to receive a major investment to help fund your startup, you're unlikely to have a lot of money to spend on marketing. That's really unfortunate. Why? Because how can your new business grow if no one knows it exists if you spend all of your time building it? Whether you choose to admit it or not, users know you're going to have to focus on advertising at some point, so here are a few low-cost Marketing Tips for start-ups. The majority of startups do not have sufficient funds to immediately hire an experienced consultant or marketing consultant.