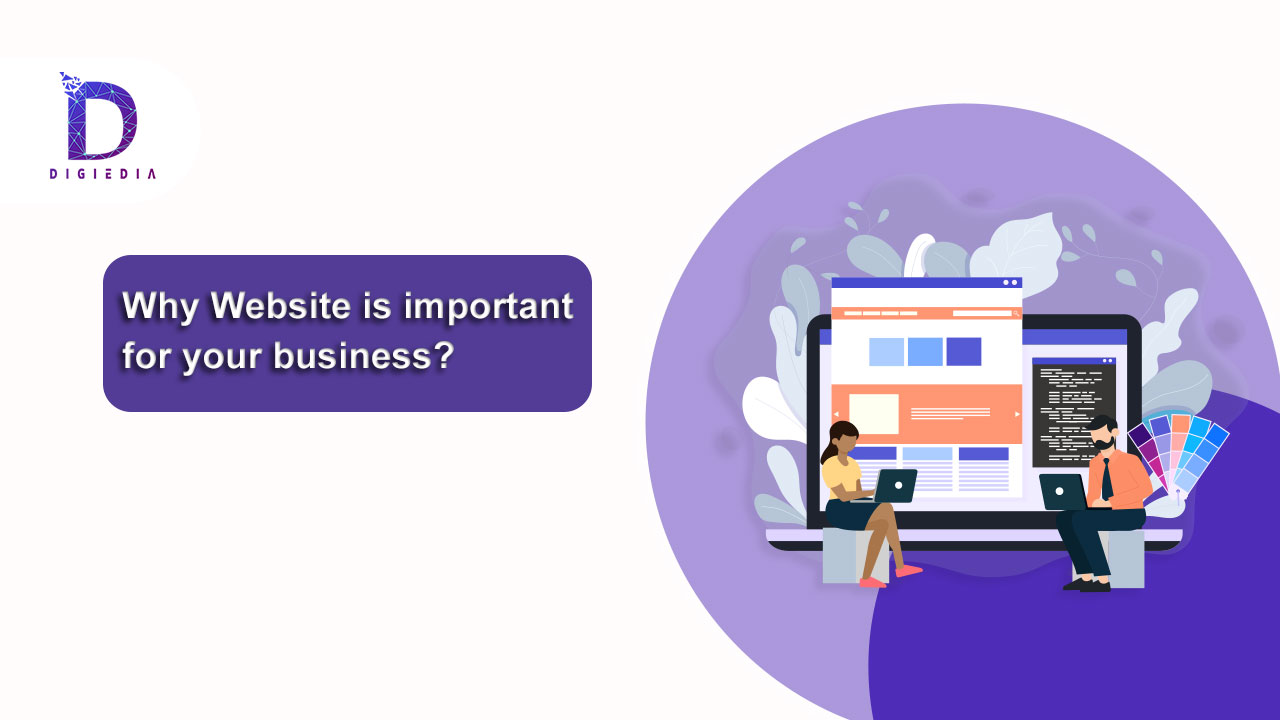 WHY WEBSITE IS IMPORTANT FOR YOUR BUSINESS
DIGIEDIA

02 February 2022
In today's digital world, a website is a must-have for any company. If you don't have a website for your business, you're missing out on a lot of commercial opportunities. A website can be used to apply a variety of marketing strategies that will help your business develop. The reach of internet advertising is far greater than that of any other sort of advertising. Your website serves as your company's internet portfolio. To advertise your business on the internet, you can use social networking sites, forums, and PPC advertising services. The answer to the question – Of why Website is important for your business is quite simple.  A website can help you grow your business online. A website is essential since it contributes to the growth of a company's credibility. Another important benefit of having a website is that it allows you to represent your customers, including why they should trust you and testimonials and statistics to back up your assertions.
8 Reasons Why Website is important for your business
Not only that, but there is a slew of other concerns that we'll go over in this post with 8 reasons why having a website is essential for your business to market itself, generate leads, and boost conversion rates.
Our clients expect you to have an online presence
As a result, your customers will expect you to have a website where they can learn more about your business. As a result, your website may help you build your business by increasing brand awareness, customer interaction, and target audiences, as well as sending out more efficient marketing messages. Think about it: your website transmits your marketing message 24/7, 365 days a year! Aside from e-commerce sites, many professional websites are informational and aim to reduce traveler problems.
Save time for your customers and yourself before and during any purchase.
The second point on Why Website is important for your business is that it helps save time for your customers.  Maps and instructions are routinely included on company websites to help visitors find corporate stores or offices. People nowadays are both intelligent and busy. They are unable to go shopping due to a lack of time. They utilize the internet to gather information about a product or service before making a purchase. The brand, features, pricing, size, and color are all listed on your website.
If you provide exceptional service or product, word of mouth can help you develop your business. A website not only provides your business with greater respectability but also gives the impression that it is bigger and more successful. One of the best aspects of the Internet is that it is unaffected by the size of your company.
Demonstrate what you're capable of
Your target audience's first interaction with your brand is almost certainly going to be through your website. Why Website is important for your business? It helps to control the structure of your business. In addition to showing your offers with features, you may also provide quick video demonstrations or downloadable PDF instructions. You can highlight your achievements, testimonials, and other elements that can assist your visitors in solving their difficulties. This increases the amount of time your clients spend on your website and may impact whether or not they contact you
Your company's credibility can be enhanced by having a website
A well-designed, informative, and current website will boost your company's credibility and brand. You must have a good website if you want your business to prosper in the modern marketplace. The value of a website in business is that it allows you to extend your digital marketing solutions approach to include every part of your firm.
Any message, piece of content, or advertisement you post on the internet will bring the customer back to your website. Garlic, as the backbone of your online presence, understands that creating a free website and a web application is more vital than creating a website that is noticeable and appealing to customers and clients, therefore you must create both.
You will save time by knowing the answers to frequently asked questions
Do you spend a lot of time asking all of your clients the same questions? It will never stop, but there is always hope! Your website can provide answers to frequently asked questions, saving both you and your client's time.
You may also send these pages' links as an attachment to an email. Your customers will appreciate the information you're providing, and sending them an email or suggesting they read your FAQ page won't take long.
For convenient and time-saving communication, use a professional email address
Your website will also provide you with business email addresses, which will be professional emails with your domain name and extension. It's a quick and efficient method of communication that allows you to communicate effectively with potential customers. Time is money in a small business, and email will save you both.
Make personal connections with your clients
People prefer to do business with people they recognize. By developing strong relationships with your existing clients on your website, you'll give them the chance to learn more about your company (and maybe yourself) and feel more comfortable with you. Once they have gained confidence in you, they will want to do business with you more than with others, just as they would with companies they have never heard of.
Customers are more likely to contact and communicate with you if you have a photo or profile of yourself or your partner. By releasing instructive films and being active on social media, you've taken the concept to a whole new level.
Send a database of contact information as well as regular updates
A traditional printed newsletter campaign can be costly and time-consuming. Printing, mailing and other fees can soon mount up. You can have folks who want to get your newsletter sent to your email address if you have a website. Then you can send out your content, new services, and products to individuals automatically! You are not required to pay for the printing or mailing of these newsletters. Constant touch with prospects is a tried-and-true method for increasing inquiries and sales!