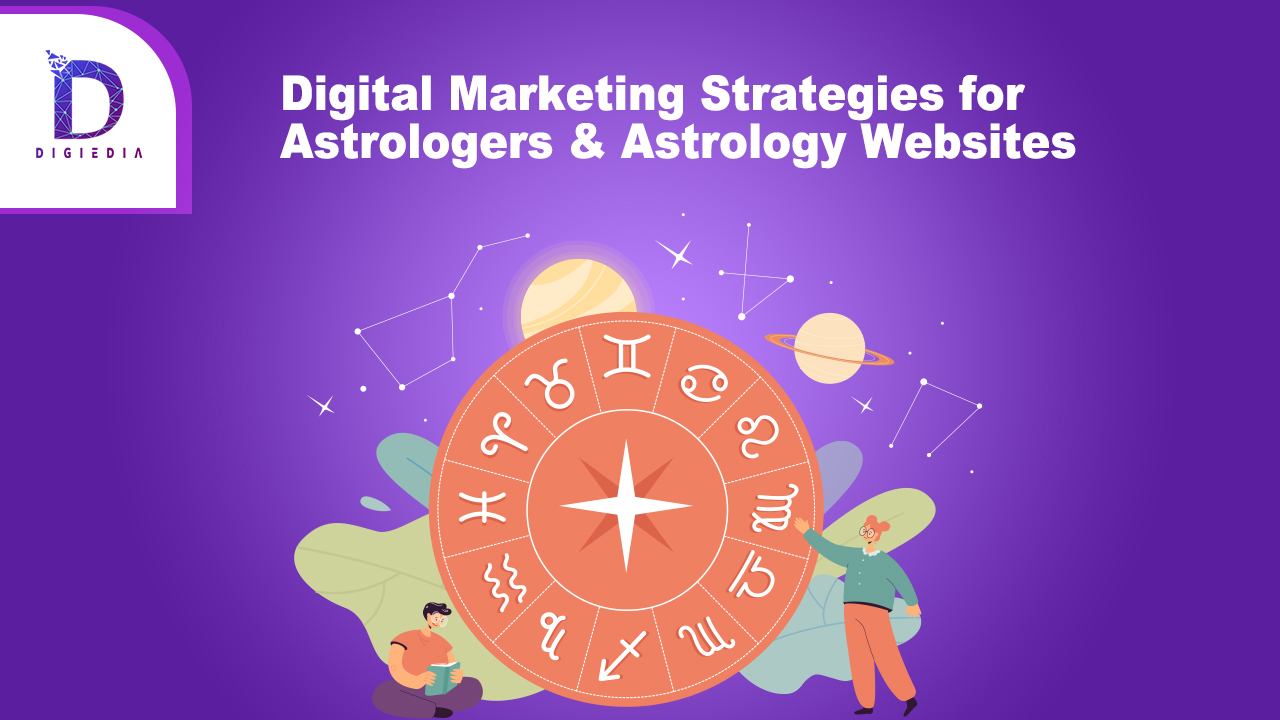 Digital Marketing Strategies for Astrologers & Astrology Websites
Numerologists, astrologers, and astrological websites: Digital Marketing Strategies If you're an astrologer or manage an astrology website, you already know how important online marketing is to your business. With so many people looking for astrology information online, it's vital to have a digital marketing strategy in place to reach them. In this blog post, we'll go over 6 Digital Marketing Strategies for Astrologers and astrology websites.
Digital marketing is a critical tool for astrologers and astrology websites in today's more competitive internet world. One can quickly contact and engage with potential clients and increase revenue through detailed market research, powerful content generation, search engine optimization strategies, and optimized social media campaigns.
To begin, thorough research into the target population is required to create relevant, engaging content that will appeal to these potential clients. This could include analyzing web traffic demographics, monitoring data to see which terms are most common among site visitors, or tailoring messaging to what people are actively looking for.
Once a strategy has been defined and content has been created by it, it's critical to focus on SEO methods that help increase traffic to your website and improve search rankings. This includes adopting successful keyword-based paid advertising tactics, getting backlinks from external sites, adding social sharing capabilities to your website or blog posts, and employing strategic tags and links to optimize keywords across your content.
By establishing authority in the industry, these techniques will increase the visibility of your astrological website and stimulate interest from potential customers. The most effective Digital Marketing Strategies for Astrologers also incorporate a variety of social media sites.
Digital Marketing Strategies for Astrologers & Numerologists
Make an Appealing Website
Everyone requires the use of a website. If you're an astrologer who wants to build your website, it's not difficult. You can create a simple one-page website and use it to promote all of your astrology services.
After you start receiving responses and can turn visitors into potential buyers, you can update your website. People currently seek the advice of astrologers for several reasons, including financial, marital, job/career, and other concerns.
As a result, websites dedicated to astrology must have engaging content, appealing aesthetics, and a professional, astrological image.
Consider the following:
Make your company's virtual identity.
Make a name for yourself in the industry.
It is straightforward and convenient to promote services.
Information must be accessible at all hours of the day and night.
In advertising, there must be no geographical restrictions.
Collect leads and interact with clients via live chat.
Customer service must be excellent.
SEO
Search engine optimization (SEO) is a digital marketing strategy that aims to improve your website's exposure in search engine results pages (SERPs). By optimizing your site for relevant keywords, you may increase the chances of people finding it when they search for astrology-related phrases.
Make a YouTube channel for yourself.
Every day, hundreds of millions of people watch around 5 billion videos on YouTube. You're already behind the times if you don't have a YouTube channel. Create a YouTube channel to gain access to the world's largest video platform.
Since everyone wants solutions to their issues, such as money, marriage, children, health, job/career, and so on, YouTube marketing for astrology is quite important these days.
To pique viewers' attention, provide relatable astrology films for them, such as tarot card reading, numerology, and Vaastu Consultations. Serve what the general audience wants to see or what is currently popular in the marketplace.
Consider the following:
To grab users' attention to your video, use eye-catching thumbnails.
Upload movies to your channel regularly.
Make current-events videos.
Respond to all of the comments made by your viewers.
Every day, there are new posts in the community.
Paid Ads
Paid advertising is another wonderful technique to contact people who are interested in astrology. You can create ads that appear on search engine results pages (SERPs) and target certain keywords, or you can place ads on other websites that your target audience is likely to visit.
Information marketing is a type of digital marketing that comprises creating and sharing valuable material with your target audience. Blog entries, articles, infographics, and eBooks are some of the examples.
If your material is useful and educational, your audience will be more likely to visit your website or buy your products/services.
Social media marketing
Using social media marketing to connect with people who are interested in astrology is a fantastic way to do it. You may use social media platforms like Twitter, Facebook, and Instagram to publish your content, engage with your audience, and build relationships with potential customers.
Consider the following:
Toto improves brand reputation and increases website inbound traffic.
Customers can easily communicate with you through social media profiles.
The conversion rate is high.
Improve your business's online reputation.
Create viral and well-received blogs and videos.
Recognize and quickly remedy the issues that clients are experiencing.
Public relations
Digital public relations must be a part of any current marketing strategy. In today's internet-driven world, businesses must engage with customers online to build relationships and stay top-of-mind. This can be performed using a range of digital PR techniques, such as press release distribution to prominent e-papers, OTT platforms, social media marketing, online advertising, email campaigns, and content creation, among others.
These tactics aim to raise brand awareness, visibility, and interaction among current and future customers. Finally, a successful digital PR strategy requires an in-depth understanding of target audiences as well as the ability to quickly adapt to new trends and technology. Whether you work in marketing or communications, mastering these Digital Marketing Strategies for Astrologers can help your company thrive in today's fast-paced climate.
Conclusion
Working on so many Digital Marketing Strategies for Astrologers at once can be difficult. As a result, hiring someone to do the job for you is the best alternative. The Digital Marketing Consultants will be able to properly assess your requirements and respond accordingly.
Digiedia Services guarantees that we will get your website to the first page of Google using appropriate on-page and off-page SEO strategies. Both large and small businesses can benefit from our digital marketing service bundles.