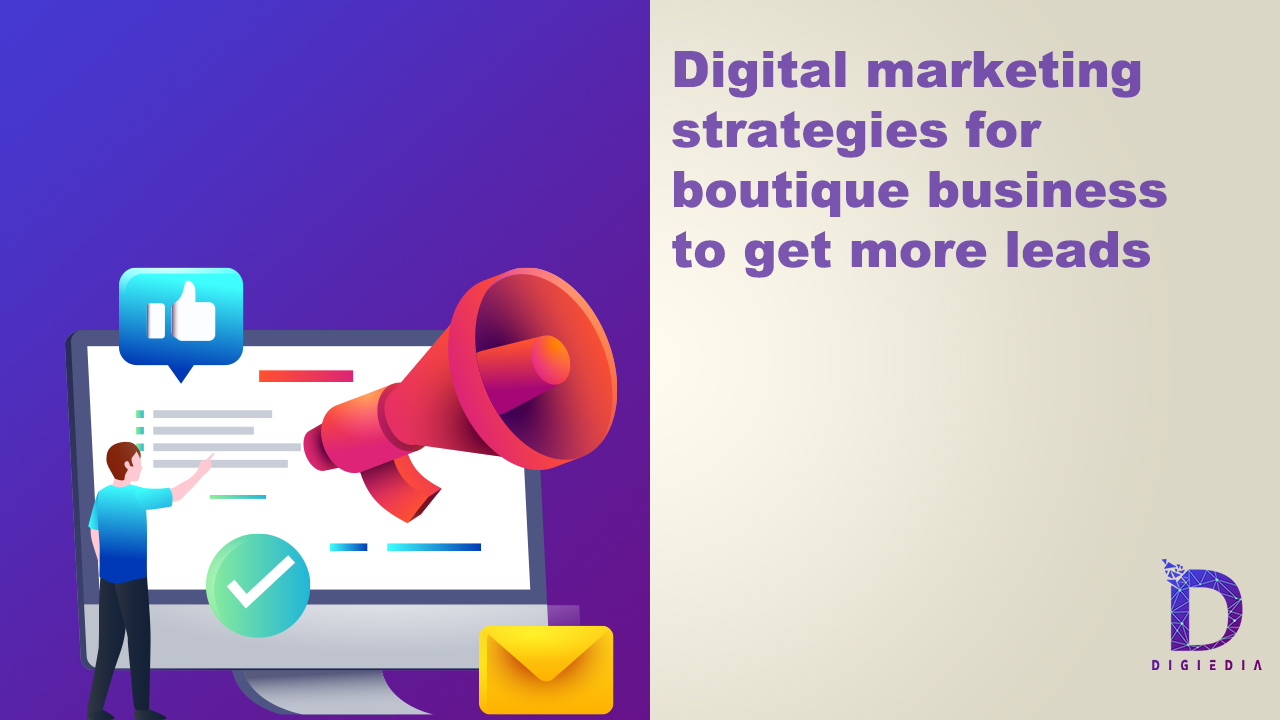 Digital marketing strategies for boutique businesses to get more leads
As the world goes online, businesses must adjust their marketing methods to reach their target clients where they spend the majority of their time – on the internet. This is especially important for clothing companies because fashion is very visual, and potential customers need to see how things look on real people before purchasing. There are a few Digital marketing strategies for boutique business that are especially useful for online clothing retailers.
Digital marketing strategies for boutique businesses
As a clothing or boutique business, you'll need a great digital marketing strategy to reach your target clientele. To help you started, here are some pointers:
Starting with a solid foundation, such as a website, SEO, and social media is a good place to start.
Make sure your website is optimized for search engines and that your social media accounts are active and interesting. It's also crucial to make sure the website is optimized for lead generation. This entails placing clear calls to action on each page, making the site mobile-friendly, and making the contact form prominent.
One method is to use social media sites such as Instagram and Facebook. Companies can utilize these platforms to share high-resolution photographs of their products in action, giving potential customers a better understanding of how the garment looks and fits. Additionally, businesses may use social media to engage directly with potential customers, answering their concerns and resolving any difficulties that may arise.
Using influencers in marketing
Influencer marketing, or partnering with influencers, is one of the other important Digital marketing strategies for boutique businesses that can be beneficial to online clothing businesses. Fashion influencers can help a firm promote its products to its large and engaged following, resulting in improved brand awareness and sales.
Make sure the influencer's audience is similar to the target market for the company's products when choosing an influencer to work with.
Use content that is specific to your target audience.
Create blog posts and social media content that is relevant to your target audience. Producing interesting content and using relevant hashtags can help businesses increase their visibility and attract new potential customers.
Spend money on ad campaigns.
Use personalized advertisements on Google, Facebook, and other platforms to reach your target population. Facebook and Instagram, for example, offer a variety of low-cost ad options that can be targeted to certain demographics. Google's smart local ads and search ads are also effective.
You can also utilize display ads to promote your brand. Finally, the best way to figure out which paid advertising methods are right for your business is to experiment with a few different approaches and track the results over time.
Make a mailing list.
Collect emails from website visitors and customers so you can stay in touch and promote your newest products and deals. Apparel and boutique businesses can generate web leads in a variety of ways. One sensible idea is to create an e-newsletter that focuses on new arrivals and special offers.
This can be sent out on a monthly or biweekly basis, with a strong call-to-action encouraging visitors to visit the website or business. MailChimp and Constant Contact are two systems that can be used to send e-newsletters.
Instagram and Facebook Live Offers & Giveaways on Reels
Many businesses rely on internet offers and giveaways to attract more potential customers. People are usually looking for a good deal on appealing items, which is especially true in the case of apparel and boutique shops.
Facebook live videos are a great way to promote special offers and introduce new products. Instagram reels are also growing in popularity as a fun and innovative way for businesses to promote their goods.
Rich visuals, an e-commerce site, a chatbot powered by artificial intelligence, and more
Furthermore, any firm that aspires to be taken seriously must have an eCommerce website. Customers can also employ AI Chatbots to help them choose products and answer questions. The most important thing to remember is that photographs are significant. Use high-resolution images and videos that are consistent with our brand.
Use Google My Business or Google Map Optimization for your clothing business or boutique.
You know how crucial it is to improve foot traffic and sales as a garment or shop owner. One way to achieve this is to optimize your Google Maps listing and Google My Business page.
You can make it easier for potential consumers to locate you by making sure your listing is correct and up-to-date.
You may also employ keywords and other SEO techniques to ensure that your listing appears as high in the search results as feasible. Make use of Google My Business features like reviews and photographs to give potential clients a better idea of what your company has to offer. You can assist ensure that more people find and visit your store by completing these measures.
Examine your data.
Track your website traffic and social media engagement using analytics tools so you can fine-tune your digital marketing plan.
By following these principles, you can create strong Digital marketing strategies for boutique businesses that will help you reach your target clientele and expand your garment or boutique business by generating more leads online.
Boutiques and garment retailers can use Digiedia's digital marketing services.
Digiedia is a digital marketing firm that specializes in helping shops and garment companies expand. We provide a variety of services, including website design and development, SEO, social media marketing, and email marketing. We understand the unique marketing challenges that boutiques and clothing businesses face, and we're dedicated to helping our clients succeed.
Our team of experts will work with you to create Digital marketing strategies for boutique businesses that are suited to your specific objectives. To learn more about how we can assist you in taking your company to the next level, contact us today.