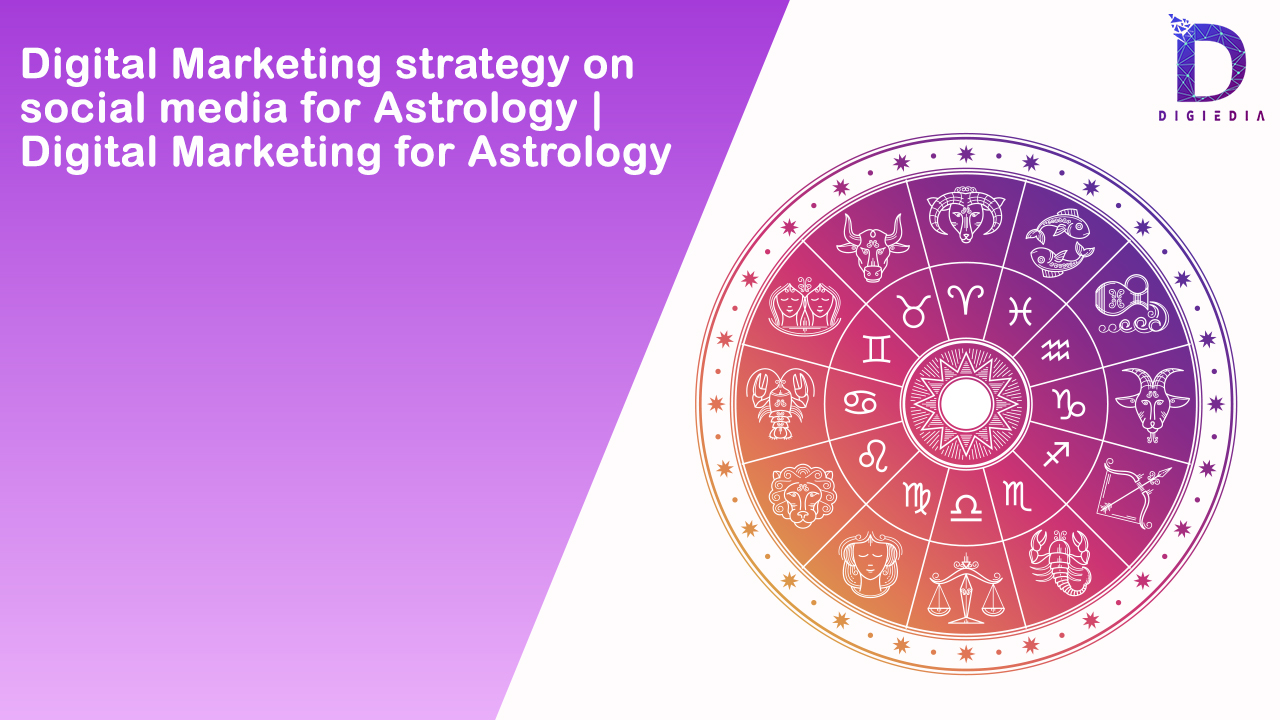 Digital Marketing strategy on social media for Astrology
DIGIEDIA

14 December 2022
There cannot be any disadvantages to employing digital marketing services. It has something to offer every business, including astrology. If you employ professional digital marketing services, you may reach amazing heights without putting in a lot of effort. Digital Marketing for Astrology is, therefore, a good idea if proper techniques are applied. Digital marketing services are reasonably priced. As a result, you may be able to accomplish considerably bigger outcomes for your company at a much lower cost. A skilled digital marketing agency, like Digiedia, can manage all areas of your website, such as design, sharing, and promotions. With the best digital marketing services for astrologers, you can quickly obtain higher ranks and a huge boost of visitors. You can easily reach out to your target audience and help them solve their problems. An important benefit of these services is that you will experience a lot of profit and growth in a short period.
However, the biggest issue for any astrologer in India or overseas is obtaining qualified leads. Many digital marketing agencies in India try to promote Astrologers, but only the most experienced receive decent results in terms of new clients. As a result, each astrologer in India or international countries has distinct digital marketing requirements. The primary goal in digital marketing for astrology should be to acquire new consumers for Astrology Consultation, Vastu Consultation, Tarot Reading, Kundali Making, and other astrological services. Regular Social Media Services keep current clients up to speed on your offerings and information on planetary changes, daily horoscopes, weekly horoscopes, and monthly and yearly horoscopes. Choosing the appropriate strategies and a good marketing team is necessary for digital marketing for astrology.
SEO marketing
Search engine optimization is a digital marketing technique that focuses on increasing the visibility of your website in search engine results pages (SERPs). You may boost the likelihood of people seeing your site when they search for astrology-related phrases by optimizing your site for relevant keywords. Using local SEO is another very effective strategy of digital marketing for astrology. Local SEO optimizes your website or business for a specific geographic location. For example, if a person searches Google for "digital marketing for astrologers in Kolkata," Google will provide local results. A well-optimized local company can rank first in search results. If you are wondering where to begin, build a Google My Business page where you can add your business information as well as additional facts such as hours of operation and instructions.
Social Media Marketing
Social media marketing is an excellent approach to reaching out to people who are interested in astrology. You may share your content, communicate with your audience, and establish relationships with potential consumers by using social media sites such as Twitter, Facebook, and Instagram. You can target your consumers and distribute posts in communities where they could be interested in your astrological consultation. Post as many Instagram posts as you can using astrology information and hashtags. You may also use sponsored advertising and boosts for your content. These SMO Services for your Astrology services may be readily handled by a Social Media Marketing Agency. Social media boosts brand recognition. Digital Marketing for astrology allows you to increase inbound traffic via social media platforms. It is possible to use social media to communicate with customers as well, which is very important for any business. Social Media Market increase conversion rate. Astrologers depend on reputation and build and improve your online reputation on social media sites.  Social Media lets you collaborate with influencers, and market your services, as word-of-mouth marketing is still quite effective in terms of conversion. Social Media gives you a platform to understand the customer's issues and resolve them as soon as possible, and in the process find out more about your consumers. There are several candidates in the same industry, and with the increase of the internet and resources, digital marketing for astrology helps you keep a lookout for fierce competition and set your strategies accordingly.
Content marketing
Content marketing is a type of digital marketing approach that entails developing and sharing useful content with your target audience. Blog posts, articles, infographics, videos, and eBooks are all examples of this. If your material is useful and informative, it will assist to develop trust with your audience and increase their likelihood of visiting your website or purchasing your products or services. A necessary approach to digital marketing for astrology is to generate and distribute interesting content. It aids in attracting and retaining customers. The most basic example of content marketing is the creation of a blog. You can start blogs on any topic, publish them on your website and share it on your Facebook and Instagram sites. It will increase the exposure of your website when people read your blogs. You may also create and share video material, infographics, and images. Your material, on the other hand, should be targeted at the requirements and worries of your potential clients.
Blogs
The previous point brings us to the next essential strategy of digital marketing for astrology, i.e., blogs. Your clients will range from young to older age groups, different ethnicities, gender, etc; you must be aware of their concerns and what therapies are appropriate for them. Your content writers must keep this in mind and write about their difficulties and astrological solutions, which are also known as cures. After publishing a new blog, you must send it to each client's email address. You will receive a positive response from readers, and your website will appear quickly. Every user enjoys engaging articles on astrology, working cures, and a well-maintained blog, which they want to share with communities. Both your website and blog should be optimized for search engines. Regular blog updates increase search engine optimization scores. There are numerous advantages of blogging. The variety of material on a blog promotes organic website traffic. It helps you improve your bounce rate, domain authority, and page authority. Lead, conversion, and sales opportunities grow through the blog.
Digital Marketing is essential for every company that wishes to prosper online, especially in the case of digital marketing for astrology. You may reach more individuals interested in astrology and expand your company by implementing the tactics stated above. If you need assistance getting started, appoint a digital marketing agency like Digiedia. They will be able to help you design a thorough digital marketing plan that is tailored to your unique demands and objectives.