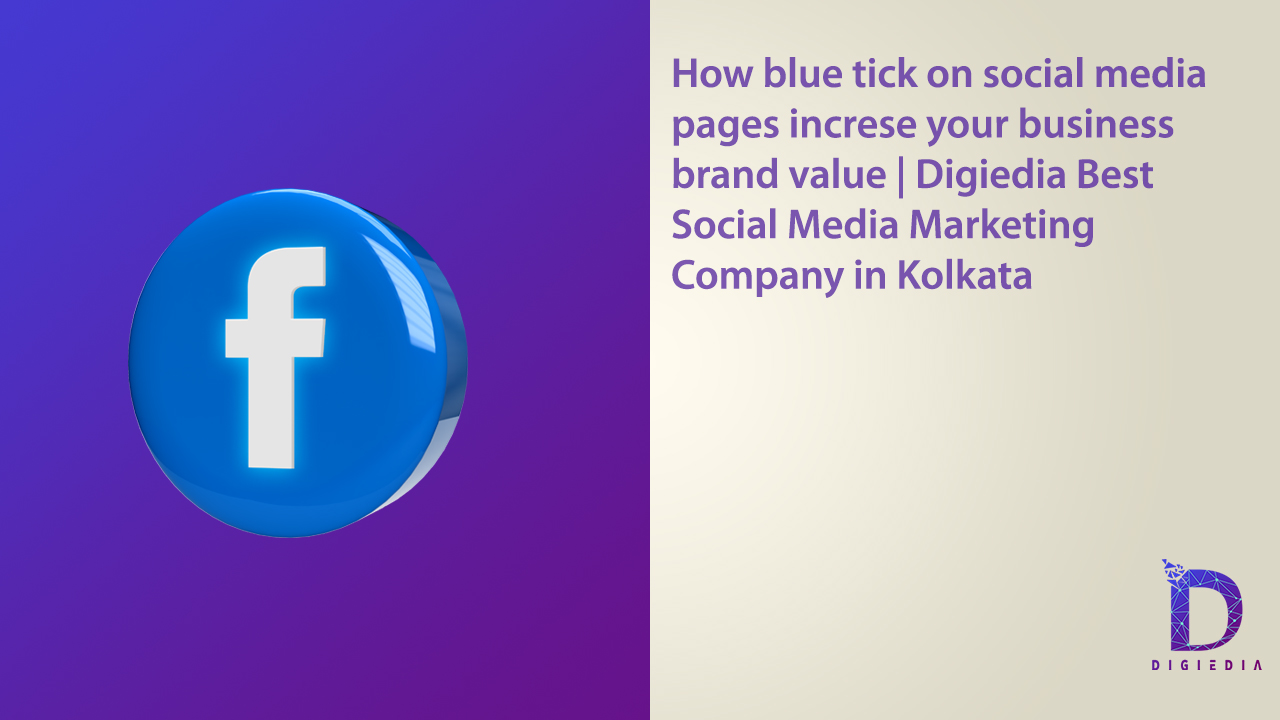 How blue tick on social media pages increase your business brand value
DIGIEDIA

13 December 2022
We get to see a lot of celebrities, popular social media figures, and brand pages flaunting their verification status, i.e., Blue tick on social media pages. blue ticks are given by social media sites to those who have a huge number of followers, influencers, or a popular figure or brand. The blue tick on social media pages is a mark of authentication. Twitter was one of the first social media networks to implement verification, and it took some time for it to gain traction. It began as an attempt for the platform to distinguish the Twitter accounts of celebrities. The purpose of the blue tick on social media pages, now, is to inform users which accounts belong to brands, companies, and influencers.
Credibility
That blue tick on social media platforms holds so much assurance, therefore provides credibility to your account. If a platform verifies you as genuine, other users will automatically consider the same. This is also an attestation of social proof. Social proof is a concept based on community mentality, that if others in the society approve of or participate in something, it must be correct. Verification is a piece of social evidence for the users to believe in a service or product. When you search for a celebrity account or a brand page on any social media platform, the primary thing you look for is the blue tick to ensure the account is authentic.
Protection against fraud
Stealing one's identity, and posing to be someone else on Social Media is not a new phenomenon. Several fake accounts are floating across every social media platform. The blue tick on social media platforms distinguishes your account from all the impersonated accounts that exist. It also makes it easier for your potential or existing customers to find you easily and not get scammed by any fake account. Therefore, the benefit of verification is twofold – both for the business as well as the customers.
Increases the importance of your brand
The blue tick on social media platforms holds so much potential. It increases your brand's importance in the particular sector you are involved with. That is why a blue on your page is more than just a sign of legitimacy. This is because every popular individual, as well as any successful, large-scale business, is now confirmed on social media, there is a reputation that comes with being social media verified. Verification shows that you are a significant identity in the cluster. It is through the blue tick beside the brand name that personal brands demonstrate their importance. In the era of influencers and social media, there is a constant race of striving. Brands that have successfully been accustomed to this game survive. Obtaining a blue tick is one such strategy. Certified brands are regarded as industry leaders. Being verified indicates that you are well-versed in social media and recognize the significance of being verified. While company verification is considerably more prevalent nowadays, it still comes with an appearance of authority. Most of the established brands today have a blue tick beside their brand name.
Networking
You all have surely come across a new trend in marketing, i.e., collaboration with influencers, celebrities, or popular personalities. Being verified on social media makes your company more worthy of other companies or influencers. Collaborating with other verified users to build your business can considerably improve its success. The verification mark indicates that you are legitimate and have a specific standing while networking with them. The person you seek to collaborate with will also be more interested if they see a blue tick beside your brand name. Customers will engage with you more since your account is proven authentic. The influencers as well as the customers will be far more inclined to interact with your account if they know you are who you claim you are.
Organic growth
Verified accounts do not have to forcefully make people visit their page, growth of the page happens organically as the blue tick increases your brand value. Together with unique content and a blue tick, your account's organic growth can reach heights. People will visit your page via recommendations or advertisements. A blue tick, often, signifies a higher conversion rate – if a buyer is faced with a choice between your brand and one without a blue tick, they will most likely choose you because of the assured credibility that a verified account offers. An official account comes with a certain sense of reliability, they will be assured of your honest service. People will know that you are genuine after your brand has been validated, and they will be able to trust and take you seriously. This may assist you in developing better, more real connections, as well as increasing brand awareness and exposure so that more people understand who and what you are.
Social media verification is becoming more widely available day by day, and it is no longer limited to celebrities. As a business or personal brand, it's imperative to establish social proof and trust with your target audience. Getting your social media accounts verified is an easy approach to demonstrating that you are a legitimate leader. A blue tick on social media platforms can take your brand to a new level.