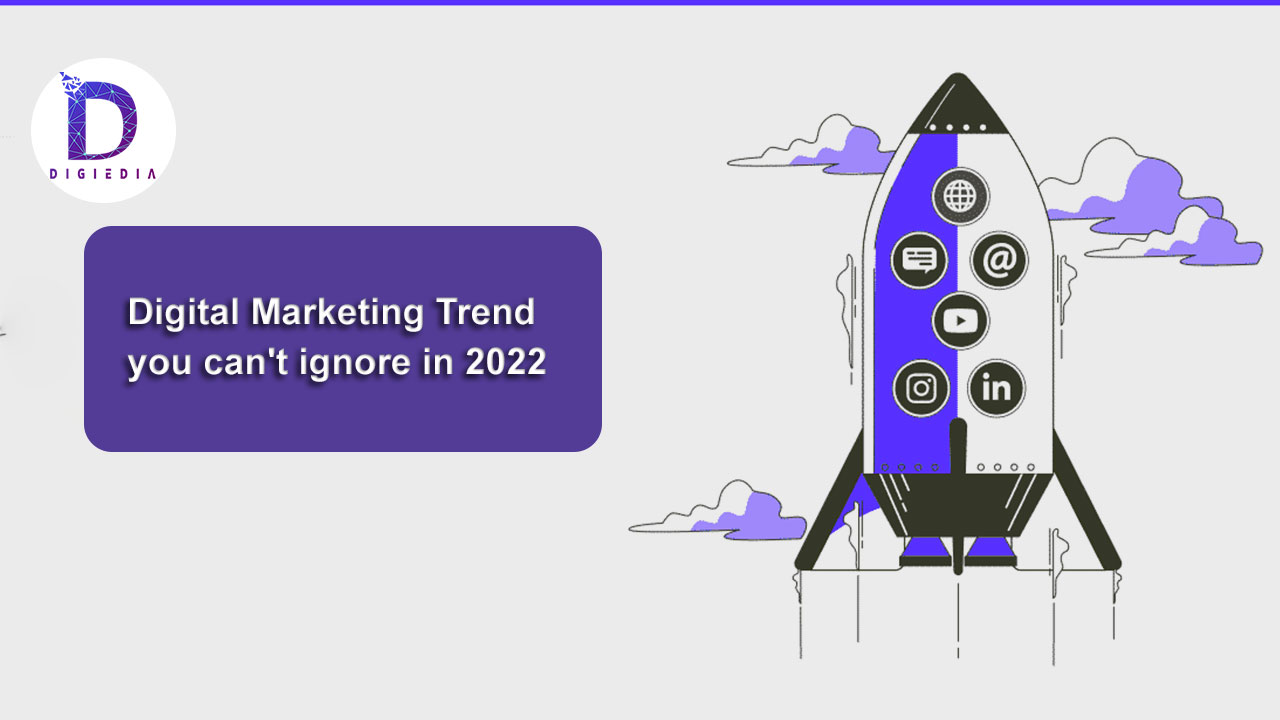 Digital Marketing Trend you can't ignore in 2022
We must keep one foot in the future and be prepared to begin 2022 with all of our energies in place. With the inclusion of artificial intelligence, this year's trends point to a more digital environment. On the other hand, generations such as millennials and Generation Z bring with them a revolution that we should be aware of. All of the trends that will shape 2022 will be discussed in this article. You could collaborate with us, the leading digital marketing agency, to help you with your digital marketing. The digital marketing trends you can't ignore in 2022 are:
AI is all around us.
Google has stated that cookie tracking will no longer be an alternative for studying and tracking our audience's activities by 2022. Many marketers may be perplexed as to how they can verify their audience, but if you are informed of the AI trends, you will be relieved.
When it comes to studying and even forecasting how the industry will look in a few months or years, artificial intelligence will be our best ally. According to an article by We Are Anmet, nearly 76 percent of companies have incorporated these tools and have seen a return on investment in less than a year.
Integrating AI tools will provide you with unlimited data for your research without the need to "spy" on your audience, as well as automating tedious processes that used to take a significant amount of time away from work. The findings will show you which keywords are recommended for your niche, the traffic to your website, and even how to automate your emails.
Nonprofit Organizations as Potential Business Partners
The COVID-19 has brought about fundamental changes, and people have become more aware of all of the issues we face as a species. As a result, customers prefer companies that speak out on current issues such as sustainability, employment practises, and even transparency. According to a 2018 Accenture report, 62 percent of customers concern more about social issues, and this trend is expected to continue through 2022.
As brands, your efforts to support nonprofits must be genuine, because people are not delusional and can detect it if it is done solely for commercial gain. In addition to exuding a sense of success and entrepreneurship, your company must be above all human, caring about the stability of its surroundings.
It would be beneficial if you did not support all of the nonprofits. Instead, it is critical to find one that lines up with your company's values so that were on the same page and does well for humanity, which is desperately needed in these uncertain times.
Your marketing strategy must include strategies demonstrating your support and action-based priorities. Making donations or providing sponsorships is also a great way to help your community. This is one of the few digital marketing trends you can't ignore in 2022.
After COVID-19, embrace hybrid events.
Direct interaction with the consumer will foster longer-lasting relationships with your customers, so the goal of these is not so much profit as it is to ensure that a huge proportion are inspired or pleased with their brand experience. Here's everything you need to know about B2B sales sourcing.
When a customer leaves your conference inspired by sustainable marketing techniques, it is almost certain that the first brand that comes to mind is yours, because of everything you taught them and made them feel. This comprehensive guide to digital marketing funnels can be found here.
Although live events are returning, COVID-19 remains, so virtual events are a better choice for our guests. Making events more inclusive and comfy for brands has become easier with video call platforms because they can gather all of their followers from the comfort of home without wasting so much money on machinery, which is good for the environment.
In a cookie-free internet, research your customer.
As marketers, we comprehend that we only use third-party cookies to see just what products our customers want or how we can provide them, but this is not the case for users who believe that our cookies violate their privacy.
As previously stated, even Google is considering phasing out this practise, so our role is to know and learn our audience in a less intrusive manner. For this, we can use AI tools and predictive analytics to better understand the market and our clients without the use of cookies.
Select the Video option
Although reading is a necessary practise for our minds, it is not the most effective way to stay in the thoughts of our audiences. We must appeal to symbols, images, and videos now more than ever because they are permanently inked in the minds of our consumers.
We began to see an increase in audiovisual content on the most popular social media platforms, such as TikTok and Instagram, as well as on YouTube, the second most popular search engine. According to a Social Media Today article, 62% of millennials prefer visual content over any other new technology. In addition, an SEO firm may be able to assist.
Marketing through conversation
Do you call customer service and the very first thing you hear is a pre-recorded response?Our natural reaction when we hear these robotic tones is to roll our eyes, awaiting that our dilemma will not be solved. Customers prefer to solve their problems by speaking with a live person because, while machines are useful for some tasks, human contact is always the best solution for others.
There are intuitive machines, such as chatbots, that can assist in this regard, but keep in mind that there may be problems that are out of the ordinary or that these machines do not tend to attend to, which can only be fixed by your customer service team. This is one of the most raging digital marketing trends you can't ignore in 2022.
Search by Voice
Among all of the trends we've discussed, we can see that artificial intelligence is present in many of them. What is the primary reason for this? Simply put, it simplifies our lives!
You can use voice search to discover information of interest by inquiring your trusted AI, whether it's Siri, Google, Amazon, or whatever you've chosen. Customers will want this type of search more in 2022, according to predictions.