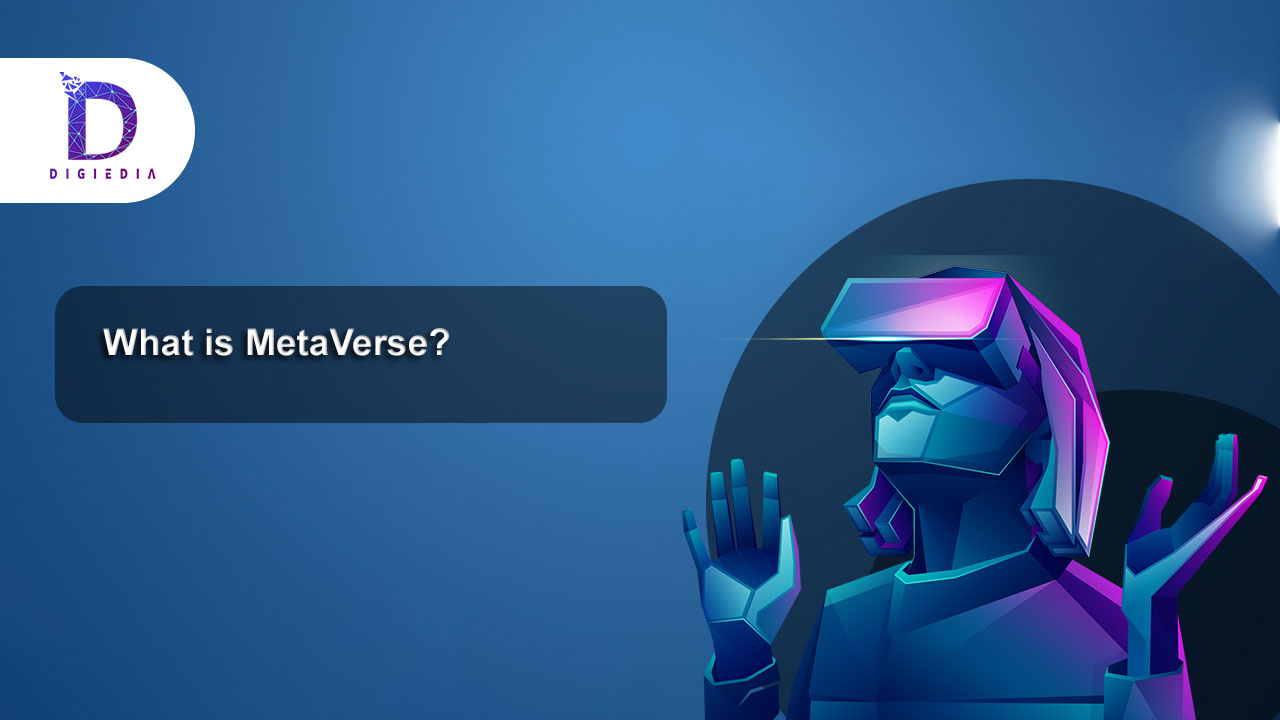 The world is constantly changing, evolving, and adapting due to new technological disruptions and advancements. Technology is the core of our lifestyle nowadays and we cannot imagine our lives without it. Without technology, the world will be at standstill. The advancements in technology are happening at top gear and are increasing day by day via breakthrough innovations. And one such breakthrough is Metaverse. You may have heard about this word from many global tech CEO and leaders. So, now exactly what is metaverse?
The complexity surrounding the word "Metaverse" can be toned down or reduced by understanding its conceptual aspect of it. Answering the question, what is metaverse? Can be very broad but the first one has to get the basics right. It does not refer to or is any specific type of technology but rather how we interact with technology and how easily it can play part in our everyday lives. It can be related to any segment like gaming, currency, augmented reality, social media platforms, etc. A metaverse is a network of 3D virtual worlds widely focused on social connections and it can be referred to as a simulated digital environment that uses augmented reality (AR), virtual reality (VR), and blockchain along with concepts from social media, to create spaces for rich user interaction mimicking the real world. It's like giving you the feeling of real-world but by using technology sitting in your own home. It covers daily practices or some experiences that humans crave like meeting, shopping, gaming, etc. To access Metaverse, you have to put on a headset, after which you can connect to the virtual reality interface.
WHAT IS METAVERSE AND THE RISE OF IT
Though we are in the midst of technological innovations and breakthroughs, one thing is constant is the continuous evolution in technology to make lives of humans easier, more convenient, and more time-saving. Global techs are in a race as to how advanced they are to be ahead in making, using, and implementing technology that people cannot live without. Metaverse is one such thing.
The owner of Meta (formerly known as Facebook) is Mark Zuckerberg. He himself has estimated that it could take five to 10 years before the key features of the metaverse become mainstream and people would easily adapt it in their daily lifestyle. But the metaverse is growing rapidly by inclusively including all spheres and industries into one. That is what it aims for.
UNDERSTANDING WHAT IS METAVERSE AND WHAT ARE IT'S PROS AND CONS
Positives of Metaverse: –
New tools, platforms, and techies are always required to build metaverse and include different technologies into that one world efficiently. Hence, for this reason, and good future of the metaverse Mark Zuckerberg owned meta has announced new advanced tools to help people build for the Metaverse, including Presence Platform, which will enable new mixed reality experiences on Quest 2. Also, a $150-million investment is done in immersive learning to train the next generation of creators. This will help build new technologies for meta world which will all be inculcated in one breakthrough called metaverse. The expertise of creators of different segments will make metaverse a sought-after technology that will help make people's lives different from what is today. The venture promises more fulfilling, easy, and convenient lifestyles for people that can be done with the help of technology.
Negatives of Metaverse: –
As we all know every coin has two sides, the same is true for the metaverse. Technology as we all have witnessed has some disadvantages also if not used correctly or purposefully. And with the help of that technology only, the metaverse is being created and so it also has some disadvantages. The technology nowadays along with creating awareness has also become a toxic place where hatred, trolling, abuse, etc are taking place and shared on the platform. The same can be done in the metaverse making it a toxic place, especially for women and minorities. The work is going on to address these issues for years but nothing seems to come to fruition drastically. All the tech companies globally have been working for the protection of users but as it is a wide sphere and very difficult to do so in this wide network. No doubt, it is a daunting task for all companies globally to create a safe and protected environment in a regulatory format.
WHAT ROLE WILL INDIA PLAY IN THIS COMPETITIVE AGE FOR BUILDING METAVERSE
A country that has tremendous potential for growth can never be behind to answer the questions like what is metaverse? The young potential that we as a country possess is our biggest asset among all the democratic nations. The specialized talent pool of India consists of competent engineers, developers, and creators. To top all of them and to support and enable them is the whole vibrant startup ecosystem. Due to this India is playing a huge role in shaping the future. India is on track to have the largest app developer base in the world by 2024. Hence, this embarks on the journey of the profound contribution of India in building metaverse.
The metaverse and its technology will affect each aspect like gaming, currency, shopping, virtual meetings, being in different places, entertainment, education, research, social interactions, commerce, etc bringing change into these segments profoundly. The whole platform is a massively scaled and interoperable network of real-time rendered 3D virtual worlds that can be experienced simultaneously by an unlimited number of users with an individual sense of presence and with continuity of data, such as identity, history, entitlements, objects, communications, and payments. This will require a humongous level of diverse loud infrastructure, software tools, platforms, applications, user-generated content, and hardware.
How this concept and this world will play out and how humans will adapt to it only time can tell. But for now, tremendous progress is made to make this virtual world a reality soon aiming to solve the problems of human lives and make it tech-savvy, productive, time-saving, and convenient. As change is a constant force in such a manner, our world will also evolve and change with new technology.