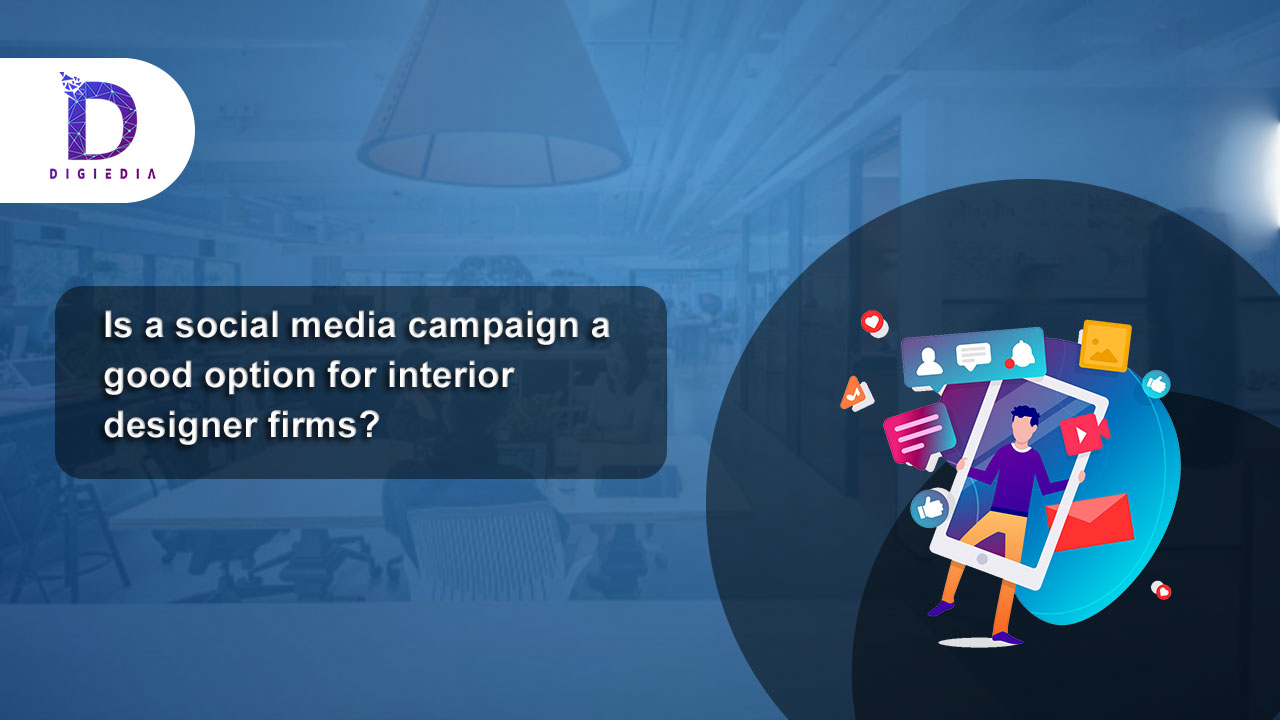 IS A SOCIAL MEDIA CAMPAIGN A GOOD OPTION FOR INTERIOR DESIGNER FIRMS?
Technology and social media have created immense changes and developments across the world. We cannot even imagine our lives without them. Especially, social media has made our lives much easier. Through social media, we can connect, communicate, post updates, get live news from all over the world, send information within seconds, do marketing, and can see people sitting in other countries easily. Social media has brought the world closer and has made it more inclusive. The majority of the population is or will be on social media platforms now or in the near times and that's why it is a very important platform to connect with such a wide range of people. Nowadays, every business in every industry takes the help of social media to connect, market their product or service, communicate, and be relevant to the latest trends. The same is true with the interior design industry. It is a competitive and service-oriented industry where designers or firms have to be completely customer-oriented. Thus, to be in such a competitive market and to connect with people social media is a must for interior designing firms. A niche and lavish Social media campaing for interior designer can be a game-changer. The display of a portfolio of designs can prove to be a trendsetter. Hence, Social media campaing for interior designer can prove to be very essential for the business.
WHY SOCIAL MEDIA CAMPAIGN FOR INTERIOR DESIGNER IS A GOOD OPTION?
1. Your portfolio speaks volumes. So, get clear on what you want to share, post and update.
Firstly, get ready with all the details, information, pictures, and videos in a precise manner. Clarity is very important to implementing any successful social media campaign. Also, be sure the timing is right. The three elements are very important – know the target audience, timing and what are you going to post. This gives Social media campaing for interior designer a unique individual presence. It will help to stand out from the rest of the others.
2.Plan your social media campaign for interior designer according to the resources that is time and money you have.
Planning a good social media campaign is a tedious task that requires lots of effort, time, and money. So, optimizing all these resources is very much necessary to make Social media campaing for interior designer a successful one. Channeling all the resources into making a purposeful social media campaign always gives you an edge over others. Most importantly, resources will be used for your firm or to market your designs only so why not do it purposefully.
3. Be precise, accurate, and clear in what you communicate. This builds credibility with communication.
Generally, people find an understanding design to be a very complex task. That would be made much easier if you communicate clearly on social media. Interior designers and firms should take care that they communicate in a manner and language that laymen people can easily understand. This is first and basic step through they will connect with you. Moreover, whatever information, photo or video anything you share or post on social media, make sure it is verified and correct. It is very important that you share correct and accurate information as people are going to listen, share and pay attention to it. The credibility will develop trust among people and viewers which is very important for building goodwill of the brand. This is one of the most important factors in social media campaign for interior designer.
4.Be creative and attractive with your social media campaign. This helps in audience engagement.
Interior design is luckily the creative field itself where you can experiment with different creatives, themes, and designs included in your portfolio. So, it will be helpful in creating attractive and out-of-the-box content. You can post photos and videos of the interior design projects you or your firm has done. Apart from that, you can share DIY videos, design videos, design tips, etc. Different options, themes, color palettes, etc can be shown in your social media campaign to make it engaging. People engage more in good-looking and creative content. This will engage audience engagement, retention, attention span, and your social media following.
5. Be consistent with your social media usage. This will help the continuous audience connect and engage.
Consistency builds trust. The audience will look forward to your content on social media first if it's engaging and second if that norm is consistent. Due to consistent posts, engagement, and communication, your interior design brand will turn into a trusted brand. Consistency will also increase audience retention and maintain a bridge between the firm and the viewers.
6. Stay in touch with the latest trends and news about the interior design industry and share your take on that.
Interior designing is an artistic field that lets designers' creative juices flow. This tells that every designer has his or her own unique and individual design takeaway and style. Along, with that, it is also important to stay in touch with relevant and latest updates in the industry as styles and designs are so unique all over the world. You can post information or updates about that trend. This will engage the audience as something new and fresh will cater to them. Also, you can share and update about your take on that and your inspiration. This will feel real to audience and will also help to carve your individual unique presence among them. Keeping it as real as possible will help social media campaigns for interior designers stand out from the rest.
7. Take the help of Pinterest which is one of the best platforms for interior designers.
This is the platform people search and reach out to find the best unique ideas in terms of art, creativity, and design. Interior designers can definitely show off their ideas and designs on this platform. Pinterest attracts a visually-oriented audience who like aesthetics and appeal. In addition, it is a search engine in its own right, so the combination of visuals and text, including hashtags, will definitely work to grow your following on this social network. The majority of activity on Pinterest happens to be re-pins. As an interior designer, you have the benefit of a great portfolio having a lot of original visual content, including great images. This platform will definitely help to showcase that and originality in it will strive like anything.