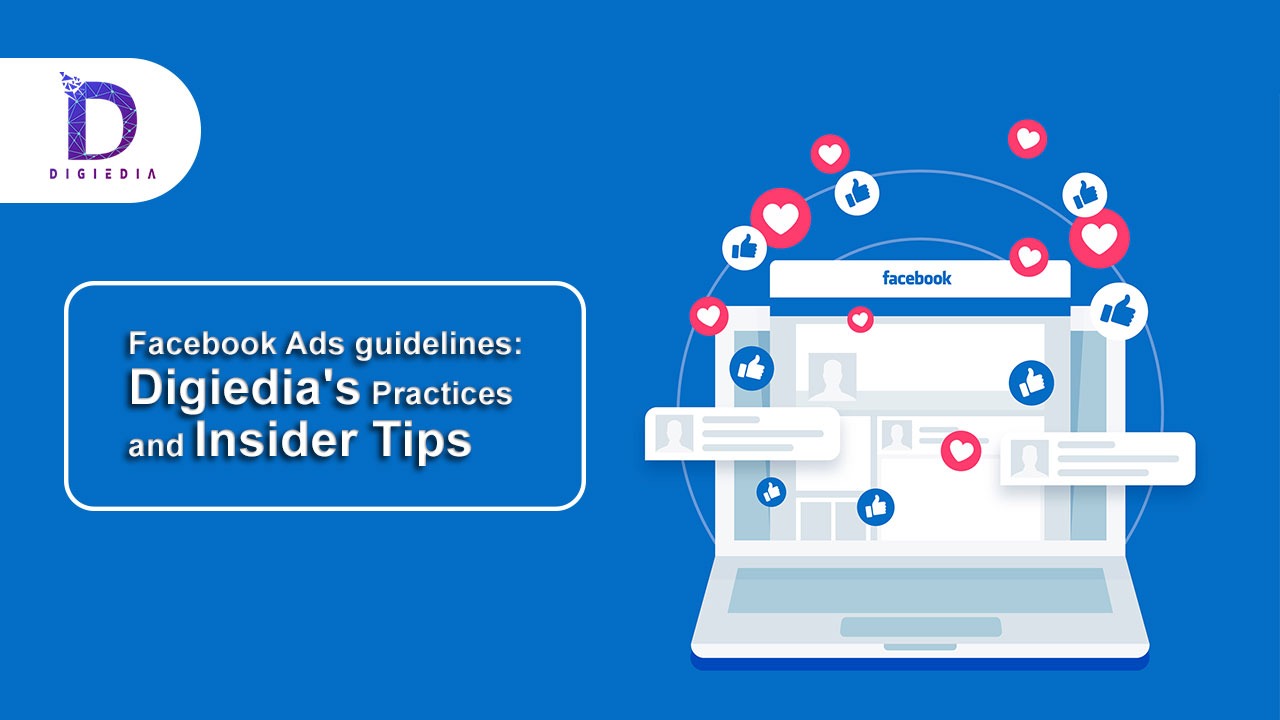 FACEBOOK ADS GUIDELINES: DIGIEDIA'S PRACTICES AND INSIDER TIPS
DIGIEDIA

29 December 2021
As you may be aware, Facebook has made it incredibly simple to launch any company advertising campaign. You can use Facebook advertising to manage several projects. You must also take into account a variety of elements for Facebook Ads guidelines, such as ad placement and format, and the intended audience. You must match the ad's elements to the budget and objectives.
This platform is difficult to overlook because it is one of the most cost-effective solutions in the market. While working on a business, you need to have proper knowledge about how everything works. This is why we are here. We will share some of our Facebook ads guidelines, that will help you in your business. With proper knowledge, you don't have to pay an external source and you can save a lot of money. 
Facebook Ads guidelines
The first component of the Facebook Ads guidelines, according to Digiedia, is to concentrate on the design and technical aspects of your Facebook advertising. Let's have a look at how to navigate the various ad formats and their dimensions.
As experts, we can tell you that you and your Facebook advertising agency can choose the type of ad to utilize while also paying attention to the correct resolution, dimensions, and other requirements to guarantee that your visual assets are displayed effectively across the platform.
Format of an Image
On Facebook, there is a basic ad structure that combines image advertisements with text to catch the attention of your target demographic. Your image's technical specifications have an impact on its acceptance as well. Ensure that all photographs, regardless of size, are uploaded in the finest resolution.
Images should be at least 600 pixels in height and width.
Either a JPG or a PNG file must be used.
The aspect ratio must be between 9:16 and 16:9.
The tolerance for aspect ratio is 3%.
The text in your photos can't be more than 125 characters long.
Format of Video
In the end, you want to draw customers to your website and persuade them to make a purchase. Video advertising is more powerful than any other medium. Moreover, this also helps you in achieving this goal. These eye-catching assets are a creative approach to promoting your product, service, or brand. They help you present a message that inspires viewers to take action.
Carousel Format
When creating a carousel for your advertisement, you can include up to ten images or videos. That is sufficient for you to display your various offerings, such as products and services, and to describe your brand in detail.
Slideshow Format
You can also demonstrate your steps in the slideshow, which will appear in motion pictures, sound, and text, but always with minimal requirements. These slideshows are less time-consuming to create and load than movies.
Talk to your customer directly
Make the commercial about them, not about you, to connect with your audience. To establish a relationship, use the word "you" and explain why your product or service is relevant to their requirements.
Comply with Facebook's policies
Avoid promoting adult products, weapons, and more. It is also forbidden to use sexually explicit or violent information. Keep in mind that if you don't follow Facebook's standards, your entire ad account could be shut down.
Stay on brand
Make sure your brand's colors, graphics, and voice are all in sync. Customers will remember your brand if your advertising is consistent across all mediums.
Match your creative to your landing page
The image and copy in your ad should match the image and copy on the landing page to maximize advertising efficiency. The user will not only have a consistent experience, but it may also affect how Facebook's algorithm calculates your bid price.
Sequence creative to tell a story
Consider using your advertisements to tell a story over time. You can change the messaging regarding a ticketed event from "Get a sneak preview of this new album!" to "Buy tickets today to this show!" to "Last minute tickets available!" for example.
Measure your results
Examine the available data to see how people are reacting to your advertisements. The Click-through rate indicates how relevant the ad is to your target audience. Examine your conversion rate to see if your product is being promoted effectively or if your landing pages should be improved. For example, if you display an adorable dog in a cleaning product ad, you can get a lot of clicks but a low conversion rate.
Collection
When creating a collection, you can include a cover image or video, followed by a number of product photographs. When a customer clicks on your ad, a full-screen landing page is displayed, which is known as an immediate experience. This will have an impact on the user and be useful to your items.
Messenger
You can choose the procedure on Facebook advertisements by selecting the messaging objective, and you can use these Facebook ads to catch the attention of your target audience.
The Bottom Line
The most important Facebook Ads Guidelines is compelling language; nail it, and consumers are more likely to convert. When writing this copy, keep in mind Facebook's limited and forbidden content restrictions, as well as the product or service you're promoting and the audience you're targeting. Digiedia also assists you in all aspects of digital marketing, advising you on how to approach various tasks and how to handle them in the future. We will supply you with all forms of professional and technological abilities also to make these advertising and handle things to take you to the next level.