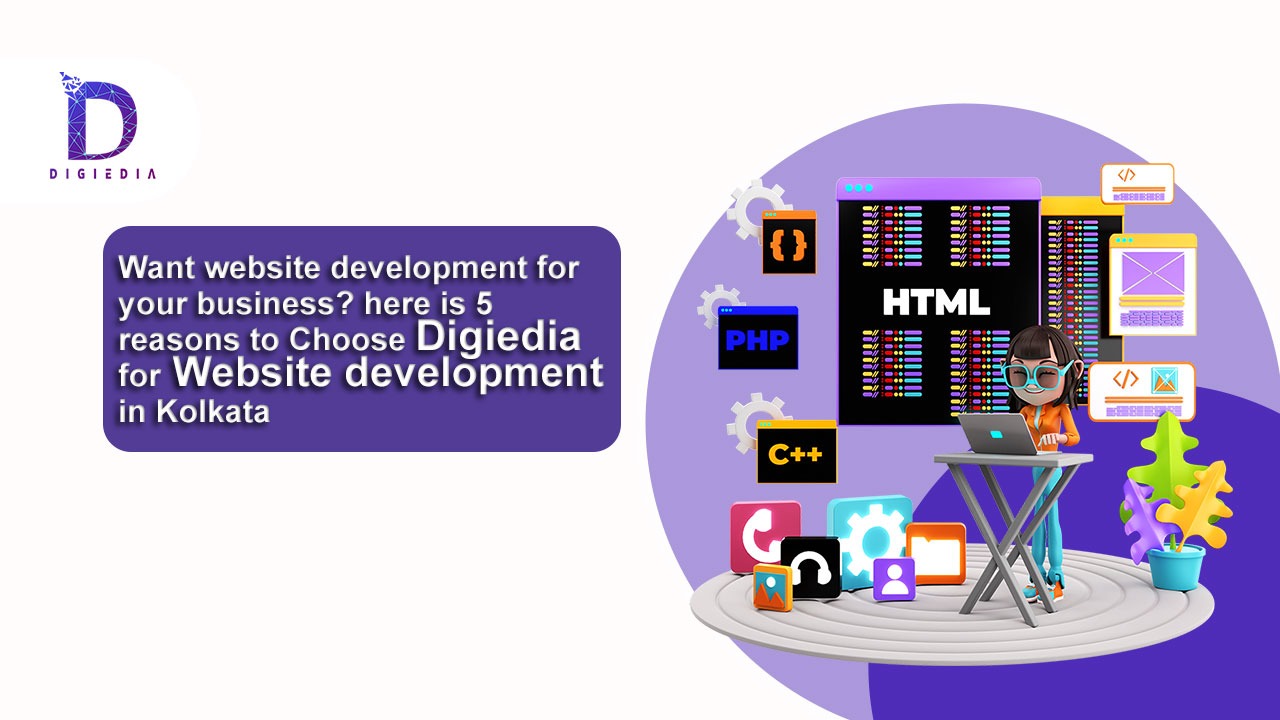 WANT WEBSITE DEVELOPMENT FOR YOUR BUSINESS? HERE IS 5 REASON TO CHOOSE DIGIEDIA FOR WEBSITE DEVELOPMENT IN KOLKATA
DIGIEDIA

28 December 2021
In terms of market trends, many firms consider web development to be one of the most cost-effective ways to supply the desired solution. The need to create and maintain separate app versions for PC, Android, and iOS is eliminated when a web application is built with a responsive design. The crucial thing to remember is that web development is still easier and faster to complete. In addition, website development in Kolkata requires fewer resources in terms of professionals, timing, and budget
It's difficult to picture a firm that doesn't use technology. Furthermore, any organization can begin custom software development to handle their company's unique requirements. The improvements in technology have provided a plethora of tools for streamlining the development process and creating effective solutions. Developers have a wide range of technologies, development methodologies, and tools to select from.
EFFECTS OF WEBSITE DEVELOPMENT
Effectively communicate with your guests
When it comes to managing more revenue, engaging with your audience is critical. It is feasible to design a website that allows you to communicate with your customers and prospects, as well as the relevant content for your industry or business's target audience. After that, post the content to your blog, share it on social media, and answer customer comments and feedback as soon as possible. This will demonstrate to your clients how concerned you are about their pleasure and responsiveness to their needs.
Boost your internet connection
You may widen your reach and attract more people to your business by having a website. Your site will be able to be accessible by a wide range of users using several devices, such as tablets and smartphones if you create a responsive website design. This will increase the visibility of your website as well as organic traffic.
A website is a simple way to demonstrate a firm's credibility, and how a person portrays his or her organization online is crucial for attracting new clients or visitors. As a result, your website design should be as professional as possible, as a professional presentation says a lot about your business. With the help of website construction, you can put all of your skills, credentials, experience, expertise, and more in one place. This information assists you in establishing your visitors' trust and confidence, as well as providing a reference point for customers who are interested in your company, making lead generating easier.
5 REASONS TO CHOOSE DIGIEDIA FOR WEBSITE DEVELOPMENT IN KOLKATA
Web Development may focus on critical functionality and continue to expand it while prioritizing business objectives thanks to well-defined development and business strategies. It'll be fascinating to learn about the primary reasons why businesses use leverage. Many businesses believe that website development in Kolkata is said to be one of the most cost-effective ways to provide the needed solution, according to market trends. When a web application is developed with a responsive design, the need to generate and maintain separate app versions for PC, Android, and iOS is avoided. The most important thing to keep in mind is that web development is still easier and faster. Furthermore, Website development necessitates fewer resources in terms of specialists, timeliness, and budget.
The speed with which a project is developed is determined by a number of factors, including the project's complexity, the technology used, and the composition of the team. Web development is an excellent choice because it allows a single cross-functional team to implement all of the required functionality. The tech stack can differ from project to project, but it's always possible to choose the one that best fulfills the requirements. Along with optimizing the development process, the team focuses on other business requirements such as increasing productivity and improving speed.
The flexibility that organizations get there is the next thing to mention. The scalability of website development in Kolkata is well-known. The dedicated development team can start with a simple app and adjust subsequent development as needed. A web application that is scalable can support growth, provide optimum performance, and give a better user experience. Furthermore, it is an excellent method for achieving cost-effective development.
It is a critical factor in gaining market share and reaching a broader audience. Effective communication between employees and customers, well-organized workflow, and corporate security can all help to ensure business continuity. Website development in Kolkata is advantageous for the organization of any industry specification since it allows for secure data sharing and automatic process integration. At the same time, business continuity aids in the development of a positive company reputation.
It is critical to make a solution accessible and user-friendly, whether it is developed for internal needs or presented to a large audience. Web applications make it easier to meet this need because they are cross-platform compatible and help to broaden user experiences. A web application is also easier to maintain and update. Through one-on-one experience, businesses can give great services to every one of their clients.
Reasonable costs also support the decision to construct a web application. To begin, instead of creating separate teams for desktop and mobile app development, you'll create a single cross-functional team to work on the web app. Second, maintaining and updating web software is less expensive than managing several app versions. Its primary goal is to provide the best functionality at a reasonable price.
Website development in Kolkata is a fantastic opportunity to improve your organization by implementing the necessary technological solutions. The specified functionality can be implemented using a variety of technologies and development methodologies. The web application is appropriate for businesses of any size, scope, or sector. We can see how organizations choose the best tool for a variety of business tasks by looking at strong market practices.
To summarise, it's evident that website construction is critical to effective business promotion. Without it, making an influence on a worldwide scale would be incredibly impossible. As a result, you'll be able to make your life easier! Start adapting, build a website, and get ready to reap the benefits of your success.