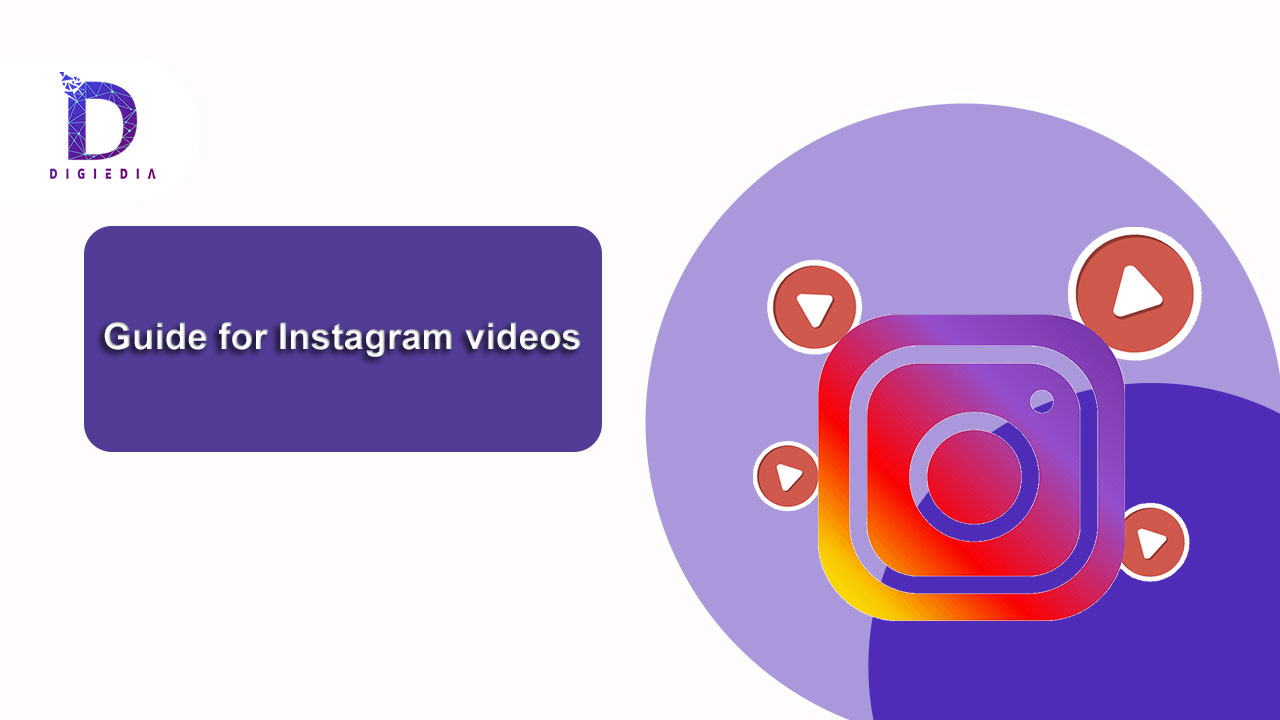 Guide for Instagram Videos
Trimming, the possibility to upload video captions, people and destination tagging, and 60-second feed previews are among the new features introduced by Instagram for Instagram Video. The new Video tab has now replaced the previous IGTV tab on users' profiles, and it is accompanied by a new "play button" icon. Instagram is exploding with video. According to the network monitoring tool Mention, video posts have the highest total engagement rate, receiving more than twice as many comments as image posts. We've put together a  for Instagram Videos to help you capitalise on Instagram's video trend.
If you want to see how your videos are performing, you will be able to access a new set of insights in Instagram Insights under a new "Videos" tab, rather than in separate displays. The app is creating a single location for longer-form storytelling by combining IGTV with other forms of video content (excluding Reels) (Instagram Videos can be up to 60 minutes in length). There are so many other features of which you can get a glimpse of from this ultimate guide for Instagram.
Do you want to appear in more videos? You now have four styles to choose from:
Stories are 15-second videos that vanish after 24 hours.
Reels are short 15 to 60-second videos that appear in the Feed and Reel tabs.
Videos – a lengthier video that can run for up to 60 minutes.
Instagram Live – live streaming video content that can last up to four hours.
New videos bring with them a slew of new analytics.
Make time to experiment with what works and what doesn't, just as you would with Reels and Instagram Live. Return to analytics to evaluate the performance of your video. Select "View Insights" from the "…" menu. When you click "View Insights," you'll see your views, likes, comments, and audience retention rate (how many people saw your video all the way to the end). A "view" on Instagram is the number of times someone watches at least 3 seconds of your video. The 'average percentage watched' is also displayed. The analytical power should not be underestimated.
The analytical power should not be underestimated. There, you can get a clear picture of your followers' habits and see which times and occasions they are online the most. You can also use metrics like 'website taps' and 'follows' to study the efficacy of your calls to action.
Among the metrics to keep an eye on are:
% of total video views
Comments and saves
Taps and follows on the website
Video specifications and best practices
We all know that smartphones are making us as beneficial as videographers – which is why Instagram video is so great. Naturally, going vertical whenever possible is the best solution to create video content. Remember that you can now share a 60-second preview, so make sure the first minute of your video is truly exciting, and ideally, you would begin to create some curiosity or cliffhanger around the 1-minute mark, to get your audiences to tap over to the video to continue watching. Because you don't have to rotate your phone or watch a smaller version, the original lateral video naturally encourages you to capture on your phone, making for a better mobile experience.
The good news is that you can use the huge potential of Instagram videos to connect by your own audience right now, and here are some pointers that we hope will be helpful. To create video content for Instagram, you don't need a large budget or professional video editing skills. Indeed, you may have noticed that many of the most popular videos you've seen were shot with shaking hands on a smartphone in low-light conditions. You only need an iPhone and basic editing software, but that doesn't mean you shouldn't start making your own beautiful short films if you want to.
Keep your videos brief and straightforward.
There are far too many other things to keep an eye on out there, so make sure you bring attention and give your message in a short period of time. Despite having a highest length of 10 minutes, the best length is 4 to 6 minutes. It is especially important to provide a wow-image in the first few seconds so that your lovely fans stop and watch it instead of just scrolling right through. Use an app to get help if you need it. Impresso, for example, was created specifically to create social media promotional videos – specifically for Instagram. When you grasp video content on your smartphone, you can create and upload high-quality and engaging videos directly to your social media platform.
If you want to repurpose your video footage for use in Instagram Stories and posts, as well as add filters to fit your Instagram aesthetic, InShot Video Editor is a video and photo editing app designed to make your content fit in with both your feed and Instagram Stories posts. You know your followers effectively than anyone else, and you know what they like and what they need – create a video that addresses those needs so that it is worth watching and sharing.
POSTING A VIDEO TO INSTAGRAM'S FEED
We'll start with how to add a video to your profile so that your followers can see it in their Instagram feeds.
Create your video. You must first create a video before you can upload it! Check out our tutorial on how to create a vertical video for Instagram Stories using Animoto's square video format.
Download the video to your device. Because Instagram Stories can only be created from a mobile device, you'll save video to the device from which you access Instagram.
Make a new Story. When you're logged into the Instagram app, tap "Your Story" in the top left corner.
Please upload your video. Select the video you want to upload from your camera roll.
We hope that this guide for Instagram Videos has assisted you to understand why you should use videos on Instagram and how to share videos on the platform. We've provided you with Instagram video concepts and advice. It's time to start making videos, and we're here to help.