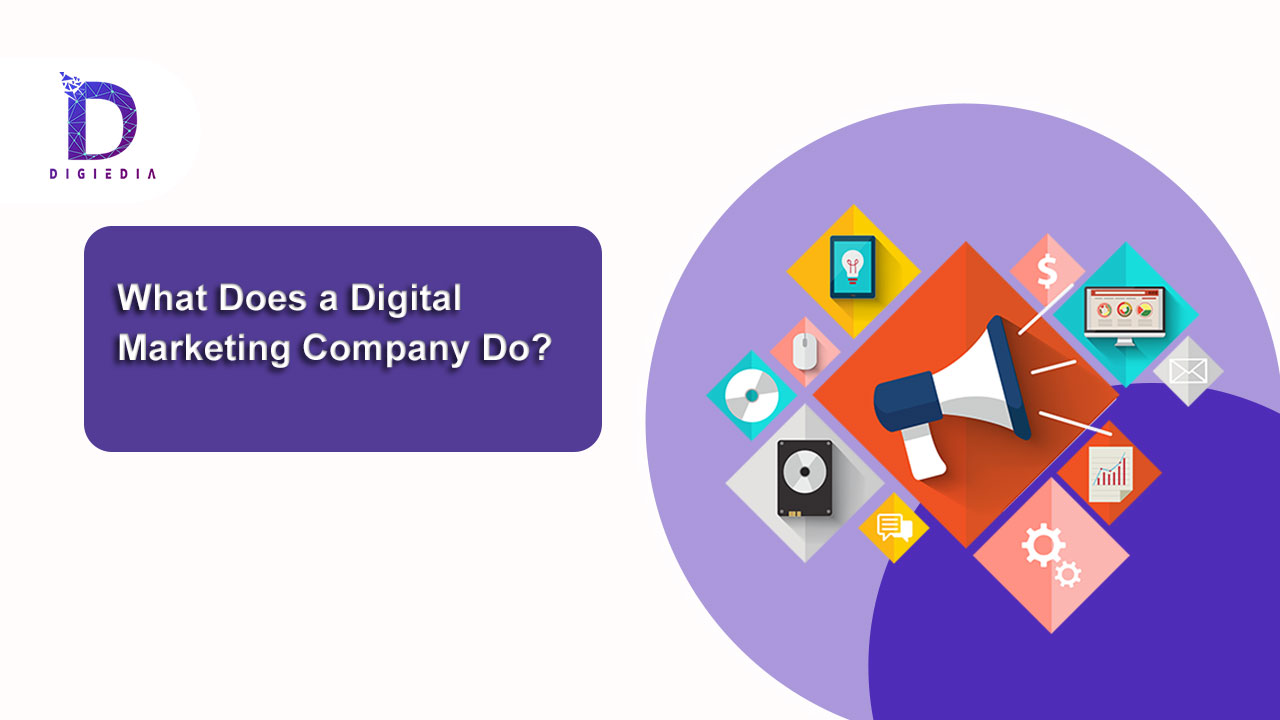 WHAT DOES A DIGITAL MARKETING COMPANY DO?
To be competitive in today's electronically savvy world, you must develop and maintain a solid web presence. Because of the fierceness of online competition, much more than launching a website and social media profiles is required. Every single one of your competitors has integrated online marketing into their marketing strategy, with many hiring a digital marketing firm to help them. If you're looking for an answer to the question, "What does a Digital Marketing Company Do?" this blog will help you in solving all your queries.
Digital marketing is a multidimensional strategy for finding, contacting, and building connections with customers online through a variety of channels to urge them to make a purchase and further purchases in the future. The results of internet marketing are beyond belief.
Brands that blog alone can get 67 percent more leads than those that do not. SEO also has a 14.6 percent conversion rate, which is far greater than the 1.7 percent conversion rate of traditional outbound efforts.
The following are some of the methods used in digital marketing:
Content Marketing
Search Engine Optimization (SEO)
Video Marketing
Mobile Marketing
Online Advertising
Email Marketing
Social Media Marketing
WHAT DOES A DIGITAL MARKETING COMPANY DO?
Businesses choose digital marketing agencies because of their expertise in internet marketing. The latest trends best practices and the greatest tools and approaches for digital marketing success are all available to agencies. Let us know more about what does a digital marketing company do?
DIGITAL MARKETING AGENCIES HELP IN GROWING ORGANIC TRAFFIC TO YOUR BRAND PAGE
The goal of any digital marketing effort is to drive as much organic traffic to a company's website as possible. Digital marketing organizations employ experts that are well-versed in inbound marketing, customer journeys, and search engine search algorithms. Organic traffic (traffic from people who find your website online via a search engine search) will rise if you collaborate with a digital marketing agency. These leads will also be of higher quality, increasing the likelihood that they will make a purchase.
DIGITAL MARKETING AGENCIES HELPS IN GENERATING BETTER LEADS
Your firm, its marketing goals, and objectives, sales funnel, and ideal target customers will be recognizable to digital marketing companies. They'll also be knowledgeable about inbound marketing tactics including content marketing, social media marketing, web design, and SEO.
Various inbound marketing strategies are more effective than others depending on where your leads are in your sales funnel. You'll be able to send the right message to each lead in your sales funnel at the right time utilizing the right online media if you work with a digital marketing agency. By shifting leads from the top to the bottom of your sales funnel, a digital marketing firm may help you generate sales-ready prospects.
A DIGITAL MARKETING AGENCY INCREASES THE REACH OF YOUR PRODUCT/BRAND
Your customers use the internet. You and every other digital marketing agency are well aware of this. Digital marketing agencies know how to expand your brand's online reach because they specialize in promoting businesses online and creating online interactions with customers. what does a Digital Marketing Company do? is the most asked question. However, the answer to this question is pretty simple. Through keyword analysis and client persona creation, working with a digital marketing agency can help your website acquire greater attention. If you employ a digital marketing agency to handle your social media marketing, your company will get an additional online presence across several social media platforms.
A DIGITAL MARKETING AGENCY HAS BETTER MARKETING TECHNIQUES
A digital marketing agency can also help you identify faults in your current digital marketing strategy. If your marketing team is small, there's a good chance you won't have the necessary expertise to implement a successful digital marketing strategy. For example, you'll need to conduct web design, SEO, public relations, email marketing, and social media marketing. You may not be an expert in every one of these fields.
7 DIFFERENT TYPES OF DIGITAL MARKETING FIRMS
AGENCY FOR DIGITAL MARKETING
A digital marketing agency uses various channels for marketing like omnichannel marketing, multichannel marketing, or single-channel marketing for targeting the customers online.
DIGITAL MARKETING AGENCY WITH FULL SERVICE
Businesses commonly work with full-service digital marketing companies because they have experience with certain tasks that businesses require, such as lead nurturing campaigns or website redesigns.
AGENCY FOR INBOUND MARKETING
An inbound marketing agency, as opposed to traditional outbound marketing strategies, provides inbound marketing approaches and strategies.
AN SEO AGENCY
SEO (search engine optimization) services help websites and content rank higher in search results for their clients.
DIGITAL ADVERTISING AGENCY (PPC)
Paid advertising, often known as sponsored search, is another method of attracting visitors to a company's website. In contrast to organic traffic, paid traffic entails paying for keywords and ad placement in search results.
AGENCY FOR SOCIAL MEDIA (AGENCY FOR SOCIAL MEDIA)
Businesses use social media agencies to help them build and maintain a presence on social media. Social media agencies can create and manage social content as well as promote on sites like Facebook and Instagram.
AGENCY FOR WEB DESIGN
A web design agency is a collection of creative designers who collaborate with businesses to produce customized and optimized websites or web pages. Web designers will take care of the appearance, feel, and functioning of the pages, whether it's for a fully new website, a website redesign, or a smaller project.
THE BOTTOM LINE
Now that you've addressed the general question of What does a Digital Marketing Company do, keep in mind that digital marketing is always changing and evolving. Even if you can handle a lot of your marketing plans and methods in-house, digital marketing companies are always the first to know about the most cutting-edge, current, and efficient ways to market your business online.
Search engine algorithms are constantly changing, social marketing strategies are evolving, and new online and mobile advertising formats are constantly being developed. Digital firms will always be more competent in terms of creating and promoting digital media, saving you time and effort in keeping up with industry changes.