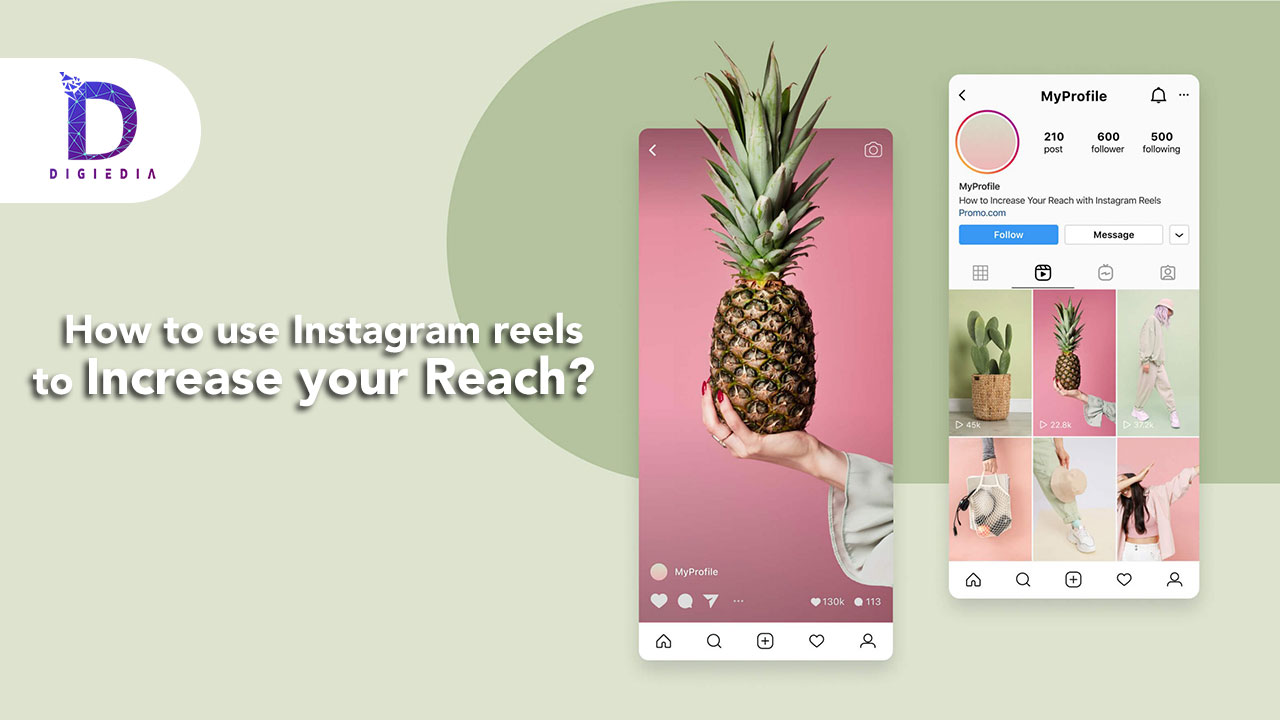 How To Use Instagram Reels To Increase Your Reach
DIGIEDIA

10 September 2021
Crisp, engaging and quality videos are the preferred mode of content in the present times and are ruling the digital and social media platforms. There are so many popular social platforms and sites, dealing exclusively through user-generated video content. Tiktok, known previously as Musically, is ruling the popularity charts and is highly appreciated for its engaging content and has millions of fans and users worldwide. Instagram already had a popular space for video content, known as IGTV, the feature was highly useful for the businesses who wanted a creative and descriptive medium to promote their brand and connect with their audiences, in the process. Recently, Instagram introduced 'Reels', a feature and space for short and engaging video content. The feature quickly took over the social media platform like a wildfire and thousands of creators and businesses are now employing this trendy feature in their marketing strategy. The Instagram reels can be highly beneficial for your business and can surely help you with growth, expansion and reach with a few tips and tricks! Here are the ways to use Instagram Reels to increase your reach on the platform:
The Ways To Use Instagram Reels To Increase Your Reach
Here are a few ways that will increase the reach of your business and help you establish a relationship with your audiences and push them further down to the sales funnel. Read on to know more:
This is no secret! Instagram is a visual platform and it encourages quality, appealing visual content. In order to increase your reach on the platform, it is essential for your business to create aesthetic content that can help your account and business stand out in the crowd of million other firms and accounts. Quality content will also make it easier for your profile and posts to be discovered on the 'explore page of Instagram. Audiences prefer accounts and trust businesses that have a structured and beautiful flow of meaningful and valuable content. The Reels feature allows you to showcase your business in a highly creative manner and can easily help your business stand out.
Create short reels that not only resonate with your audiences and speak to your leads and potential customers, but also help you showcase your products and services. Let the 'Reels' reflect the value your business aims to offer. An appealing reel can easily grab the attention of the scrolling audiences and users. Catchy music, GIFs, stickers and filters not only add a dash of fun and beautify your reels, but they also compel the audiences to click and watch your videos and know what your business aims to offer. Reels can be a fun way to promote and advertise your business. However, it is also important for your business to take the guidelines of the social media platform into consideration while creating and publishing the content. This will keep your page secured and help your business in the long run.
Consistency Is The Key To Success!
In order to increase the reach of your business on Instagram, it is essential for you to publish your content in a consistent manner. Posting consistently allows your business to be discovered easily on the explore page and also helps increase the reach of your business in a significant manner.  Posting consistently not only increases the reach of your business, but it also helps your brand keep your audiences interested and engaged. When you post regularly, it also helps your brand gain a strong online presence and a profitable reputation. It keeps your business visible and relevant in the digital market space. Publishing content in a consistent manner also impacts the number of impressions and views your brand receives from the targeted audiences.
An inconsistent business account can leave adverse impacts on the reputation and image of your brand. It will nullify the exposure and reach your brand has worked so hard for. Therefore, it is highly important for your business to create engaging reels and publish them regularly in a timely and structured fashion. Instagram offers detailed insights that can let you study and analyse your audiences so that you can publish your content accordingly.
Optimizing Is The Way To Go!
Optimizing the content increases the reach of your business and easily pushes it to the explore page to be discovered quicker. Make sure your reels are high quality and shot in the preferred frame and resolutions of the platform. In Instagram, the hashtags play an important role of the keywords. In order to optimize your reels effectively, make sure you have added the right and relevant hashtags. The hashtags push your brand and profile onto the feeds of the right users and audiences who 'follow' them. It is also important to add an informative description that works as a Call To Action (CTA) button so that it becomes easy to direct the audiences and the viewers when they land up on your reels video.
Add All The Details, Use All The Tools!
Instagram offers many tools and features that can impressively improve your reach and engagement. It is necessary to optimize your content effectively, however, it is also important for you to add all the necessary and relevant details, so that you can reach and retain your audiences and customers and encourage them to learn more about your business, hit the 'follow' button or go to your website. Tagging the relevant accounts in your reels and mentioning your brand and pages in the caption panel will give the audiences and the users, a direction. You can also make use of tools and spaces like Instagram stories and encourage your followers to share your content. These features will surely grant your business with improved reach.
Instagram also allows you to promote and advertise your business with reels, in the recent update. This step demands monetary investments but can also greatly impact and increase the numbers of audiences your business reaches every day!