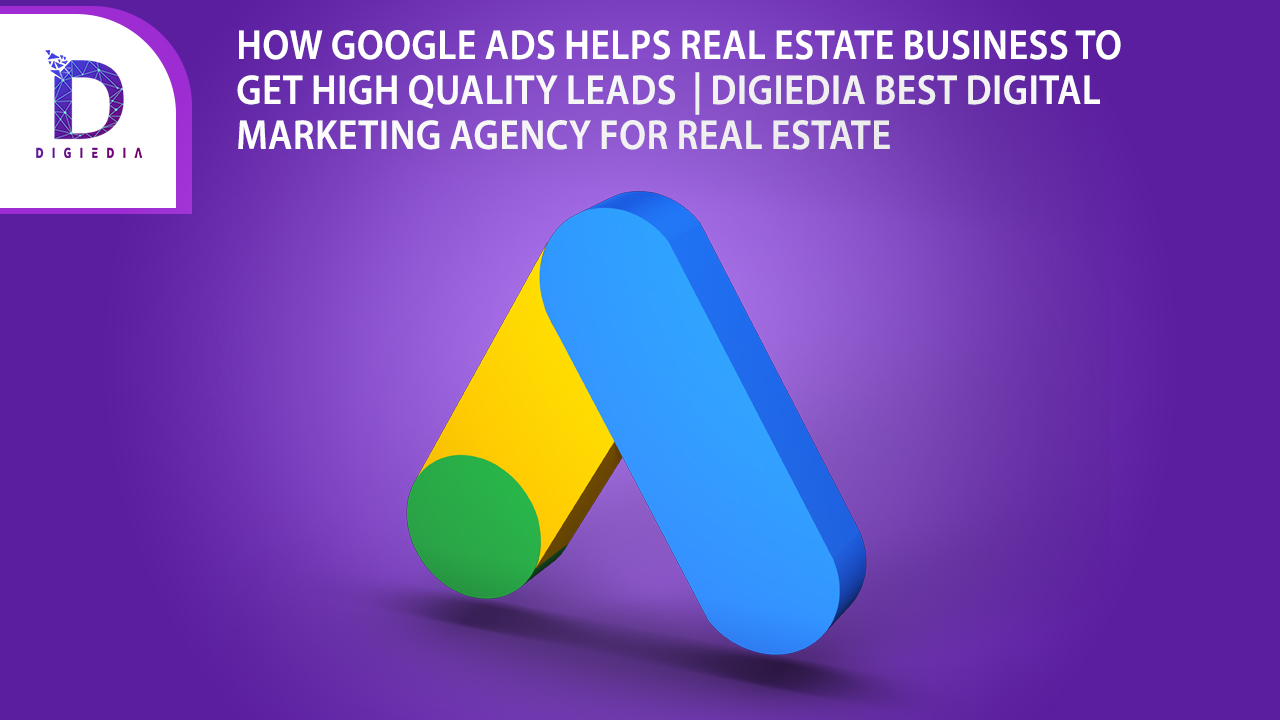 How Google Ads helps Real Estate Business to get High-Quality Leads | Digiedia Best Digital Marketing Agency for Real Estate
Google ads are the advertising software of google. With google ads, you can create ads for your business and you can get potential customers when they are interested in the products or the service you offer. you can easily promote your business, they are managed online. Even You can sell products or services, raise awareness or increase traffic to your website. As most businesses are shifting online, if anyone owns a real estate business, they should go for Google Ads. The best part of google ads is that google ads have no minimum spending amount. As a result, you can control your own budget. You choose where your ad appears, set a budget that is comfortable for you, and easily measure the impact of your ad. The final objective is to have this down perfectly so you can start developing a scalable and trustworthy real estate business. If it takes a year or more before you start to see noticeable benefits, don't give up. Google advertising is a long-term method. In this topic, we are going to discuss How Google Ads helps Real Estate Business to get high-quality leads.
How google ads actually work
Under PPC (pay-per-click), google ads work. Which means, marketers, target a typical keyword on google and make bids on the keyword- by competing with others also targeting the keyword. For example- if the maximum bid is Rs. 4 and Google Determines that your cost per click is Rs. 2 then you get that ad placement. If it is more than Rs. 4 then you would not get ad placement.
A maximum daily budget can also be set for your ad. You'll never spend more than a certain amount every day on that advertisement, which will help you determine the appropriate budget for your digital advertising campaign.
There are 3 types of bids
Cost-per-click (CPC) – how much you pay when someone clicks on your ad.
Cost-per-mille (CPM)- the price per 1000 ad impressions.
Cost-per-engagement (CPE) -How much you spend when a user does a particular action on your advertisement (signs up for a list, watches a video, etc).
The bid price is then combined by Google with a rating for your ad known as a Quality Score.
What is PPC advertising?
The full form of PPC is pay-per-click. Google ads work under PPC. A PPC campaign best suited for a real estate company that is looking for high-quality leads. This PPC ad is paid, which means that it is not an organic way of finding leads. It works best when it comes to advertising in search engines. Whenever a user clicks a sponsored link, the company pays a small fee to the search engine. This is one of the cost-effective ways for real estate companies because they only pay whenever a lead clicks on the ad.
This PPC can be used for any type of real estate business. Whether it is a professional or commercial or real estate investor.
The benefits of using google ads
The fact that there is no minimum spending restriction for Google Ads is its best feature. As a consequence, you may handle your own funds. You have control over your advertisement's budget, placement, and the simplicity of determining how effective it is. In this article, we'll discuss how Google Ads helps real estate firms get high-quality leads.
With google ads, you can create a relevant keyword for your business. When someone uses the search engine to look for houses using your keywords, Google will show your adverts more frequently if you utilize real estate-related keywords. Additionally, if you combine relevant keywords with precise zip codes, you will draw quality leads that might potentially buy any of your listings.
Google uses the PPC (pay-per-click) strategy for its advertising. This suggests that advertisers use Google to target popular terms and compete with other advertisers using the same phrases. For instance, you would receive that ad spot if Google calculated that your cost per click is Rs. 2 and the highest offer is Rs. 4. You won't get an advertisement if it costs more than Rs. 4.
Use keywords in your target headline, and make sure it expresses your objectives and what potential customers may expect from you. The likelihood of conversion will thus be increased when there are plenty of click-throughs. In addition, if you converted a lead, your advertisement was a success.
PPC ads on Google The way that ads function is by bidding. Users choose and place bids on particular keywords in order to reach their intended audience. Following that, Google will choose which advertisements to show consumers depending on the overall amount bid and the ad's quality. Your advertisement's efficacy will rely on three things:
Click-through Rate Predicted (CTR)
Ad Pertinence
Experience with landing pages.
This is How Google Ads helps Real Estate Business to get high-quality leads.
By using google ads, you may improve your ad rank in search engine results and drive more traffic to your real estate website. A Google ad campaign is a long-term strategy, which is essential to keep in mind. Additionally, while you're just getting started, it's better to bid on more specialized, smaller real estate keywords with fewer search volumes. So Before you consider quitting, make a business plan and follow it for at least a year. To develop a more effective approach, you may always tinker with your plan and make adjustments as you go.
Summary
Coming to the final point, It's ideal to emphasize your real estate marketing effort on referrals and your circle of influence when you're just starting out as a real estate agent.  In this blog, we have learned How Google Ads helps Real Estate Business to get High-Quality Leads. While the internet may be a fantastic resource for leads, it shouldn't be your primary emphasis or a replacement for networking in your neighborhood.