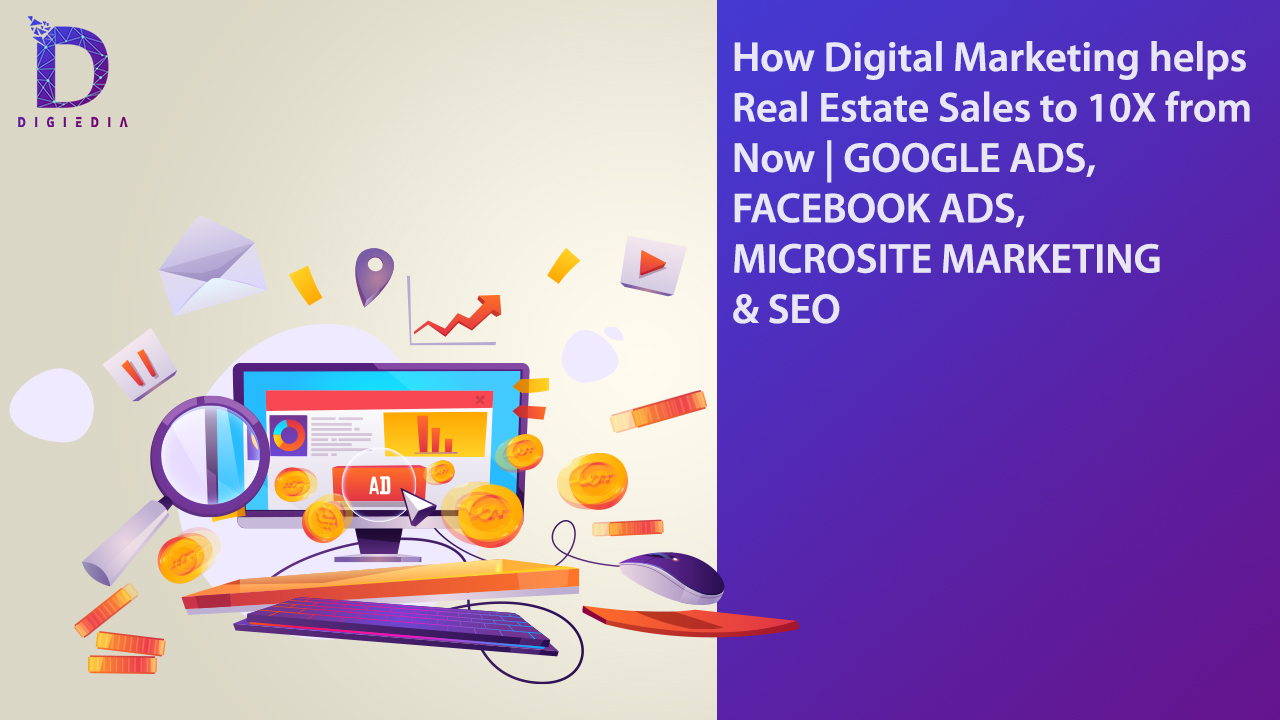 How Digital Marketing helps Real Estate Sales to 10X from now | GOOGLE ADS, FACEBOOK ADS, MICROSITE MARKETING, SEO
The most effective marketing medium nowadays is digital marketing.  Creating your brand online requires some thought-out ideas and a committed commitment. In recent years, People have been looking for homes online since everything is now done online, especially after covid-19. Due to this, usage of the internet has increased. In the meantime, using digital marketing to connect with potential clients may be quite effective. It generates a lot of money. In this blog, we will discuss this briefly. How Digital Marketing helps Real Estate sales
There are several techniques to grow your real estate firm, including
Social media marketing 
In 2023, This is one of the most important digital marketing platforms for achieving your company's objectives. Any comprehensive digital marketing plan must include social media. You can grow your following and earn a tonne of engagement by producing pertinent material. With social media marketing, you can create ads for Facebook, Instagram, YouTube, Twitter, LinkedIn, Reddit, Pinterest, etc.
Google ads
Google ads is a software or a product of google which is used to promote any kind of business. You can raise awareness, sell products, create ads, and increase traffic to your website. This is one of the effective ways to boost your business 10x.
Search engine marketing /(SEO)
If you want more dependable customers and targeted traffic to your website, SEO is the ideal approach to take. According to research, 25% of people click on the first Google search result. This suggests that you can lose 25% of your present customers if your website is not included as the top result on Google. Typically, SEO helps your website rank well on Google. SEO stands for increasing your website's visibility for relevant search terms.
Digital Marketing 
Digital marketing is a huge sector. Digital marketing is the promotion of brands to connect with potential customers using the internet and other forms of digital communication and social media. You need to find perfect strategies and have to put them in an effective way to get the desired result. This is How Digital Marketing helps Real Estate Sales, online.
Email advertising or email marketing
Email marketing is one of the first methods of internet company advertising. Some individuals think email marketing is still an effective means of communicating with clients. It seems that some people no longer think email marketing is successful. But it's not! If you have something to sell online, use this site. However, it has become more difficult since customers are aware of unsolicited advertisements. Email marketing is a strategy you may use to communicate with your audiences.
Microsite marketing
 A microsite is a company's web page that is standalone or separate from the main company URL. It is served as a specific campaign product or brand. Microsites are sometimes created for large campaigns which have a specific goal, different from general company awareness. For example- a real estate business generally considers creating microsite  marketing when they are launching a new product, brand, or service they consider big enough. The main aspect of microsite marketing is to create- social influencer campaigns, informational ads, premieres, tour, or specific product launches.
Content promotion or content writing
 With content marketing, you can bring your targeted audience in your website. In order to do that, you have to create relevant and real content that helps your customers understand what your service is all about. Many digital marketing experts claim that content is the solution to all of your problems. Whether it is for a website, social media platform, or email, the quality, consistency, relevance, and frequency of content updates matter immensely.
And many more.
There are a few methods to manage a digital marketing strategy for a real estate company and How Digital Marketing helps Real Estate Sales online
It can be challenging to create a digital marketing strategy for a real estate company for the first time. But you can simply develop a plan if you have a planning team and subject matter experts. It's best to have a pre-planned strategy. But there are certain things to keep in mind. The possible purchasers, the kinds of property you plan to sell, and the budget, for instance. Create a focused audience to get around these challenges. Knowing your potential customers can assist you in customizing your real estate firm marketing plan to suit them.
You should also consider your budget while creating web advertising. Make a budget for the amount of money you wish to spend. The best way to use the funds may be decided once the budget has been chosen. Your prospective and targeted clients will vary while selling commercial real estate. To build your reputation with companies and organizations interested in renting or purchasing the property, you will need to focus your efforts on an internet platform.
Using a digital marketing strategy, you may transform your real estate business into a solid business. Creating your brand online requires some thought-out ideas and a committed commitment. Social media or digital marketing does not include publishing your instructions. In order to generate inquiries and sell your goods, you must have built a process-driven strategy. In order to provide digital marketing for real estate agents, professionals, businesses, and brokerages, you will need to establish a real estate-specific digital marketing firm. This is How Digital Marketing helps Real Estate Sales on google.
The final stage is to let folks know what sort of property you are selling. You may do it by employing social media marketing (using Facebook, Twitter, and Instagram). If you're selling residential real estate, your marketing plan should target those who are often searching to buy a property online. A cost-effective method of growing your business online is through digital marketing for real estate companies.
Digital marketing is currently the most effective approach to growing your real estate or any type of business online. It generates leads. The current generation wants to look up all the choices and information about real estate listings online first.