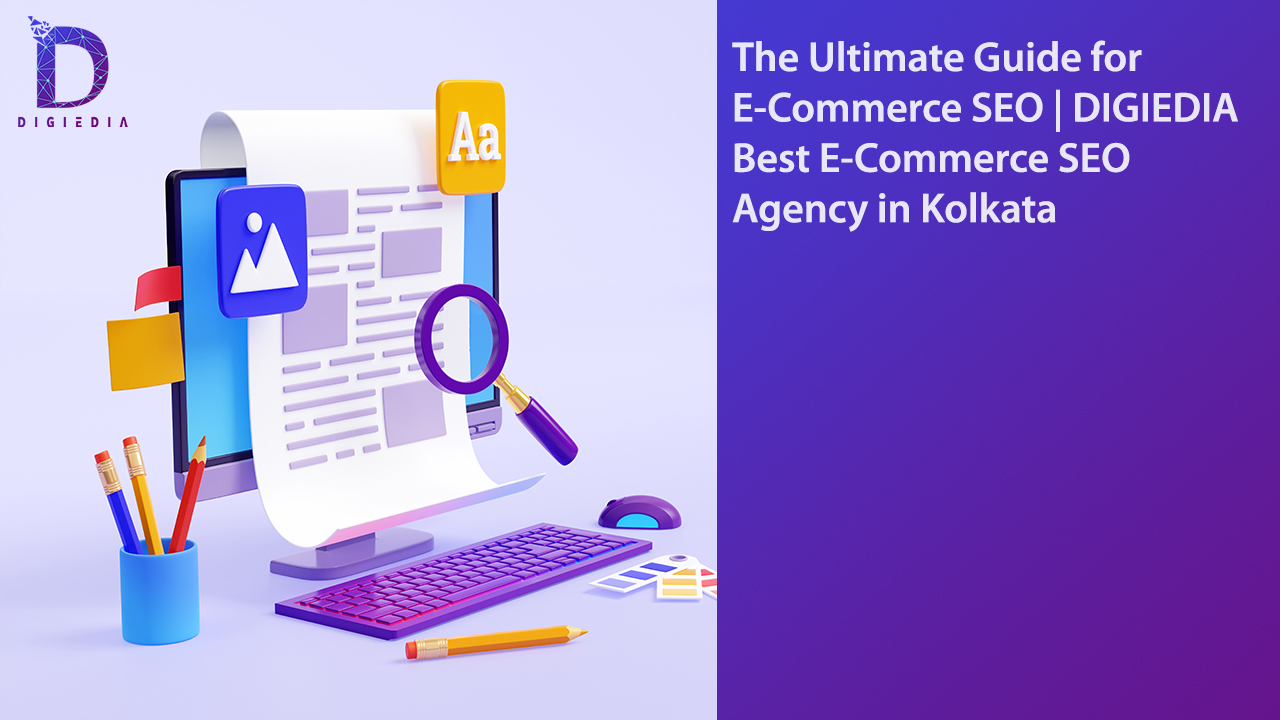 The Ultimate Guide for E-Commerce SEO | DIGIEDIA Best E-Commerce SEO Agency in Kolkata
The goal of E-Commerce SEO is to increase an online store's visibility on search engine results pages. The goal of E-Commerce SEO is to rank product pages as high as possible in order to increase traffic and sales. The success of an online store depends on E-Commerce SEO. That is the fundamental explanation of what E-Commerce SEO is. However, bear in mind that an effective E-Commerce SEO strategy should incorporate particular search engine optimization techniques tailored to online shops and stores, which we'll cover later in this article on how to do SEO for E-Commerce websites. Let us look at the Guide for E-Commerce SEO.
Guide for E-Commerce SEO: Value in E-Commerce
Because it increases organic search traffic to an online store, SEO is significant in E-Commerce. One of the most important criteria for attracting visitors to a website who want to make a purchase is search engine optimization. Improving a website's Google ranking is a key component of SEO in E-Commerce.
Following is a Guide for E-Commerce SEO:
Brand Awareness Is More Visible In Search Engines
One effective strategy for raising brand awareness is search engine optimization.
Your online store's brand recognition will increase if it appears on the first page of Google's organic search results. People who are searching to buy a certain product are more likely to select websites that appear in the top 10 search results.
High ranks for an E-Commerce site can be seen as a strong recommendation by some searchers, increasing their propensity to click on your company's link.
More Specific SEO Traffic
Getting free organic traffic from search engines is beneficial, but SEO traffic that is specifically targeted can have a significant impact on your online business.
You're more likely to receive focused traffic from searchers who want to purchase exactly what you're offering when you optimize your site for particular keywords.
When those people enter a search term into Google, Yahoo, or Bing, their intentions are clear.
The keywords that generate the greatest money for your company can be found and optimized by concentrating on strategic E-Commerce SEO.
The Ecommerce Marketing Funnel's Filling
Ranking your product pages, which are regarded as the bottom-of-the-funnel content where a purchase decision is made, is only one aspect of E-Commerce SEO.
Content that attracts visitors at other stages of the purchase experience, such as awareness and desire, will also be a part of a successful E-Commerce SEO strategy.
You may boost the likelihood that a person will choose your brand when making a purchasing choice by creating, optimizing, and ranking content in the various stages of the buyer's journey, from awareness all the way to action.
When a user switches from an informational to a transactional search, their keyword preferences will vary, and if your website appears for all of those inquiries, you can enhance the likelihood that a conversion will occur.
Enhanced Online Shopping Experience
The user experience is enhanced by effective E-Commerce SEO. Furthermore, it comes as no surprise that Google gives greater results to websites that offer a positive customer experience.
Your website's rating may improve if it has high-quality content that targets the proper keywords and uses them appropriately on the page to satisfy both user needs and Google's algorithm.
However, if visitors to your E-Commerce site have a bad experience and leave to go back to the search results page after finding what they were looking for, Google will notice this as a bad experience and drop your ranks.
Cost reduction for paid search
An online store won't need to rely on paid search ads as much if it receives more organic search traffic.
As a result, the business's overall marketing expenses are reduced.
Additionally, a well-optimized page might raise your Quality Score for the landing pages if you use Google Ads to bring in sponsored visitors to your website. And the lesser the cost per click for an advertisement, the better the Quality Score.
Produces Long-Term ROI
In contrast to paid advertising, where the advantages end once a campaign is over, E-Commerce SEO keeps working for you over time.
The main advantage of E-Commerce SEO is that the work you put in today will pay off for months or even years down the road. In comparison to other marketing channels, E-Commerce SEO has the longest return on investment (ROI).
Which eCommerce SEO tools are the best?
to monitor and report current website traffic, use Google Analytics.
Use Google Search Console to determine the sources of your site's current traffic.
Organize your keyword research with Google Keyword Planner.
Ahrefs to examine keyword rankings and backlink profiles
To carry out keyword research, use SEMRush.
Improve WooCommerce SEO directly from your WordPress dashboard with All in One SEO (AIO SEO).
Key Tips on Guide for E-Commerce SEO:
Find the appropriate keywords for your website and specific products.
Use a straightforward site architecture so each page can be accessed from the homepage with no more than three clicks.
While ensuring that your product descriptions, photography, and other on-page material are beneficial and educational, add your keywords to your product and category pages.
Ensure that internal links, site performance, and other technical SEO variables are all maximized.
Link to your product pages from high-quality material you create for your target audiences, such as blog entries or social media postings.
Create backlinks by forming strategic alliances and receiving press coverage.