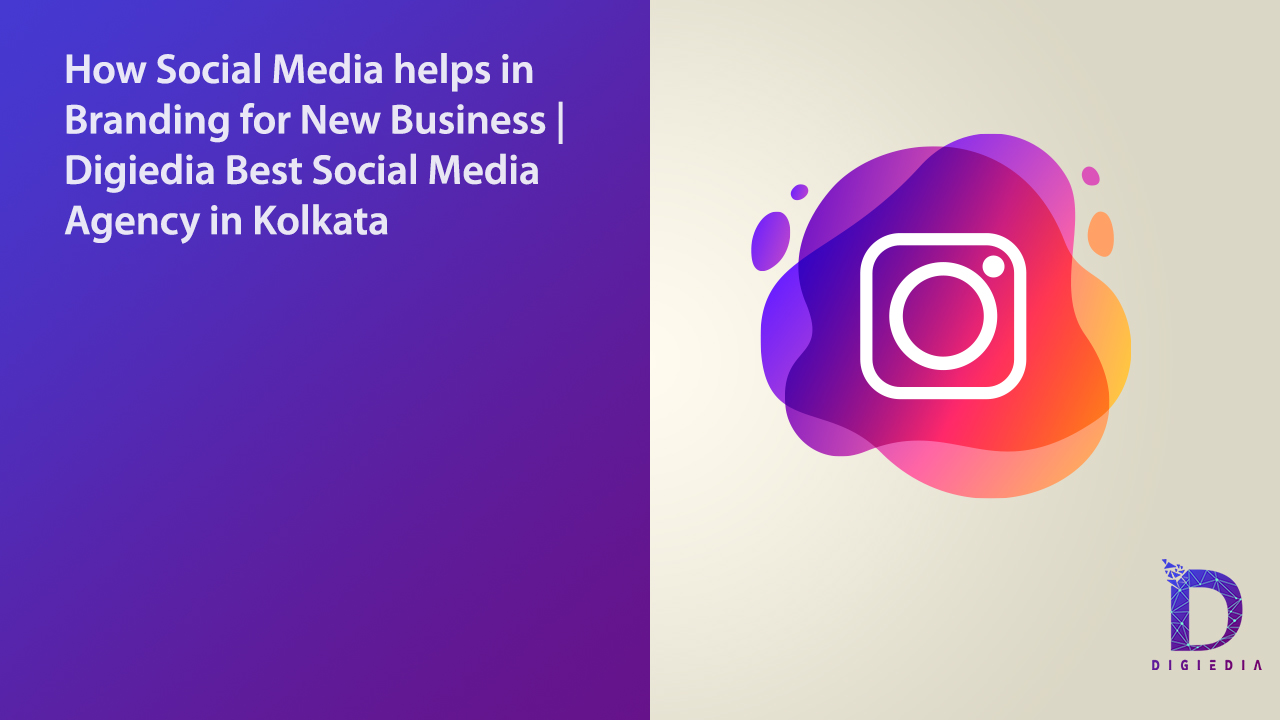 How Social Media helps in Branding for new business | Digiedia Best Social Media Agency in Kolkata
DIGIEDIA

27 December 2022
Companies must use social media to build their brand. How Social Media helps in Branding is dependent on the fact that it is the easiest way to have direct communication with your audience. Brands have the opportunity to use social media to build meaningful connections with their target audience. Companies that communicate with their customers on social media earn more favorable feedback about their brand. Companies put huge capital into what is commonly referred to as branded content as a fundamental part of their digital strategy. By developing a powerful brand that symbolizes your company's goal, personality, and skill, your community will understand what distinguishes you. And social media is one of the most significant tools for developing your brand since it allows you to routinely share ideas, photographs, videos, and pieces of your company's personality.
There are several crucial social media marketing methods to assure a brand's social media optimization. The first step is to select the finest social media networks for the company. If a corporation discovers that they are not gaining momentum on some social media platforms, it is useful to switch to other sites where it may get traction. The following method is to not ignore visual branding. Because consumers respond to images, it is critical that all social media profiles seem identical and do not create a divide. The third technique that businesses should employ is to create their own distinct voice. Companies should achieve this by including and authenticating their business culture and values in their articles. Being consistent with subjects and updating on a regular basis are other crucial techniques that businesses should employ while developing their brand. Influencers have grown in popularity as a result of the emergence of social media. Companies should interact with these influencers when developing their brand. Companies should interact with influencers who are honest, active, engaging, experts in their sector, and good leaders. Other branding methods include not wasting profile space, boosting profiles, and, most importantly, being interactive.
Building trust
A company's legitimacy is a primary concern for consumers. As consumers, we pay careful consideration to the alternatives accessible to us. When a customer has a query about a firm, the first thing they do is go to Google and look up their website, or, more recently, their social media profiles. The reputation of a brand may be determined by its presence on social media. Many clients are on the internet for answers to their problems, cross-checking, and looking for recommendations and conclusions. By having a drawing in the internet networking area, you are displaying that your company is reliable and trustworthy. This is how Social Media helps in branding. Your social media presence makes you credible. When brands join in social media dialogues, they have the opportunity to build trust with prospective customers, partners, talent, and employees. This is especially crucial to remember if others are suggesting your brand, goods, or services to others. People are nearly three times more likely to believe advice or ideas from family and friends than from official brand channels.
Making your brand approachable
By maintaining an open and authentic social media presence and being open to comments, you are allowing your brand to be approachable. You can get to know your audience while also allowing them to get to know you. People buy goods and services from people or companies they like, know, and trust. Engaging on social networking sites may be really beneficial. Communication is a key to How Social Media helps in Branding. All brands must have a solid connection with their customers in order to expand their reach and client base. Today's consumers want immediate answers to their queries, but where they ask them has evolved. Utilize the outreach option that Social media provides you to answer their inquiries and use customers' queries to start a conversation with followers.
Marketing through brand ambassadors
Customers that post excellent reviews and take the effort to interact with your organization can often act as your brand ambassadors. In the era of influencers, you have a chance to collaborate with influencers on social media and advertise your product or service through brand ambassadors. You can offer them incentives such as discounts in exchange for posting on your social media pages — for example, influencers can promote your product through "monthly favorites videos", or "makeup routine videos".
Increase traffic to your brand page
How Social Media helps in branding is also by increasing traffic to your website or page. Social media not only gives you access to reach customers, but them to come to you as well. You will be able to create an audience that has trust in your company's brand as well as its goods and services by posting content that is aimed to genuinely help your existing and potential customers. If you have a website where you sell your products and services, you can easily refer users to your private platforms via social media. As a result, both the quality and quantity of visits to your website may grow.
Boosts SEO results
Social media marketing is extremely beneficial to SEO. Because of the highly intuitive nature of online networking, the big platforms are at the top of the search results for your keywords. You just need to understand what your audience is looking for and use these keywords across your social networking sites and web pages.
How Social Media helps in Branding cannot be overstated. All customers may offer their voices and opinions through social media. Companies may interact with their target audience through a variety of social media channels. Social media enhances the amount of exposure and traffic received by a brand. Social media also aids in the development of dedicated followers and the generation of leads. A good social media presence enables a brand to form commercial relationships, cut marketing expenses, and increase sales. How Social Media help in branding is multi-dimensional. Social media marketing not only allows businesses to interact with their customers in a more engaging and genuine manner, but it also allows them to deliver a call-to-action to their audience and helps build an interpersonal connection.