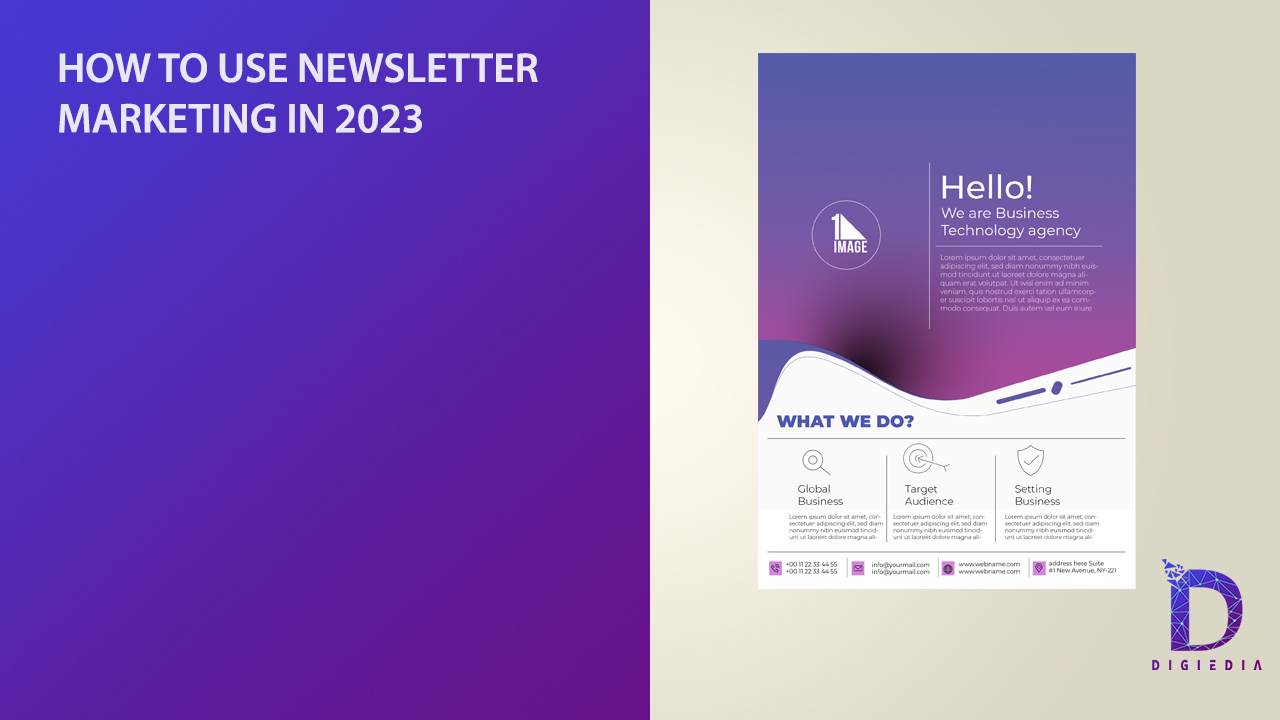 How To Use Newsletter Marketing in 2023
DIGIEDIA

23 December 2022
In the time of 2023, it is very easy to reach your customers on different kinds of social media platforms. There are many ways to reach a customer. Between social media and display ads and direct email newsletters, the possibilities are huge. People still use Gmail these days. If you want to use newsletter marketing, you need to develop plans to get your strategy to a place that is delivering on business and marketing goals. There are certain ways HOW TO USE NEWSLETTER MARKETING IN 2023, which we will cover in this topic.
Email marketing has been around for a decade. Newsletter marketing is a part of email marketing. If we try to discuss whether newsletter marketing is necessary or junk, then deciding can be a challenge. An email newsletter is a digital communication sent from a company to its list of subscribers. A newsletter software and template are often used and they are usually sent on a set schedule.
Companies use email newsletters for various reasons –
Announce what's have been launched
Discounts
Summarize public stories and contents
Nurture the leads
Inform the company's news and policies
Retain current customers
Why newsletter marketing is an essential part of online marketing?
A newsletter is a unique way to demonstrate your expertise. The number of customers and subscribers who trust your brand will increase if you constantly offer them valuable information. This is called credibility.
Apart from that, by targeting people, you may boost your audience's likelihood of engaging with your message. Email marketing can leverage lead scoring and past purchase behavior and adjust their message for their need. You can build a strong relationship with your clients if you comprehend who they are and their pain points and offer them helpful information. The email newsletter is typically not seen as a marketing strategy but as a great way to communicate with and provide value to your consumers. 
Besides, if some of your customers have ever shown interest in your product or service, you can target them and you could find them on social media or through sponsored methods, they are more receptive to your marketing efforts. If you have a B2B company, then announcing sales can drive customers to shop on your site.
How to use newsletter marketing in 2023 –
By using newsletter marketing, you can improve brand awareness and strength the relationship between you and your customers. This is one of the crucial functions of Email marketing. Increasing brand awareness is a high priority among email marketers. Luckily, an email newsletter has everything you need to do just that.
The design of the newsletter should be attractive so that people get interested to open. The tone of the graphics of the email marketing should be bold enough to make a strong impression on the reader. This is how you can use newsletter marketing. You need to consist of branding in your marketing assets. For example –
 a newsletter helps to establish brand awareness and brand recognition. 
Deliver content that is reliable and relatable. Doing that will establish the brand's newsletter as one message in their mail that they won't delete. The content plays a key role in building brand awareness. You have to share what is relatable with your customers about your brand's concept. With newsletter marketing, you can give them product coupons, video tutorials, discounts, or informational articles. If you are thinking How do you find out what your readers want? -By analyzing your data.
Aware your customers of new launches –
If you want aware your customers about your business's news, you can by using email newsletter marketing. If you send 2000 regular customers a newsletter offering them a sample and 20-30% of your customers pre-book the product then the thing already has demand in the market, making it a success. The newsletter is the best way to make your customer feel special and close to the brand. You can even inform them about your new launch. Apart from that, you can satisfy your customers by referring new products for a small reward or loyalty points by the newsletter. Explaining the referral program through a newsletter is much easier. It provides more space than social media posts for ads. This referral program can be personalized to the individual customer. List their previous referrals and give them the goal to refer and earn more.
Push your customers to buy –
By using newsletter marketing, you can showcase appealing content to customers in their inboxes or mail. Do some research and give importance to the latest trends and color trends in the email newsletter to make them as attractive as possible. By that you can increase the return on investment. Marketing is all about pushing your customers to buy more and increase sales. By making creative ads, make sure there has enough call to action buttons throughout the newsletter to allow the customer to buy. Try to Make the newsletters as long as possible to give maximum information.
Manipulate your marketing budget –
By using newsletter marketing, you can minimize or maximize your marketing budget and measure results for future planning. Online and social media platform ads will cost thousands to generate the same amount of visibility and buying customers. Newsletter and sending emails using Mailchimp will cost nothing compared to social media ads and promotion. . Newsletter marketing is a part of Email marketing. If we try to discuss whether newsletter marketing is necessary or junk, then deciding can be a challenge. You can expect to get a few thousand customers for free using free email newsletter services. By using newsletter marketing, you can –
Drive traffic. Email newsletters are another complementary way to distribute existing content. 
You can measure the performance of every newsletter you send. By sending them, the statics are generated. The whole thing depends on the tools you use, you can see how each send performed or get metrics per subscriber. With open rates and click rates easily available, you can benchmark your performance against your industry's average.