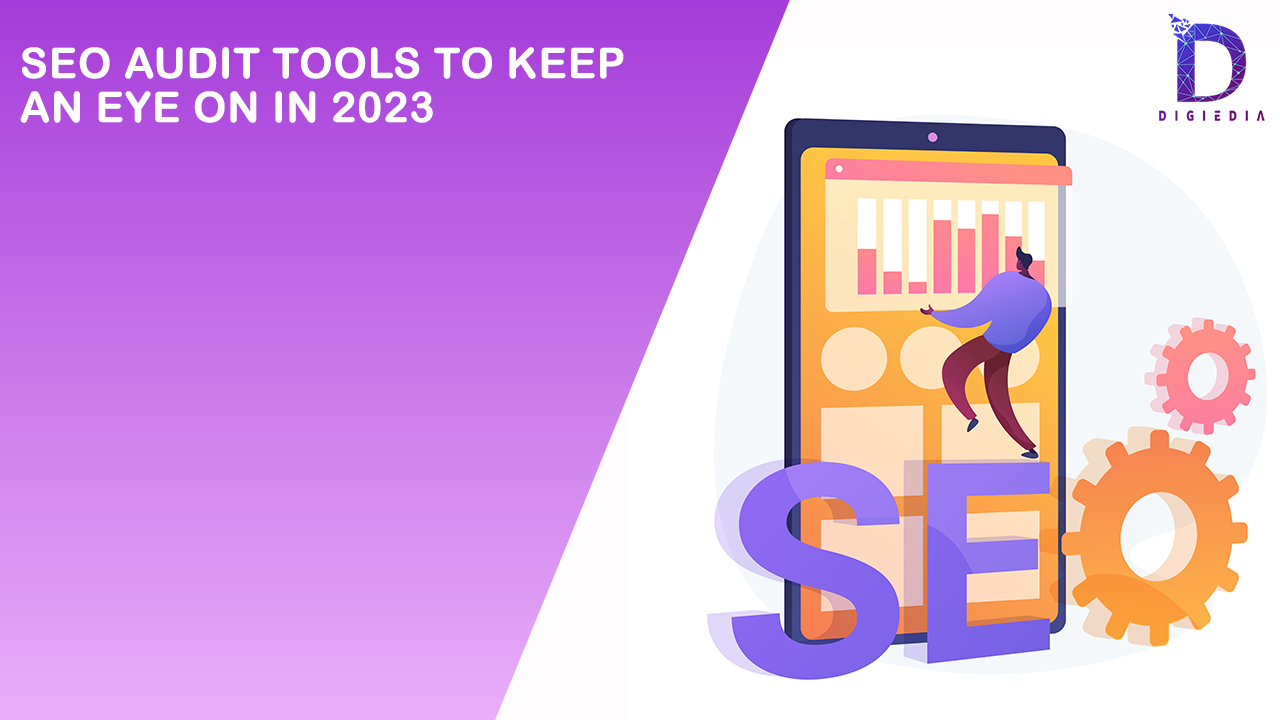 SEO AUDIT TOOLS TO KEEP AN EYE ON IN 2023
DIGIEDIA

22 December 2022
What is seo audit tool – SEO AUDIT TOOLS is a special type of online tool which allows you to analyze your website to determine if your site has been built properly or not. An authentic audit tool will look at the structure, the code, site speed, image quality of the website, and mobile capability to see how well it complies with good seo practices. The SEO AUDIT TOOLS will analyze the site from both a technical and end-user point of view.
The first data you will see is an overview of your site, its seo overall score, and a graph highlighting the strong and weak areas of the site. It checks URL,  title and description test, image alt text test, and heading tags.
Why seo audit tools are important for your website?
Seo audit is a crucial part of digital marketing. Seo audits are the things you have to do when onboarding a new client, or starting a new job in the seo company. If you do not use a good audit tool, you probably miss out vital opportunities to push the brand toward growth. You can use seo audit tools to make quarterly checks to ensure you have a strong seo strategy that includes all information required for making the strategy. In this article, we are going to discuss some vital seo audit tools and their usage.
Some of the best seo audit tools to keep your eye on –
Google search console –
 the google search console is one of the popular seo audit tools that gives you tons of information and insights about page load speed, broken links, index pages, HTML markups, and many more.  By using google search console, you can get an overview of your site's performance including impressions, clicks, click-through rate, and SERP position. If you want to get into google's mind to get better results, choose google search console. As a seo optimizer, you can learn about the queries of the searches, and strategize further optimization of landing pages on that basis.  It helps to create inbound clicks, search for spam links and disallow them and see which pages are sending traffic your way. The surprising thing about google search console is that the price of this seo tool is completely free!
Screaming frog –
 This audit tool is very easy to use and has easy navigation. You can export your data into an excel sheet or a CSV file if you need to do a deeper analysis. This program will help you to crawl whatever website you want, checking URLs for common seo issues. Screaming frog is a seo spider built for the seo- minded. The price of the screaming from  181 dollars annually. Apart from that screaming from has a free version with limited features for up to 500 pages.
Grammarly –
In seo audits, having unique content is a vital part. To learn about the quality of the content whether it has been plagiarized or not, you can use Grammarly. A very easy and generous free tool that consists of features such as grammar detection, putting, synonyms, sentence tones, and checking the framing of content that will give your blog a level up. It checks the quality of the content, how seo friendly it is, and check the engagement score.
Moz-
Moz is considered Another one of the popular seo audit tools in the market. Moz gives you the tools and resources you need to find seo issues on your website, optimize, track growth, and build reports. The crawl toll analyzes up to 3000 links and provides you with email reports showing data for each page. Moz particularly explains each issue, and its potential impact on your seo, and gives an idea of how to fix it. You can flag the issues you want to ignore, and fix the issues you have marked recrawl to check your progress.
The price range starts from 79 dollars per month.
SEMrush –
SEM rush is a powerful audit tool. SEMrush is one of the essential parts of digital marketing. It allows you to keep the eye on all top technical matters which is related to the optimization of your site. This tool is best to perform keyword research. However, you can also plug into any website page to check your keyword ranking, page rank, and many more. You can compare the performance of your site with other websites.
The SEMrush offers a free site audit for 1000 pages of your website. When you conduct a site audit by the platform, you get a technical SEO audit which helps you find and fix the site's issue and improve your google ranking.
SEMrush is free for up to 100 pages. To get the premium feature, you have to subscribe to it for 83.28 dollars per month.
Hubspot –
Like other seo audit tools, Hubspot is used to check a website's performance. The website grader is developed by Hubspot which discovers multiple opportunities for search engine optimization. If you want to analyze the website's page, and speed up the page load then you can use HubSpot. This tool checks the availability of your website on the page and security checks. Hubspot is one of the biggest web-based tools that provide a summary of your website's health. The price of HubSpot is absolutely free!
Conclusion –
Using these seo audit tools ensures your website complies with google's terms. It improves the chances of ranking on the first page of google.  Regular audits and tracking of seo key indicators are important to keep the brand's ranking from plummeting to the second or third page. On the other point of view, it gives you ideas and recommendations to improve your visibility in the search engine. Apart from that, You can use seo audit tools to make quarterly checks to ensure you have a strong seo strategy that includes all information required for making the strategy. In this article, we are going to discuss some vital seo audit tools and their usage.