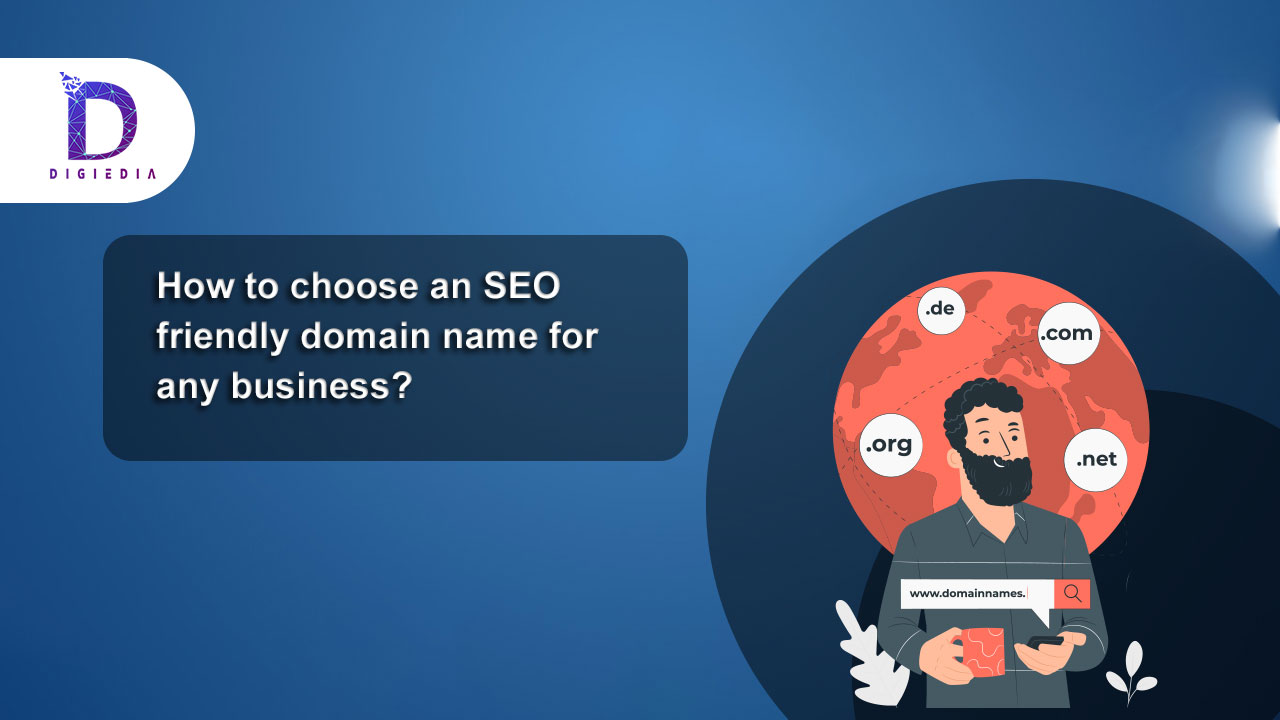 How to choose an SEO friendly domain name for any business
Choosing the right SEO friendly domain name for your new website is crucial. The majority of newbies fail at the first stage of establishing an internet presence. It's more difficult than it appears to pick an SEO-friendly domain name. It requires time and effort, as well as a lot of thought. You risk losing search traffic, money, or, worst-case scenario, having your website tagged as spam by Google if you choose the wrong domain name. Don't worry, though. I've got you taken care of. We'll provide you with six options for choosing an SEO-friendly domain name for your new website in this article.
What is a domain name and what does it mean?
The name of your website on the internet is called a domain. It's the web address that visitors type into their browser to access your site. The domain (before the dot sign) is the initial part of a domain name, whereas the domain extension is the last part (after the dot sign). The domain name "JeffBullas.com," for example, has the domain "JeffBullas" plus the extension ".com." You must choose both the domain and the extension based on the type of your website when registering a domain name.
What does your SEO friendly domain name mean to you?
It helps to establish your brand: A memorable domain name increases brand awareness and encourages customers to return. It improves the trustworthiness of your website: Your domain will be the first thing your visitors see. With a good domain name, your website will appear more professional. It raises the click-through rate: A good domain name can help enhance search traffic and click-through rates (CTR). Let's look at how to choose an SEO-friendly domain name for your new website.
How to choose an SEO-friendly domain name
Use top-level domain extensions to your advantage (TLDs)
Before purchasing a domain, you must first determine whether the extension is acceptable for you or your company. There are over 1,000 domain extensions to choose from in the domain name system, making it tough to make a decision. The ".com" suffix appears on more than 49% of all domain names, according to W3Techs. Other popular domain extensions include ".net," ".org," ".edu," ".info," and so on.
Make a list of domain names that can be used to establish a brand
Have you ever wondered why many well-known websites rank higher in search results than brand-new websites? The answer is that they are each a brand rather than merely a website. Search engines like Google employ 'brand signals' to display articles from high-quality websites. What makes a domain name brandable, on the other hand? A lot of factors come into play, such as the fact that Google.com is a brandable name that is unique and has no special meaning.
It's straightforward to remember.
It is a straightforward word to pronounce.
It sets itself out from the competition.
"Apple.com" looks to be more brandable than "TheNewBrandApple.com," for example. To come up with new names, consider adding relevant phrases or random suffixes, but make sure the new domain sounds like a brand, as we discussed previously.
Keep your domain name short and easy to remember
It's best if your SEO friendly domain name is as short as possible. Domain names that are only a few letters long are easy to remember and pronounce. The majority of successful businesses, such as Google, Amazon, Twitter, and Facebook, have a short name. According to a poll, the most frequent domain name length is 12 characters. The length of your domain should be between 6 and 14 characters. The website "JeffBullas.com" has exactly 10 characters.
Avoid using hyphens or digits in your domain name
Hyphens and digits should never be used in an SEO friendly domain name. Because of the hyphens and digits, it's more difficult to speak. Consider the website Apple.com. Apple.com is a simple domain name. Furthermore, Apple.com has the ring of a trademark. What if the name had hyphens or digits in it, like "App-le.com" or "Number1Apple.com"? Naturally, the business would not have grown as quickly. Keep it basic and avoid hyphens or numerals if you're looking for a domain name for a new website.
Make sure it's easy to remember and type
Finding an SEO friendly domain name that is easy to remember is crucial to internet success. A complicated domain name like jjkmysitee.com is tough for visitors to type. They also have a hard time remembering. Consider this: if your users want to return to your website, your domain name will confuse them, and if they type it in wrong, they will be directed to another site. Not to mention the fact that you will lose visitors and income as a result of this. Take a look at how well-known websites and businesses selected their domain names. For example, Google, Facebook, BBC, Twitter, Yahoo, and others. One thing they all have in common is that they're all simple to spell.
Use different letters each time
Another thing to keep in mind when purchasing a domain is to avoid utilizing characters that are repeated. Always keep things simple. This is what I'm referring to. Let's compare and contrast "flowershop.com" and "floowershoop.com." The first one, "flowershop.com," is a fantastic domain name because it is simple. "floowershoop.com," the second domain name, has letters that are repeated. Both domains now have the same sound, but their appearances are different. If your domain name has repeated letters, most users will mistype it and go to another site. The bulk of popular domain names is already taken. However, just because your company is in the same category as another doesn't mean you should use the same logo or utilize the same characters.
Conclusion
Choosing an SEO friendly domain name is a challenging undertaking. There are a lot of things to think about. By choosing a strong domain name, you can immediately develop a brand and improve search traffic. In this article, we've provided six suggestions to help you choose an SEO-friendly domain name for your new website. Now it's your time.