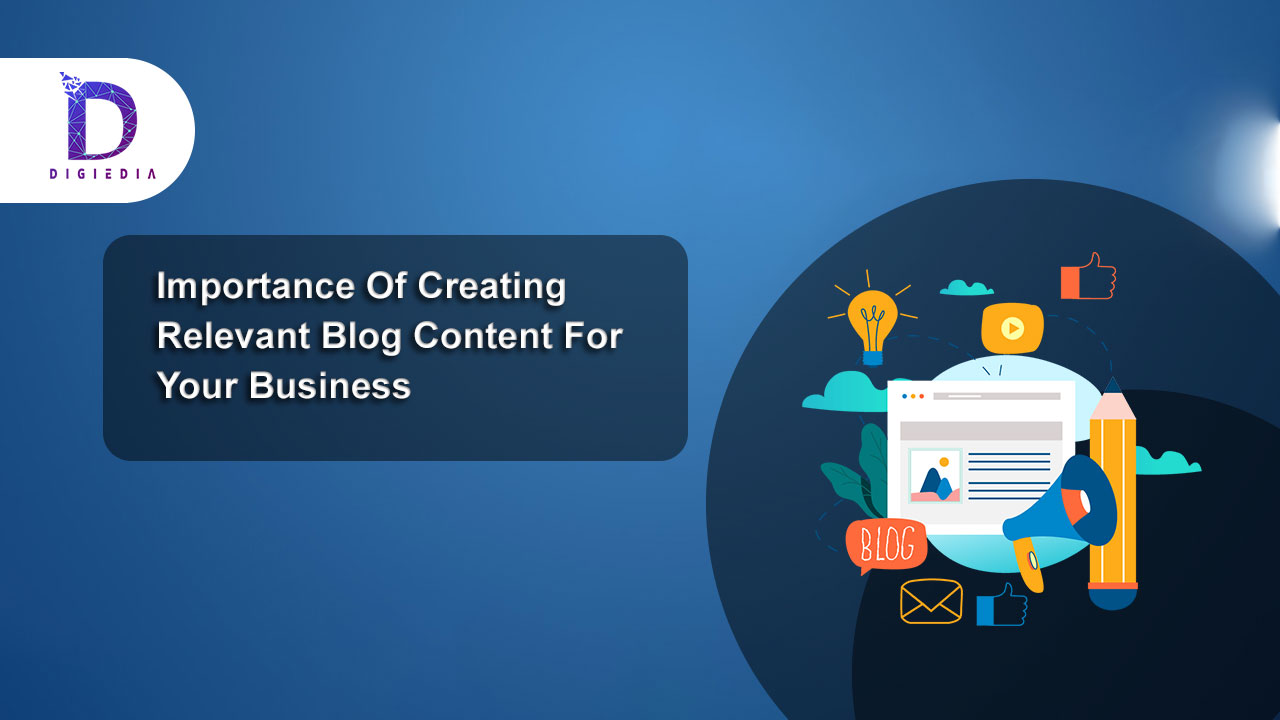 Importance of creating relevant blog content for your business
Blogging has come a long way since its inception in the late 1990s. Blogging originated as a one-of-a-kind venue for people to share their thoughts, feelings, ideas, and experiences with a small audience – an online journal or diary. It has grown into a platform that is used by millions of people, including both individuals and businesses. Because it is so simple to do so, anyone can establish a blog and claim to be an "expert." But, in the business world, what is the Importance of creating relevant Blog?
A company blog can:
Improve your website's search engine optimization (SEO) (search engine optimization)
Inbound links can assist you in increasing the amount of traffic to your website.
Make a compelling case for yourself as a subject matter expert.
Benefits of Blogging
One of the most recently recognized benefits of blogging as a business is the ability of a blog to improve your website's SEO. As explained in "Google's Love for Content," Google's algorithm has recently been changed to place a greater emphasis on a website's content and frequency of posts/updates. As a result, if your blog is well-managed, that is, updated on a regular basis and focused on themes that are important to your business, your website's SEO will increase.
A company blog will also help you increase the number of useful inbound links that direct visitors to your most vital pages. When combined with SEO, this will increase website traffic as well as the amount of time visitors spend on your site. As a result, you might be able to attract new customers.
Another benefit of having a company blog is that the content gives your customers and readers the assurance that you and your brand are experts in your field. We do overlook this benefit at times. There are readers on the other side, whether or not this is your primary goal for beginning a blog. By keeping this in mind, you'll be able to build a stronger brand connection with your readers, encouraging them to come back to your site for more relevant information or to make a purchase.
Importance of creating relevant blog 
You must keep up with industry trends and adapt to the ever-changing marketing landscape as a marketer. Despite substantial changes in approach, blogging is one part of marketing that has stayed consistent over time. Every company's marketing strategy should include blogging. "Why does my company need a blog?" we are regularly asked. Regardless matter the type of business you run; you should have a blog. Here are six reasons stating the Importance of Creating Relevant Blog:
Share useful and relevant material to keep your audience interested
It's challenging to promote your services and products, especially in today's extremely competitive business industry. This is where the blog plays a major role. It aids with the management of your company's multimedia presence, as well as keeping your audience interested and promoting your brand. Consider promoting your videos, podcasts, interviews, and other content on your blog. This form of material is advantageous to both your viewers and your website. The overall quality of your postings is the most important element.
New Clients and Prospects Attract New Clients and Prospects
Blogging and providing relevant content are two of the most critical parts of any marketing strategy for increasing traffic to your website. When you employ SEO techniques like keywords, titles, and meta descriptions, blog postings become a powerful tool for increasing your company's visibility. Moreover, every blog a person writes generates a new page on the website. This helps SEO by giving Google and other search engines a reason to crawl your site again in the search for new content to index.
Promote the concept of a company-centered community
A blog is a terrific way to keep up with and spread the word about your services. To reach a bigger audience and build a community around your writings, one must share blogs on social media. You'll see how your blog reaches its peak when you share and acquire new visitors to your website.
Build your brand and increase your thinking leadership
Nothing beats a good reputation, and blogging is a crucial part of that process. Do you know why? Because it allows you to communicate with your audience in a unique way. Your blog is a place where you may express yourself on a certain topic. After that, you can distribute the blog via email, social media, and other third-party channels. People will return to your website for this industry-leading material once you've established yourself as a leader in your sector.
You can provide useful articles while marketing your business
According to studies, over 80% of businesses would prefer an advertisement in the form of a series of articles over the traditional "buy now" agenda. Customers are also becoming tired of traditional marketing and advertising, thus in today's business world, coming up with new ways to market your services is vital.
Gain the Trust of Your Audience
People trust the written word, and blogs can help your organization or endeavor gain trust. You'll see again in brand confidence if you provide helpful and accurate content, encourage debates, and knowledge exchange.
Conclusion
The importance Of Creating Relevant Blog cannot be emphasized. Other innovative technologies have evolved to increase your exposure and promote your services. However, the importance of a blog cannot be overstated. A blog post is an essential tool for growing website traffic, extending your audience, and recruiting new consumers.