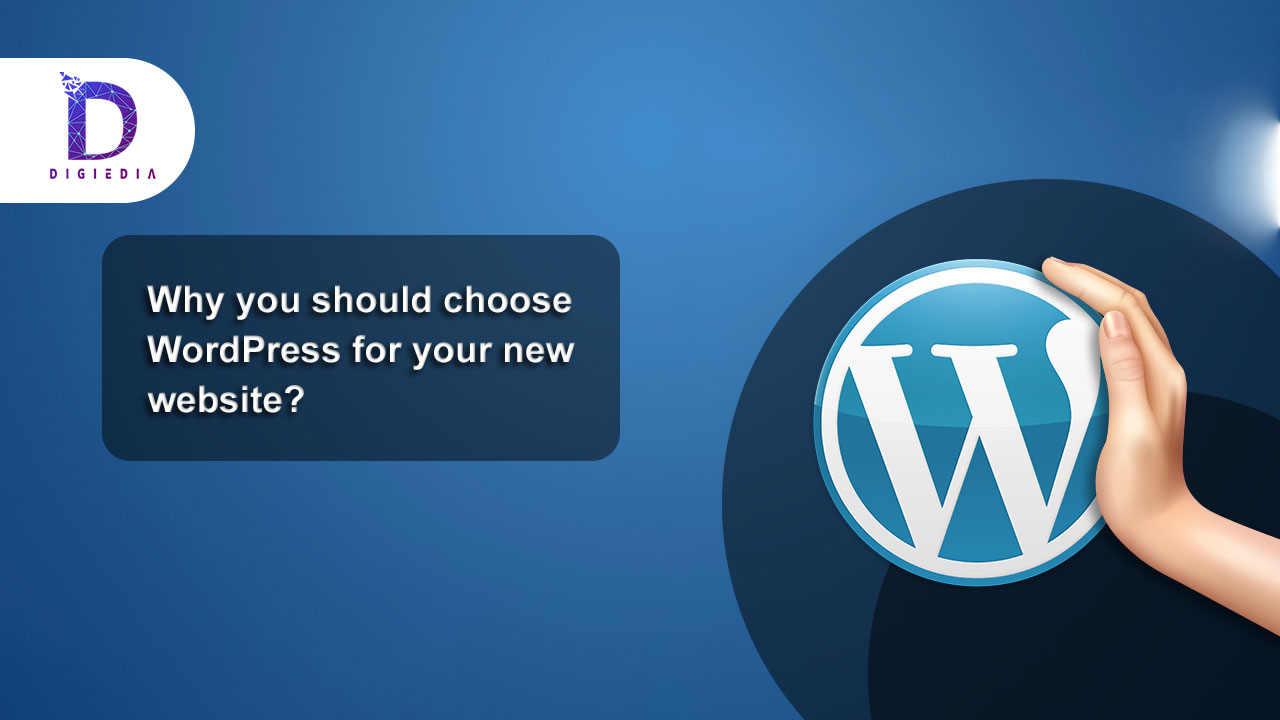 Why should you use WordPress for your new Website?
DIGIEDIA

15 February 2022
While WordPress began as a blogging platform, it has since grown into a robust website builder and content management system (CMS). The best thing with WordPress is that this is simple to use and versatile enough to create a variety of websites. That is the primary reason for WordPress's enormous popularity. WordPress, in fact, runs 43% of all sites on the web, as per a recent survey. Many of the world's most well-known brands, like Time Magazine, Facebook, The New Yorker, Pixar, Target, The New York Times, and others, utilize WordPress to power their websites. Let's look at the reasons why you should choose WordPress for your new website.
It is completely free to use.
Whether it's a business website or a personal website, the idea that WordPress is free to use is a big plus. They also don't charge more if your site begins to receive more traffic than you expected. WordPress is not only free, but it is also open-source, which means you can modify or update its source code to change the functionality or appearance of your website.
On the CMS market, it is unrivaled.
WordPress is not only the most popular CMS, but it also outperforms the competition. W3Techs' use statistics WordPress is the content management system of choice for 59.5 percent of all websites (CMS). Joomla is the second most popular CMS, with a 5.9% market share. Drupal, with such a 4.9 percent market share, and Magento, with a 2.8 percent market share, come in second and third, respectively.
It is ready to use.
As quickly as you download WordPress, you may begin using it. Aside from the personalization, you offer your theme and the plug-ins which suit your interests, there is no setting necessary. The majority of the features you're looking for are included in the installation, such as social network feed integration, comments, and so on.
Friendly to search engines
WordPress is SEO-friendly right out of the box. Popular search engines like Google and Bing rank WordPress-powered sites higher than non-WordPress-powered sites. This is due to the CMS framework's ease of crawling for search engine spiders. In fact, in 2009, Google's Matt Cutts directly praised WordPress. This is one of the main reasons why you should choose WordPress for your new website.
Flexibility
It's impossible to take WordPress' adaptability for granted. Whether you're building a small business website, a personal blog, or an ecommerce site, WordPress' extensions and plugins make it easy to meet all of your demands.
Adaptable to mobile devices
Google penalizes sites that aren't mobile-friendly by lowering their ranking in search results. Because most WordPress themes are natively responsive, you won't have to redesign your entire website to make it more accessible on smartphones and tablets. For themes that aren't responsive, WordPress offers the option of viewing websites in "mobile view."
It's easy to use
Another reason you should choose WordPress for your new website is that it is so easy to use. The CMS is extremely user-friendly and simple to use for newcomers. Not only that, but the platform is extremely user-friendly.
Sources of assistance
There is a wealth of information available online; a basic Google search on WordPress + the difficulty you're having will likely yield tips and tutorials to assist you in solving your issue. Better yet, the forums they give allow members to assist one another, resulting in a very dynamic community.
It's also used by well-known brands.
WordPress powers several of the world's most well-known brands, like Mashable, Nasa, Mozilla, Coca-Cola, the Wall Street Journal, and many others, with millions of visitors per day. In other words, WordPress should be taken seriously as a company website solution. This is one of the most important reasons for choosing WordPress for your new website.
Easy to handle
WordPress includes an automatic auto-update for security reasons, as previously mentioned. The CMS will also notify you when new plug-in upgrades are available. As a result, you'll always have the most up-to-date and secure platforms to keep your website secure. This is why you should choose WordPress for your new website.
It's more than a blog.
WordPress began as a blogging platform, but it is now used by the majority of people and businesses as a full-fledged website. You can upload frequent blog entries without changing your static content (such as "about us" or "contact us") because WordPress has both post and page structures.
There are numerous eCommerce options available.
If you're running a commercial website using WordPress, you'll be well-served by the numerous eCommerce options available. Popular extensions like WP Commercial and WooCommerce can help you turn your website into an online store.
You aren't tied to a single hosting provider.
If you decide to move hosting providers, WordPress will experience little to no downtime. Moving from one server to another isn't difficult because almost each web host provides WordPress as a content management system.
Maintains the appearance of your website.
Any of the basic or premium WordPress themes, through either WordPress or even on third-party sites, can be used to modify the design of your site on the fly.
Include testimonials.
Having product or service testimonials on your website is a powerful selling tool. There are various plugins that make publishing client testimonials and reviews simple. Some of them include widgets that scroll through reviews about your business.
Immediately publish content
Nothing will stop you from posting each and every article with a single click of your mouse if you lack patience! And, if you do have the WordPress app installed on your phone or tablet, then can submit your article from anywhere, at any time!
There's no need to master HTML.
Unless you really want to. You can use WYSIWYG (What-You-See-Is-What-You-Get) to produce content, which means you can simply build pages and articles without knowing HTML.
Installing, deploying, and upgrading WordPress is all free. A flexible and easy interface is powered by hundreds of plugins and templates, reducing operational costs and deployment time. Fresh Consulting's staff has a wealth of experience and resources in the development of high-quality WordPress websites.