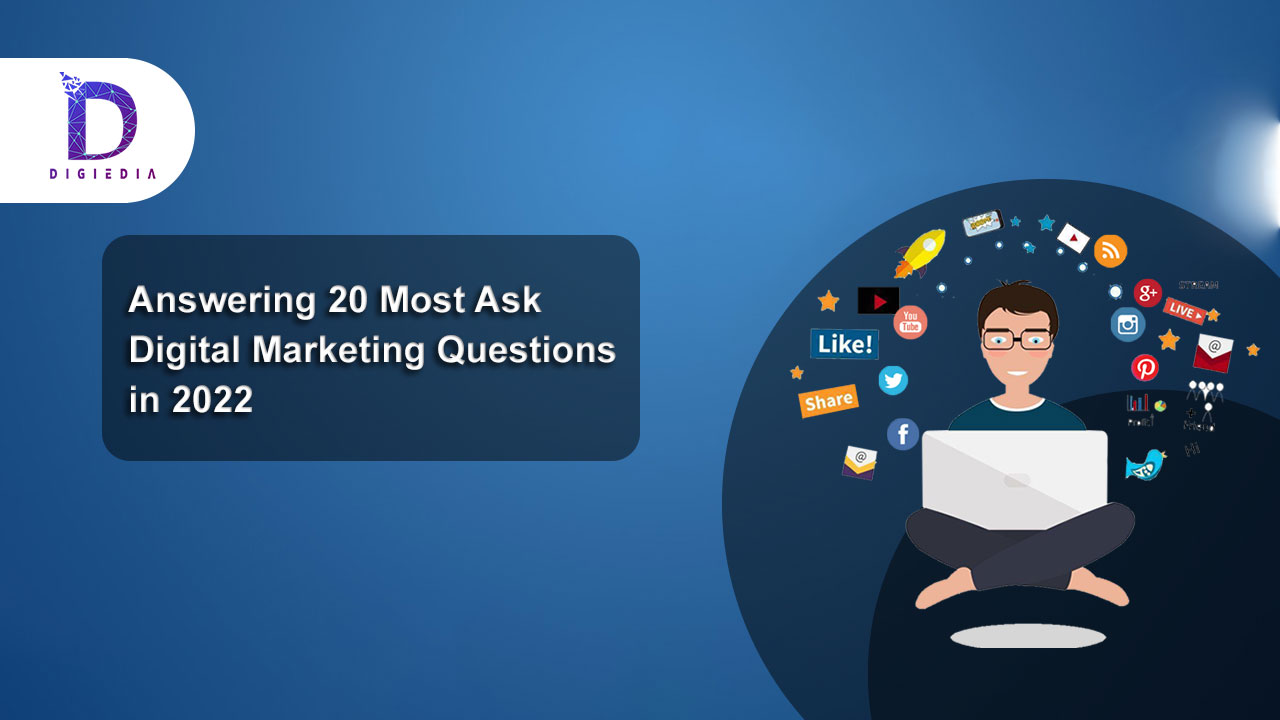 ANSWERING 20 MOST ASK DIGITAL MARKETING QUESTIONS IN 2022
DIGIEDIA

16 February 2022
A list of Most Ask Digital Marketing Questions in 2022 interview questions and answers follows:
Define the term "digital marketing."
The term "digital marketing" refers to the process of interactive marketing or promoting products and services using digital technologies. The purpose of digital marketing is to turn leads into customers by promoting products and services to consumers and business people via digital media.
What are the types of digital marketing?
Digital marketing can be categorized into two types:
Inbound Marketing: Inbound digital marketing consists of the following marketing strategies:
Outbound Marketing: Outbound digital marketing consists of the following marketing strategies:
Radio and TV advertisement
Newspapers and magazines advertisement
Direct-mail
mobile phone marketing
Event sponsorships etc.
What are the activities used to promote Digital marketing?
The digital marketing activities are
Search Engine Marketing (SEM)
Content Marketing
Content Automation
Campaign Marketing
E-commerce Marketing
Social Media Marketing
What is a keyword in the context of digital marketing or SEO?
The keyword is the most often used word in your content. It's a vital term for search engines that people employ when they're looking for specific information. It's vital to choose the proper keywords to increase page ranking and search results.
Name some digital marketing channels?
Digital marketing is facilitated by multiple channels. There are multiple online marketing channels:
Affiliated Marketing
Display Marketing
Search Marketing
Social Marketing
Social Media
Social Networking
Online PR
Video Advertising
What are the different types of search engines?
Search engines are quite useful for locating particular and relevant information on the Internet. Google, Yahoo, and Bing are some of the most popular search engines.
How well do you understand PPC?
The term "pay per click" is abbreviated as PPC. It's a sort of digital marketing in which an advertiser compensates a publisher for each click on a link on his website. It's also known as CPC (Cost Per Click) (CPC).
PPC is exemplified by Google AdWords and Microsoft Bing Ads.
How many different ways for calculating PPC charges are there?
PPC fees can be calculated in one of two ways:
Bidding on Pay-Per-Click (PPC) Ads: In this strategy, the marketer defines a minimum bid amount. When a user clicks on an ad, the advertiser sets a limit on how much he is willing to spend. This strategy is also known as Max CPC. This is the most widely used.
Flat-rate PPC: This is a defined charge for advertising between the advertiser and the newspaper, as the name implies. The prices may vary from one page to the next, as well as from one content to another.
What are the main factors that determine PPC bidding?
The following are some factors that can influence PPC bidding:
The advertising budget of the advertiser.
The duration of a commercial.
The popularity of the keyword.
What is the amount of competition for the terms you want to use?
What exactly is Google Ad Words and how does it function?
Google Adwords is the world's most popular pay-per-click (PPC) advertising system. It is based on a pay-per-click model. The AdWords platform allows website owners to create ads that appear on Google's search engine and other properties.
What is your PPC conversion rate?
Conversion rates are calculated by dividing the total number of ad hits by the number of conversions. Consider the following scenario: Your conversion rate is 5% if you receive 5 conversions out of 100 clicks.
What can we do to improve our conversion rate?
CRO (Conversion Rate Optimization) is a method of enhancing conversion rates. This strategy is used to boost the conversion rate of your paid search advertising as well as the general look of your website.
To increase your conversion rate, you should concentrate on the following factors:
Make sure your material is keyword-rich.
Your ads must be relevant to the pages on which they appear.
Make a clickable pay-per-click ad.
User registration, signup, and purchasing options are all simple.
Make the design of your website simple and appealing.
Where should your keywords be used to improve your site's ranking?
It's vital to arrange your keywords in the appropriate areas for better page ranking. These are the areas that need to be addressed:
Use a keyword in the website's URL.
Use a keyword in the website's title.
The keyword in the meta tag
Keyword-rich text on a web page
Keyword density in the body text is crucial.
Keywords in the headlines
What is the meaning of on-page optimization?
On-page SEO is used to deal directly with the website's content and structure. It's utilized to boost a website's search engine ranking.
What is the meaning of off-page optimization?
Off-page optimization is a digital marketing strategy for generating high-quality backlinks. It is carried conducted outside of the website.
Make a list of some key digital marketing tools.
Here's a rundown of some of the best digital marketing tools:
Google Analytics
Keyword Planner
Mail Chimp
Buzz Sumo
Mozart
Loopfuse
Hootsuite etc.
Can you explain what on-page and off-page optimization are?
On-page SEO is a technique for dealing directly with the content and structure of a website.
Off-page optimization is a technique for improving your search position by obtaining external connections that refer back to your website.
In digital marketing, how would you avoid the Google penalty?
Follow the steps below to avoid the Google penalty:
Your website should be simple, straightforward, and easy to use.
Check to see if your site is mobile-friendly.
Your website should be simple to use. The user experience is extremely important to Google.
Keep an eye out for any broken links. Breaking links is prohibited.
Don't use the same content twice. As a result, your site's traffic and ranking will suffer.
Use keywords and tags effectively.
How can you tell if a link is harmful or not?
It's critical to recognize that some linkages are more beneficial than others. Certain irrelevant, misleading, or broken links may lead to user confusion, and your site's ranking may suffer as a result. Those from authoritative, high-ranking websites are preferred over links from low-ranking websites.
What is the difference between direct marketing and branding?
The last question on Most Ask Digital Marketing Questions in 2022 is the distinction between direct marketing and branding:
Direct Marketing Campaign: A marketer's goal in a direct marketing campaign is to reach out to those who are most interested in their product or service. The most typical campaigns are Search Networks Only, Shopping Campaigns, Dynamic Search Ads, and others.