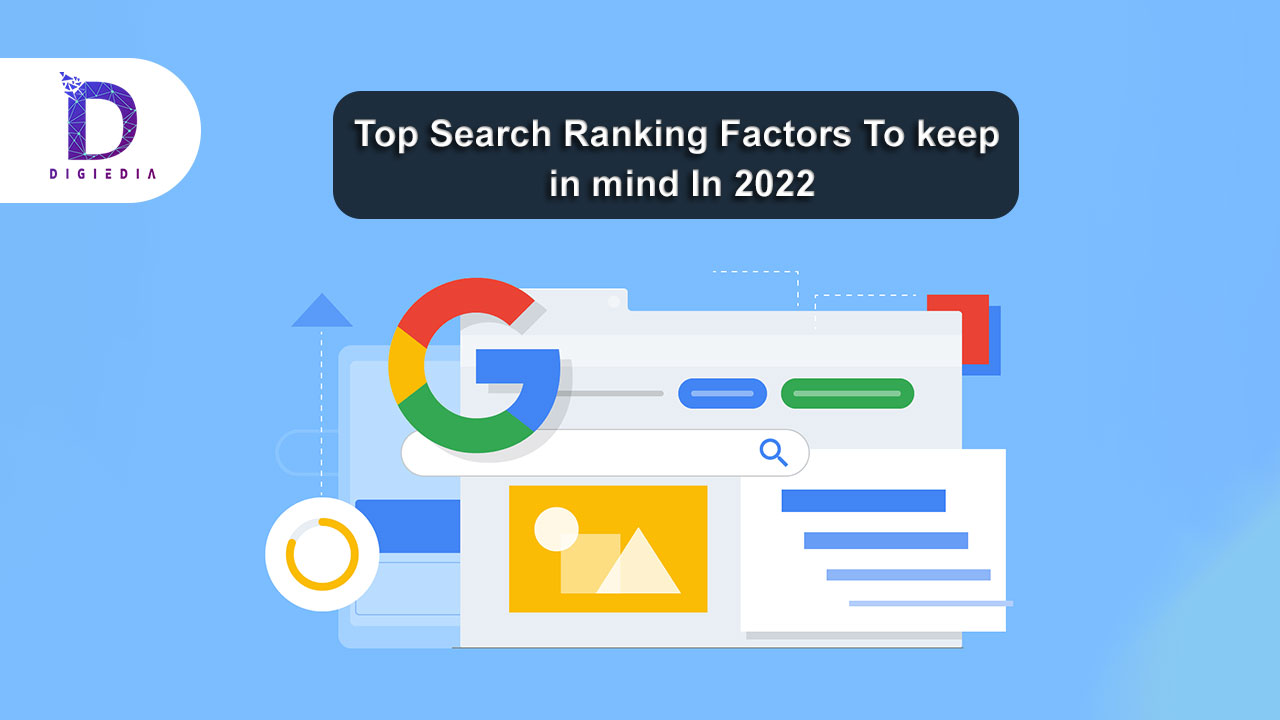 TOP SEARCH RANKING FACTORS TO KEEP IN MIND IN 2022
DIGIEDIA

17 February 2022
As Google is the most prominent search engine, with over 5 billion searches every day, you'd like to rank higher there. But did you know that when calculating a website's ranking, Google examines over 200 factors? Yes, it's a significant sum. The good news is that you don't have to consider and optimize for every single one of these characteristics. Even our seasoned Jacksonville SEO experts aren't able to pay attention to them all. All you have to do is compile a list of a few Google-verified top-ranking factors and stay current with industry developments. We've compiled a list of six main Search Ranking Factors in 2022 in this article to make this work easier for you, so you can optimize your website for 2022 and stay ahead of the competition. So, if you're wondering what these elements are and how to prioritize them, keep reading.
Search Ranking Factors in 2022
Let us read about the 6 Search Ranking Factors in 2022:
Content of the Best Possible Quality
You've probably heard that content is king someplace. Without a doubt, it is the most important Search Ranking Factors in 2022. If you can provide visitors with new, fresh, and helpful content, Google will give you a higher rating in its search engine results (SERPs). The quality of your material is valued by Google. No matter how well-optimized your website is, you can't expect higher rankings if your content isn't valuable.
Backlinks
After content, backlinks are the second most important Google ranking factor. They are an important part of Google's ranking algorithm since they determine how the Google crawler discovers and crawls your website. Backlinks and content are intricately intertwined, as pages with no backlinks receive very little organic traffic.
So, how important are backlinks to the SEO of your website?
Backlinks usually referred to as inbound links, are a form of vote of confidence for your website. Google counts up all of the votes to see if your website is worthy of a spot in the top ten results. You can improve your chances of higher ranks by obtaining backlinks from high-authority websites. That's because by obtaining these links, you're signaling to Google that your material is reliable because several websites have endorsed it.
Searching Intention
Another crucial ranking criterion for Search Ranking Factors in 2022 is that your content matches the search intent of the user. Search intent refers to what a person is looking for. Each keyword on Google is distinct, and you must know why that particular search query exists. Now, search intent can vary depending on the material's structure and design. In some cases, for example, Google's top results will only include videos and infographics. This implies that you should create a video or an infographic if you want to rank for specific keywords. Furthermore, search intent indicates where your visitors are in the purchasing process. Are they looking for basic product information, a lesson like a how-to piece, or are they at the conclusion of the process and ready to buy?
By matching the search purpose, you can answer these queries and deliver information that consumers seek.
Website Loading Time
Milliseconds are used to measure how long it takes for a website to load. The speed of your pages is another factor to consider among the 200 Google ranking factors. Because Google began including page loading speed in its Core Web Vitals in May 2021. This is a list of elements that Google considers to be critical to the user experience on your site. It will evaluate the responsiveness, speed, and loading times of various elements including fonts and graphics.
The goal here isn't to beat the load times of your competition by milliseconds. You should, however, keep track of how fast a page loads for your visitors. Google wants your website to load quickly and provide a nice experience for your visitors. It will analyze your website, assign a mobile and desktop score, display critical data for page load times, and suggest ways to make it even faster.
Using a content delivery network (CDN), for example, is one way to improve the speed of your WordPress site (content delivery network). It ensures that your pages load rapidly for all of your visitors, no matter where they are on the planet. Aside from that, take a look at these simple ways to make your WordPress site function better.
Compatibility with mobile devices
Another factor to consider in Search Ranking Factors in 2022, in addition to speed, is whether or not your site is mobile-friendly.
It's become vital that your website be mobile-friendly since Google made the switch to mobile-first in 2019. Mobile-first indexing and ranking refers to Google indexing and ranking your website depending on its mobile version. Google used to index the desktop version as the primary version. Google's decision is unsurprising, given the world's 3.7 billion mobile internet users.
As a result, if you want to boost your rankings, now is the best time to make your website mobile-friendly. Selecting a mobile-responsive WordPress theme is a good place to start. You can also make your site mobile-friendly by using one of the many WordPress plugins available.
Domain Authority
The second Google ranking criteria you should focus on is your website's domain authority (DA). It's a search engine ranking metric that shows how well your site understands a topic and how well it can rank in search engines. Moz calculates domain authority and assigns a score between 1 and 100. The higher your domain authority, the better your chances of being found on Google.
You may now boost your website's authority in a variety of ways. A smart way to start is by obtaining high-quality backlinks. Having a huge number of backlinks, on the other hand, does not always suggest higher rankings. You'll need to create amazing industry-specific material for this. You may use Monster Insights, the finest Google Analytics WordPress plugin, to discover the most popular pages on your website and get an idea of what topics your visitors are interested in.