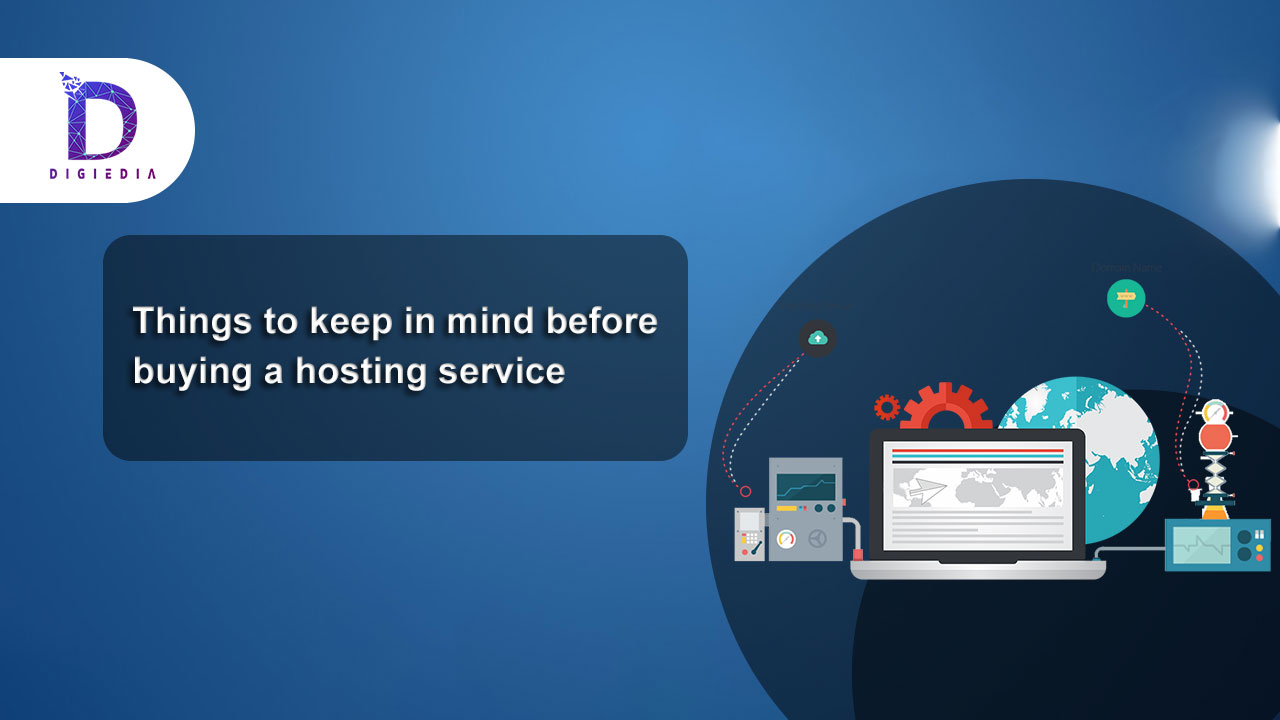 Things to keep in mind before buying a hosting service.
DIGIEDIA

21 February 2022
Internet is growing and so is the will of companies to mark their presence in the online space. Every company no matter small or big is willing to have their website which is listed among the top search engine result page on every search engine. The online business has grown exponentially over the past few years and will continue to grow seeing the trend in recent times.  A prominent reason for this is the advancement of technologies that have allowed people to establish their dream business through the Internet for the facilities it offers.
It has become very necessary for people to have their business online to gain traction and customers. Almost every individual has a mobile phone these days and is available over the web making it even more necessary for brands to target their customers over the web.
It is very important to note that to have a profitable Internet business, you will need to have a website with high user traffic which will have no issues in loading when a  customer clicks on the desired link. Better hosting services and websites will help you attract many more customers and grow your business. Every business or startup has to take into account that it is useless to have a website if you cannot efficiently launch it over the Internet so that it can ensure numerous users visit it over a longer period of time. This is the reason why web hosting providers become very important for every business or startup.
Before jumping on to the points one must keep in mind before buying a hosting service. Let us see what a Hosting provider is and what services do they provide?
A website hosting provider can be an individual or a company that manages Internet servers allowing their users to store and access all the information from their websites on the hosting domains provided by them. The hosting services provider also gives out domain names to the country by which they can be found over the web.
Here are some of the things you need to keep in mind before busing a hosting service from a hosting provider so that you do not miss on any opportunity to lose the customer and gain efficient traction who turn into potential customers.
1: PageSpeed and Uptime-
We gave you a bit brief about the importance of Pagespeed above, every user needs to get a very good reaction time when they use any website. It would not be wrong to say that individuals should go for the best PageSpeed and Uptime before anything while looking for buying a hosting service. While we now know about what PageSpeed is, let us talk about Uptime. Uptime is the period that a web hosting service remains available for you to host your domain over the web. It is not feasible for any company to keep on re-hosting the website at regular intervals as it will cost a lot of investment. Thus, people should take care of the Uptime of the hosting service as well.
2: Easy to Use-
Not only the viewers who will access the website, but the people who will work at the backend should also feel that the hosting is easy to use and can be modified at any point in time. Companies should keep in mind before buying a hosting service that the service provider should be legit so that it provides you with an Easy to Use website which will help you in your future as well. Hosting service providers like BlueHost can be used to host some very easy-to-use websites.
3: Customer Support-
Customer support is one of the most important aspects that one should keep in mind before buying a hosting service. You never know when your website might be in trouble because of some problem at the end of hosting service providers. Thus, you need to have a trustworthy customer support team to take care of all this stuff and to solve all your queries as well. Customer Support can be very vital at times for big businesses when they get regular traction and get stuck because of some problems at the end of the hosting service providers.
4: Pricing of the Service-
No domain lasts forever, thus, people need to look at a very competitive price so that it is no pain in re-issuing the hosting service even if it does produce much revenue. The pricing comes in various varieties such as a monthly plan, a weekly plan, or even a yearly plan, it depends on the vision of customers that to what extent they want their website over the web and when can they repeat the payments.
5: Security-
Lastly, we would like to attract your focus towards the security of the domain. Security is one of the most important things to keep in mind before buying any hosting service from a service provider. No one has the right to sneak into the backend of your website and thus, to ensure no hacks and no problems, you need to have a very secured hosting that backs you. Whenever you wish to buy a hosting service, always keep in mind the security it provides to your website as well. Any platform you wish to buy a hosting service from should provide important antispam tools such as Apache SpamAssassin, Spam Experts, and Spam Hammer which will help to keep your website very safe. Similarly, it should also use SiteLock to monitor servers and look for the presence of any viruses or malware.
Thus, these were some of the things that one should keep in mind before buying a hosting service to ensure the best domain and best hosting service from a provider. This will ensure regular and efficient traction on your website.