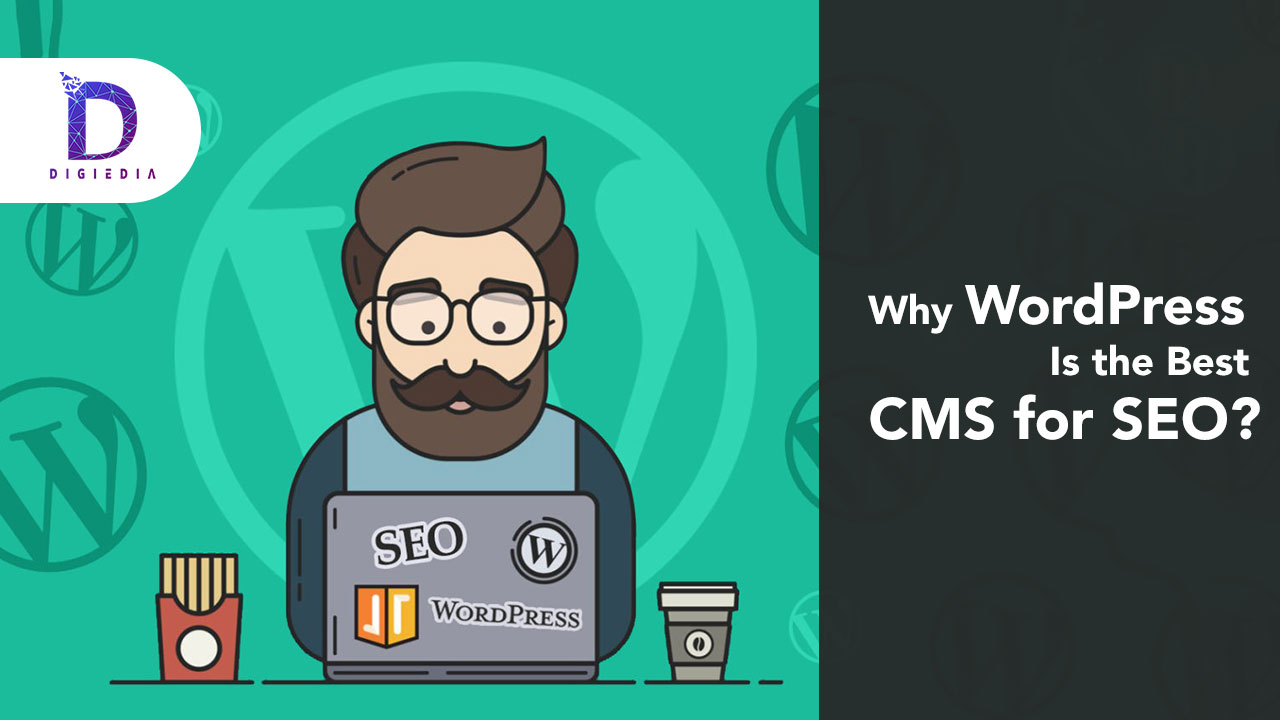 Why WordPress Is the Best CMS for SEO? Find out more information here!
DIGIEDIA

03 December 2021
Search engines continue to be one of the most effective sources of web traffic. A high-ranking page may drive thousands of visits to any website.
As a result, nearly every website owner is ideally concerned with SEO. For example, how to execute appropriate on-page SEO, technical SEO, and keyword research etc.
However, simply adopting WordPress puts you ahead of the game in terms of SEO. Indeed, some would say that WordPress is the Best CMS for SEO, and this is a valid point. We'll look at what makes the platform (perhaps) the greatest for search engine optimization.
WordPress for your SEO
WordPress is a platform for creating websites and blogging. It is free to use and open-source, with free templates, hosting, and support. According to Wikipedia, there are more than 60 million WordPress sites, accounting for 39% of the top 10 million websites as of January 2021. WordPress is the Best CMS for SEO systems, with users ranging from bloggers who want their own website to small companies and huge enterprises.
Because search engines are intended to drive traffic to a website, their algorithms are required to give high-quality information based on search terms, keywords, meta tags, alt tagging, and meta descriptions. Your Google search ranking factor is, of course, the most common key performance indicator (KPI), and great placement on search engine results pages (SERPS) is equivalent to receiving the golden ring in the world of digital marketing.
WordPress is an SEO-friendly CMS with fast page load times and a beautiful user interface. Its features include free SEO-focused web design templates, and it's simple to optimize photos and add alt text for better rankings.
WordPress Experts
You can use and install WordPress without communicating sales representative.
There is a large plugin library to pick from, many of which are expressly intended for SEO.
Thousands of responsive themes are available.
Most SEO marketers will find the UI to be simple to use and intuitive.
Highly configurable, having the ability to alter the theme files, HTML code, and CSS code of the site.
8 Reasons Why WordPress Is the Best CMS for SEO
WordPress Is Concentrated on the Customer Experience
WordPress themes and plugins work together to give websites that are professional, SEO-friendly, and visually appealing.
As a result,
Callers value the participation they admit when they visit a WordPress point. They stay longer, lowering your overall position rate. This might be awful news if you are wanting to increase your point's SEO positioning. Google must compensate those websites that give an exceptional client experience.
WordPress Allows You to Produce Permalinks
It's relatively simple to change your website's permalinks on WordPress. Rather of a URL full of uncomely characters, you get a commodity like this, The benefit of being able to alter your article's permalinks is that you may insert your keyword into the URL. This means that your URL isn't only attractive and instructional, it may also help with your search positioning.
WordPress Makes Metadata Management Simple
SEO titles and metadata advance how search engines interpret the relevance of your site. Metadata inform search engine crawlers about what your websites are all about. When relevant keywords are included in your metadata, your website is more likely to rank for those keywords. So, how can WordPress help you with metadata? When you use WordPress, you will obtain a plugin called Yoast SEO. This plugin allows you to quickly add metadata to all of your posts.
Using WordPress to optimize images for SEO is simple
Images are essential for your blog postings. One or two of them, when used properly, divide your blog into surprisingly distinct areas. However, images do not, as it were, bring the reviewer into the core of your content. They're also excellent SEO tools, particularly if you use WordPress.
Here are three ways WordPress can help you optimize your images for better SEO rankings:
WordPress gives you the option to "generate alternative text" for any picture you use. This means you'll include your catchphrases as image captions that search engine crawlers will notice.
With WordPress, you'll use a plugin that generates alt text for your photographs automatically.
You can re-size your images so that they do not slow down the stack performance of your website.
WordPress Websites doesn't disappoint their Clients with Moderate Load Time
Should Page speed may be a Google ranking factor in mobile search. So, if your location is average, it will not only disappoint customers but will also push you down Google's SERPs.
The good news is that WordPress offers several fantastic plugins that can help with website performance. Short Pixel Image Optimizer, for example. This plugin compresses your PDF reports and previous images to speed up the load time of your site. WP-Optimize is another fantastic plugin for improving location performance. This plugin caches your location, clears your database, and compresses your images to make them load faster.
WordPress has been optimized for mobile users.
Mobile usage has grown rapidly in the last several years. Take a peek at this Broadband Search chart. As you can see, mobile traffic increased by 222 percent in five years! If you're advertising looking to get traction online, this means your site must be mobile-friendly. The good news is that if you're currently using WordPress to manage your location, you don't need to do anything further to make your site accessible on mobile devices. Most WordPress themes are now mobile-friendly.
WordPress has an Impact that you include social media into your campaign.
Social media is enormous these days, and it's one of the best platforms for promoting your company. Furthermore, success in your social media effort will indirectly advance your SEO position. You'll use WordPress to create personalized social media buttons for your site, making it easier for users to share your material. You may add a social media boost to your website. You can, in fact, automate your social media marketing!
WordPress is used to create SEO-friendly themes.
Search engine spiders should not simply look at keywords and information to determine relevancy. Another thing they are looking for is a strong website design.
When you use WordPress, you never have to worry about optimizing your website design for SEO. Simply buy an SEO-friendly theme, and you'll be well on your way to attracting those spiders to your website!
WordPress is the SEO powerhouse.
With search engines still the primary source of traffic for the majority of websites, SEO remains an essential discipline and topic. As a result, if you want to rank high in search results, your best choice is to build your site on a platform that can assist you in doing so.
WordPress has done a lot to improve its search engine friendliness over the years. It has now matured into a sophisticated platform with comprehensive SEO features. WordPress is compatible with Google and other search engines, offers a plethora of themes and plugins for sophisticated SEO optimization, is fast and mobile friendly, community supported, secure, and simple to use.
In conclusion, WordPress is the ideal CMS for SEO and constructing high-ranking websites. If you want to appear on the main page of Google, the WordPress platform is your best chance.