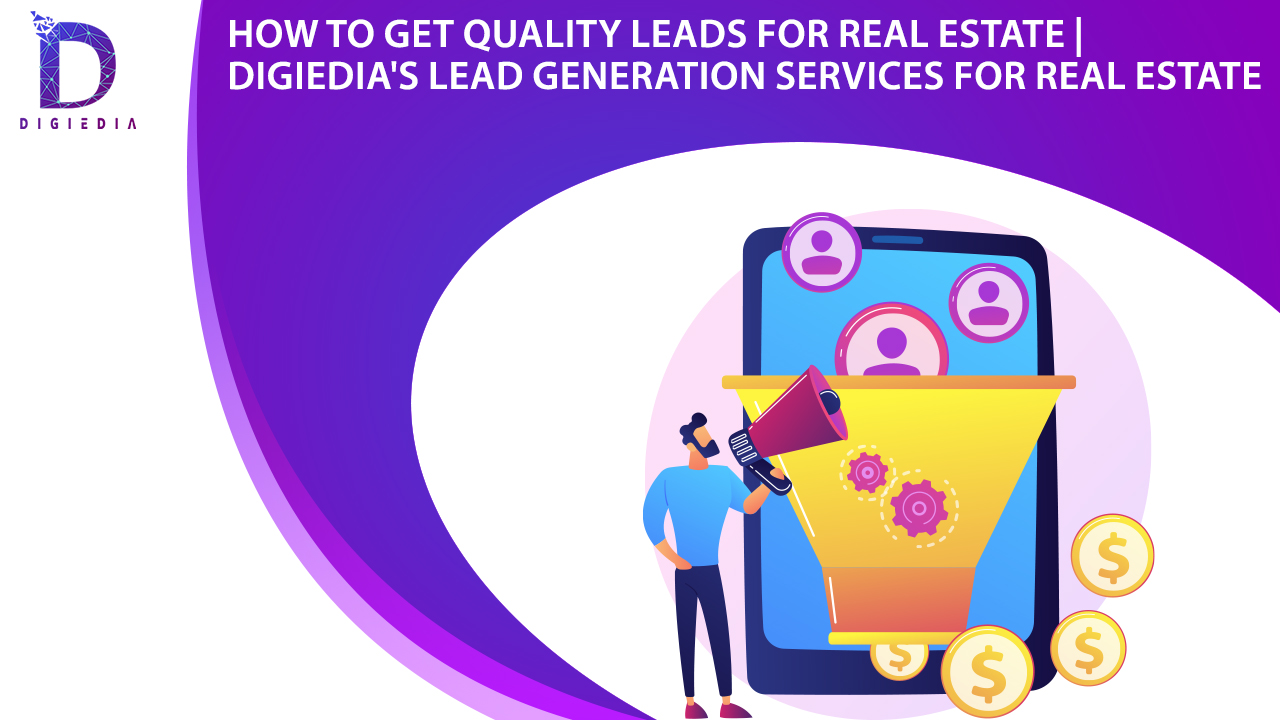 How to get quality leads for Real estate?
DIGIEDIA

29 September 2022
Lead generation refers to the process of recruiting potential customers and turning them into leads who have an interest in purchasing a product or service offered by your firm. The process of producing leads in the real estate industry has its own unique set of obstacles, such as identifying the most effective software and websites to utilize and implementing a variety of customer experience tactics. To put it more succinctly, the same marketing standards that apply to a range of businesses apply to the area of real estate, and the production of leads is an essential component of any marketing plan for real estate. To get quality leads for Real estate follow some of the following tips.
Increase traffic and awareness with real estate social media
With the growing importance of the internet in contemporary marketing, maintaining a positive image on social media has become an essential part of any marketing plan. Get quality leads for Real Estate through LinkedIn, Instagram, Twitter, and Facebook.
LinkedIn is the obvious option since it is more focused on professional networking, but you can generate a lot of traffic and awareness with Twitter and Instagram. LinkedIn is the obvious choice because it is more focused on professional networking. Certain Instagram tactics, when combined with stunning pictures and brief, easy-to-understand posts, can ensure that your brand remains relevant and approachable in the day-to-day lives of any prospective customers. You may target existing leads in your database using the Custom Audiences feature of Facebook Ads, making them yet another technique for generating leads that are both cost-effective and efficient. When it comes to Facebook, establishing a local community centered on your firm may enable customers to discuss their personal experiences and provide prospective customers with insight into what the homebuying process may entail for them.
Video marketing strategy
According to MarketingSherpa, including videos on a real estate agent's website may increase the number of visits to the site by two to three times as well as the length of time they spend there.
Fortunately, there are many different methods to use video in a marketing plan, including the following:
Client interviews
Live streaming of questions and answers
Videos providing instructions as well as general information
Agent profiles
Retrospectives performed annually
Videos showing neighborhood and community gatherings
Listing videos, on the other hand, are the most crucial forms of movies for the real estate industry since they highlight the most appealing aspects of your listings, both inside and out. Your creativity plays a huge factor in getting quality leads for Real estate.
Building partnerships
To get quality leads for real estate, an effective means is to create collaborations with other local companies that will be of benefit to both of you by networking with them. Try out other marketing techniques, such as co-hosting happy hours, providing presents to customers or prospects, and creating local connections. The following is a list of sectors in which real estate agents have the potential to build fruitful partnerships:
Insurance providers – Homeowners insurance is required by law, but some people who purchase a house also intend to use it as a rental property, flip it for a profit, or start a company there. It is essential to have enough coverage for your needs.
The purchase of a house is the single greatest financial commitment that the majority of us will ever make in our lives. The ability to run figures past a personal banker might be of tremendous assistance to purchasers.
Commercial lenders – Loan officers are an essential component of the home purchasing process; nevertheless, the vast majority of purchasers do not have direct access to loan officers.
Bakeries – Having a connection with a bakery is never a bad idea for a real estate agent, or for that matter, anyone else. Whether you want to send pies to former clients to keep your real estate firm top of mind or order treats to make your open house extra sweet, having a connection with a bakery is never a bad idea.
In the world of cuisine, there is an age-old proverb that goes something like this: "The eye eats first." The same logic applies to real estate. The home's landscaping is often the first thing that prospective purchasers see about the property. To make their properties stand out from the competition, you should encourage your sellers to have a professional landscaper do the landscaping for them.
Cleaning services – No prospective purchaser wants to look around a house that seems to have some dust and dirt on it. Create a partnership with a local cleaning agency to provide your customers with discounted home cleanings.
The title insurance industry – The collaboration that you will have with local title businesses may not be as flashy as the others, but it will still be very significant. Make sure you have a few reliable businesses on hand to suggest to your customers.
Find and connect with companies that serve customers who are relevant to the objectives and preferences you have established for yourself, and once you have these relationships in place, make sure that you give your fair amount to the endeavor. These sorts of connections have the potential to be very beneficial for everyone involved.
Using Local SEO
When it comes to real estate lead creation, local SEO is an extremely important factor. The following are some ways in which local SEO may be improved to get quality leads for real estate:
Establishing a profile on Google My Business
Establishing on-page local search engine optimization signals
Beginning the process of connection building
Having one's name posted in many web directories
Using structured data markups
Taking care of feedback posted online
Having interactions with people on social media
Attractive Website
To get quality leads for real estate businesses, you have to attract customers with visuals. A website that is integrated with Internet Data Exchange (IDX) is the most effective approach for real estate agents to showcase the properties that are listed on the Multiple Listing Service (MLS). Because leads can see all of the available property listings in your region from the site thanks to IDX technology, which syndicates the most recent MLS listings straight to the site. In addition, software programs such as Slideshare provide users the ability to graphically exhibit the most recent data and statistics in the real estate industry and provide other capabilities such as lead collection forms. This implies that a prospective lead will be offered the opportunity to submit their email address in return for useful material while they are browsing through your presentations. Pop-up advertisements are another essential design feature, but to avoid annoying potential customers, they need to be straightforward and unobtrusive in their presentation.