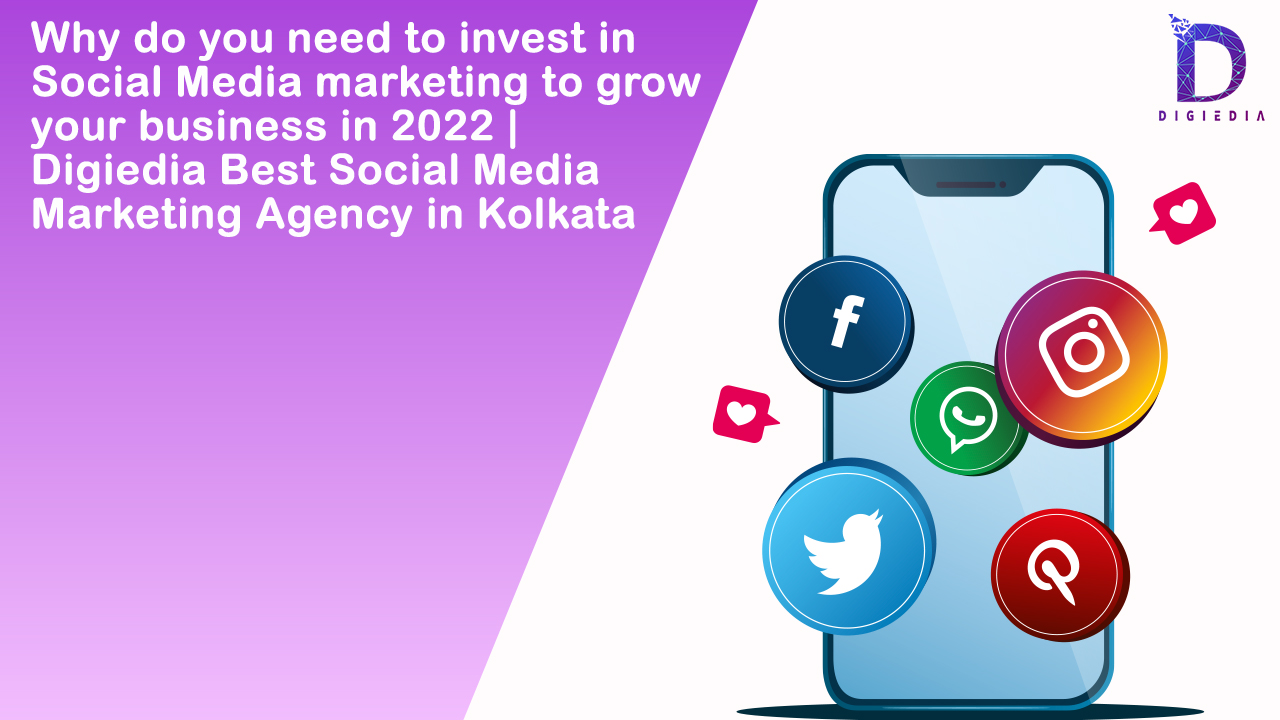 Why do you need to invest in Social Media marketing to grow your business in 2022
DIGIEDIA

30 September 2022
Social Media marketing to grow your business in 2022 has become one of the main ways by which new businesses and brands are making their way into the market. With the advent of Covid, everything became virtual, and the usage of social media considerably increased. Digital marketers have leveraged this hike in the use of social media to market products. It is extremely foolish to not avail of this service because Social Media Marketing to grow your business in 2022 is the most provenly successful method.
Just, social media posts are not effective. Because there is so much content floating around for audience consumption, you must apply effective techniques for marketing. This is why companies hire digital marketing teams to market their products. If you are doubtful about investing in Social Media marketing, here are reasons why you should invest in Social Media Marketing to grow your business in 2022.
To get better brand awareness
In comparison to television, radio, print publications, and other conventional media outlets, the advantages of social media are clear. You have the opportunity to communicate with millions of people with your message if you use to disseminate information about your company in a timely and cost-effective way. This might result in more people following your company, signing up for your services and products, and overall converting to customers via your marketing efforts at a much-increased rate. Companies can communicate their narrative, the cause of their service, their story and journey, and keep audiences informed with the accounts of their customers and employees via a variety of media. You can increase as much brand awareness as possible via Social Media marketing to grow your business in 2022.
If leaders in the B2B space can capitalize on the contributions of their workforce, they will be able to further expand the scope of their brand's reach. Every worker in the company has a network, and inside that network are possibly hundreds of connections. On the other hand, each of those connections is linked to dozens upon dozens of additional individuals.
Building Credibility
When We encounter a new brand, business, or corporation, the credibility of the entity is the first thing that comes to mind for someone like me to consider. As consumers, we give a lot of thought to the options that are available to us. When a consumer has a question about a company, the first thing they do is check their website on Google, or presently, their social media accounts. A brand's reputation can be based on its Social Media presence.
Brands have the chance to create trust with prospective consumers, partners, and talent as well as workers when they participate in social media conversations. This is particularly important to keep in mind if other people are recommending your brand, goods, or services to other individuals. People are almost three times more inclined to believe the advice or suggestions of family and friends than they are to trust the official brand channels. This is, perhaps, one of the primary reasons why you should consider Social Media Marketing to grow your business in 2022.
Increasing traffic
The growth of traffic to your website is an outcome of successful Social Media Marketing in 2022. 4.48 billion individuals throughout the world used social media in the year 2021. Not only does social media provide you with a view into the greatest addressable market online, but it also reveals the topics that real people find interesting or discuss. After gaining an understanding of how to address the challenges faced by this market with the use of thought leadership material, you will be able to cultivate an audience that has faith in your company's brand as well as its goods and services.
You may simply redirect visitors to your private platforms using social media if you have a website that you utilize to house your goods and services. Because of this, both the quality and amount of visitors coming to your website may increase. You won't have to depend exclusively on SEO and get discovered via Google Search if you invest in Social Media Marketing to grow your business in 2022.
Establishing your brand as a thought leader
The use of social media platforms is a valuable tool for gaining insight into the concerns and concerns as well as interests of other people. As a result, participating in social media provides businesses with the potential to demonstrate thought leadership by finding solutions to issues. People will be more likely to trust your business as their source for direction if you provide content such as how-to manuals, webinars, and other types of material to assist others.
The Edelman Confidence Barometer for 2021 reported that although there has been a recent shift toward mistrust of institutions such as government, non-governmental organizations (NGOs), and the media, business is an institution that has a degree of trust that is at 61 per cent. The public is turning to companies for guidance and information… And there's no better place than social media to spread the word about it. The chance to create your brand as a thought leader, the go-to source for knowledge on matters relating to your expertise, is something that can be accomplished via social media regardless of the sector in which your company operates. When you're trying to create your thought leadership in your field, LinkedIn, and in particular the LinkedIn Publishing Platform, is an excellent network to concentrate on.
Statistical proof of success
There are numerous statistical proofs of how marketers can successfully use Social Media Marketing to grow your business in 2022. According to Buffer's research, 89% of marketers consider social media to be "Very essential" to their entire marketing plan, while 30% of marketers feel social media is "Somewhat significant" to their approach. More than one billion hours are spent watching videos on YouTube every single day. According to surveys, 82% of B2B marketers use LinkedIn to network with other professionals and to make new professional contacts. They are also active on other social media platforms such as Facebook, Twitter, Instagram, and YouTube. In 2017, LinkedIn was responsible for 80 per cent of all B2B leads generated on social media. 53% of the total population of the globe is presently engaged on at least one social networking site. (We Are Social). Every second, 13 people have never used social media before who sign up for the first time (Hootsuite). Seventy per cent of individuals said they believed suggestions made online by friends and family, but just fifteen per cent said they would trust the official social media postings made by a company (PostBeyond). 91% of B2B buyers regularly engage in the usage of social media (IDC).79% of job seekers conduct their search for employment vacancies on social media platforms. However, 86 per cent of candidates utilize social media throughout the first 10 years of their employment for their job hunt (Glassdoor). 93% of Twitter users believe they are willing to allow marketers to participate in a discussion, particularly if the brands give some kind of assistance (Twitter). Ninety per cent of Instagram users are subscribers to at least one company or brand account. According to LinkedIn's website, the company has around 800 million users spread across 200 countries. About a quarter of that total population is located in North America. Facebook is used by 59% of the total population on social media platforms all over the world. It is the only social media network that users on more than half of the world's social media sites have access to, which makes it unique.
As a result of the epidemic, business-to-business marketers began placing an even greater emphasis on their use of social media. A poll conducted by 2020 LinkedIn with 1,200 marketers found that three out of four B2B marketers have suffered budget cutbacks. As a result, these marketers were forced to place a greater emphasis on the tactical aspects of marketing and short-term expenditures that pay off. Social media marketing to grow your business in 2022 is the most convenient way to increase your customer base.